An upstate New York church is hosting an event on March 23 meant to honor hunters and gun owners. State Assemblyman Steve McLaughlin will speak; evangelist Dr. Bob Gray will preach; and one lucky attendee will win an AR-15 semi-automatic rifle, according to a flier released on the church's website.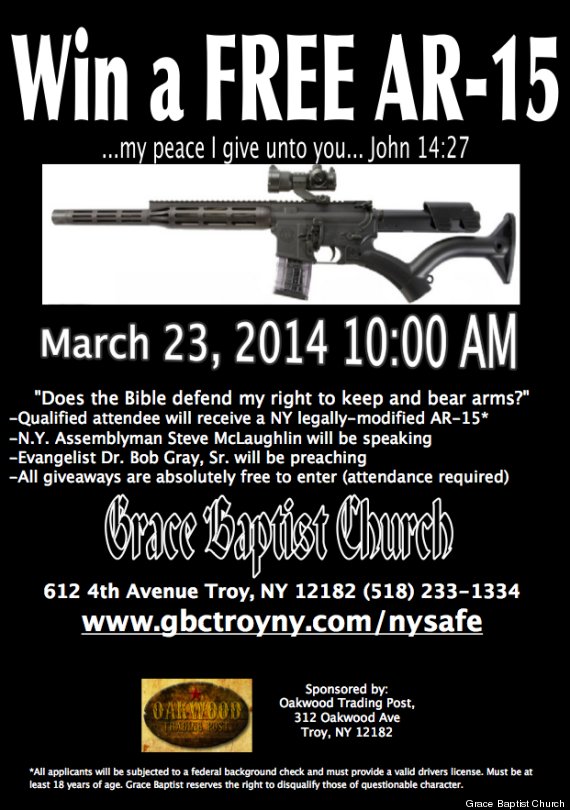 Pastor John Koletas of Grace Baptist Church is out to show his community's support for hunters and gun enthusiasts who, he said, "have been so viciously attacked by the antichristian socialist media and antichristian socialist politicians the last few years."
Gun ownership and regulation has been a divisive topic in recent years, with the 2012 mass shooting at Sandy Hook Elementary School spurring a cry for stricter gun control laws. Koletas criticizes what he sees as an "attack" on gun owners and, as a result, on Second Amendment rights, saying "Our country was built with the King James Bible and the gun."
"I'm just trying to be a blessing and a help to the gun owners and the hunters and give away a free AR-15," Koletas told Times Union. "It's the right thing to do."
A similar series of 2nd Amendment Celebration and Dinner events were hosted recently at the Lone Oak First Baptist Church in Kentucky. Attendees had the chance to eat a free steak dinner and win a gun, and the events were billed as an effort to attract young "unchurched" men who may be passionate about hunting and Second Amendment rights.
Not all pastors are on board with gun giveaways in churches, however. Rev. Willie Bacote, a pastor of Missing Link AME Zion Church in Troy, NY, near Grace Baptist Church, told the New York Daily News he thought Pastor Koletas' event sends "the wrong message entirely.
"We promulgate the gospel as peacemakers. We're not people who give away guns. Even the Bible teaches us to turn the other cheek."