When we were offered the rare opportunity to interview Grace Coddington, the longtime creative director of Vogue (and the breakout star of "The September Issue"), we were thrilled. Even moreso once we read her recently published memoir Grace. Witty and full of funny anecdotes about her journey from the small town of Anglesey, Wales to the front row of every major fashion show, the book was like gossiping with a colleague about the ins and outs of our industry. In the book, Coddington describes her adventures in modeling in London, her love of cats and, of course, her long tenure at Vogue, working side-by-side with Anna Wintour.
We've seen a democratization of the fashion industry in the past 10 years, where, thanks to the Internet, all anyone needs is a camera and a computer and they can be a stylist.
They can but they can't. I have very high standards, so I think it takes more than a cell phone. Bloggers sit in in the front row [at the fashion shows] and all their energy seems to be spent on dressing themselves, which I find a shame. But it's the way things are going; it's not just the fashion business, it's every business. It's super fast for me because I'm English and I tend to be slow. It's quite abrasive for me. I'm still at my snail's pace.
I do and I don't embrace the digital world. I keep saying that if I retire and go to live at home no one's going to talk to me because I don't really use a computer. No one's going to connect: No one writes letters, they don't even telephone anymore. I find it very hard to connect with the photographers I'm working with. You can't phone them because they don't pick up, and now they don't even respond to texts! I don't know why everybody makes it so difficult to communicate. I guess there's so much going on that they don't have time to address; but the quality of life and the quality of work suffers.
In your memoir, you say that your assistant prints out your emails.
(Laughs) Yes, [any digital communication] is connected through her. I can just about type the emails with one finger, and if I'm lucky and push the right button, it goes through.
You must enjoy a level of focus that so many of us don't because we have one eye on our Blackberry and one eye on the computer.
I don't know if "enjoy" is the right word. To me, it's natural. One has a conversation and one focuses, or one has dinner and focuses, instead of always having the phone on the table. I think it's highly bad manners.
In the book you mentioned the hordes of people at the fashion shows, most of whom you don't know, and the bloggers sitting front row.
It's not that I object to anyone being in the front row. Anyone can be in the front row that the designer deems important enough to put in the front row. I used to find attending the shows so invigorating and exciting, but [now] you have to be there with blinders on. To cut out all the rubbish that's going on around, where the focus seems to be more on the audience than on the clothes that go down the runway. Any old shit can go down the runway and they all sit there and clap.
In Grace you also described attending legendary fashion shows in Paris in years past. Now that all the collections are live-streamed and easily accessible on the Internet, do you think runway shows will become obsolete?
[If there were no runway shows,] they'd have to restructure everything. I like a fashion show myself. Yes, I enjoyed John Galliano when you stepped into a forest or whatever it was, because it was a nice break from the treadmill of going from show to show to show [during Fashion Week]. But nothing beats a very straight-forward, very focused show, where it's properly edited and the focus is on the clothes.
It's a sign of the times. More for me, I'm sad to be going to Paris and not seeing Nicolas Ghesquière [in the book, Coddington details her friendship with Ghesquière]. Because I love him as a friend, but also because he's the most incredible creative designer. I'm sure Alexander Wang will do really well. He's very well-liked. It's an incredibly difficult thing to take over for Nicolas because there are all the old fuddy-duddy people like me digging their heels in. But you've got to embrace it -- it's happened. I'm sure the Gucci people [Gucci and Balenciaga are both owned by PPR] thought long and carefully, they didn't just pull him out of a hat. And he fit all their criteria.
[Commercial success] is what they want. Don't think of it as the same house as it was when Nicolas was the creative director; that's everybody's mistake. Don't think of it as a replacement for Nicolas, because it isn't. Alexander has a whole different agenda. He's a very confident young man, he's cute-looking, girls love him, he's an "It" person and he makes very affordable clothes. I haven't spoken to him, but he can only do what he can do. He can't be somebody else, and he certainly can't be Nicolas.
In your opinion, what will Nicolas Ghesquière do now?
He will bide his time and come back. He's too brilliant to just disappear. He's very passionate about what he does. He's not caught up in fashion and celebrity at all. I don't think he's going to go off and become a sculptor like Helmut Lang, either.
Speaking of tremendous talents who have disappeared, what do you think about John Galliano?
I hope he will return, but I don't know. That's a tough one to get over. That's tougher than the Gucci people thinking they want a change of face. I love John, I think he's brilliant. He certainly intends to come back -- when he's ready.
In the book you didn't touch on body image or how Vogue is dealing with the new body image. You don't really talk about the obesity epidemic and how that affects the models you choose or how that affects the magazine.
You're asking all the questions that are very taboo, you know that, right? We avoid talking about the fat/thin thing because it's a complicated issue.
If you could wave your magic wand, what would you love to see happen in the fashion industry? How would you like it to change?
Fashion changes all the time, that's the nature of the beast. I'd like fashion shows to be smaller. I'd like all the superfluous people that go to the shows not to be there. And I wish you could just go to a show and just focus on the clothes. I wish the designer would spend more time making the clothes, finding the best fabrics and actually having an idea of their own, instead somebody else's. Because people are driven to do so much, they are always looking at what other people are doing rather than sticking to their own vision.
I find it difficult to parse out the different trends when the collections are presented so closely and the seasons are back-to-back.
Trends are boring, I wouldn't worry about trends. Just look for beautiful clothes.
"The September Issue" piqued the public interest in your working relationship with Anna Wintour. Is working with someone for that long like being married?
It's boring, it's what everyone asks me. I hope it's not like marriage. I've been married twice and each lasted six months, and this relationship with Anna has lasted 26 years.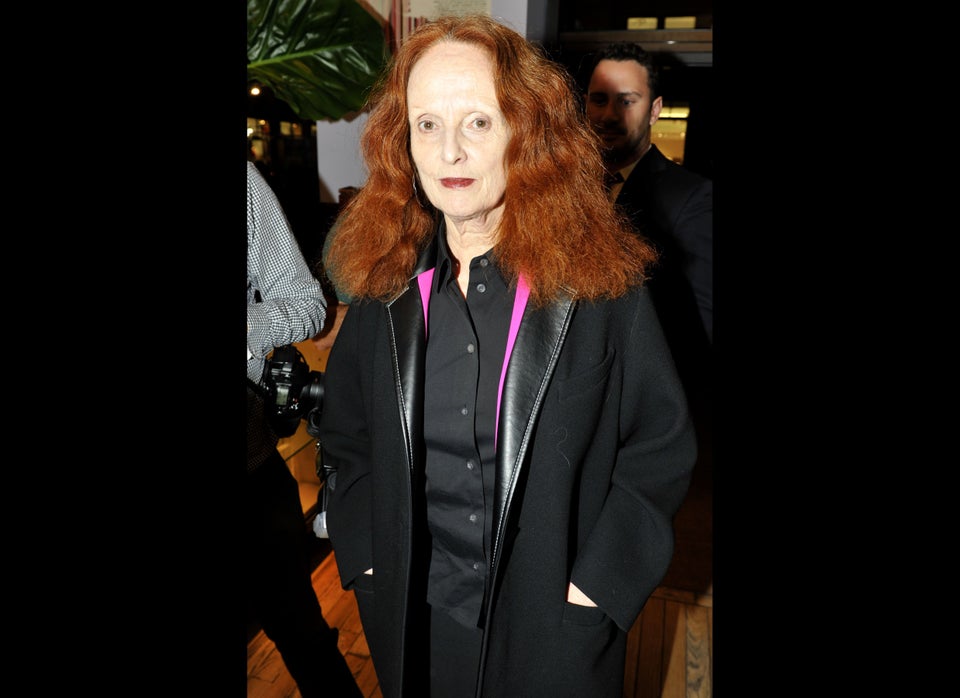 Grace Coddington