As the creative director of Vogue, Grace Coddington might have the best job in fashion. While Editor-in-Chief Anna Wintour has been making the magazine powerful over the last two decades, Coddington has been making it beautiful.
When The September Issue - a documentary about Vogue - recently came out, fashionistas were thrilled that the spotlight had finally swung around to highlight Coddington, who, unlike her boss, is famously publicity-shy. Yet since 1987, Coddington has been the mastermind behind some of the magazine's most definitive, lavishly imagined photo spreads -- many of which resemble luxurious "dreamscapes" and visual fairy tales.
Do you recall the fantastical 2003 Alice in Wonderland spread, featuring model Natalia Vodianova as Alice and designer John Galliano as the wild 'Queen of Hearts'? That was Coddington's baby. Or that divine Brassai-inspired 1920s-in-Paris spread? Coddington again.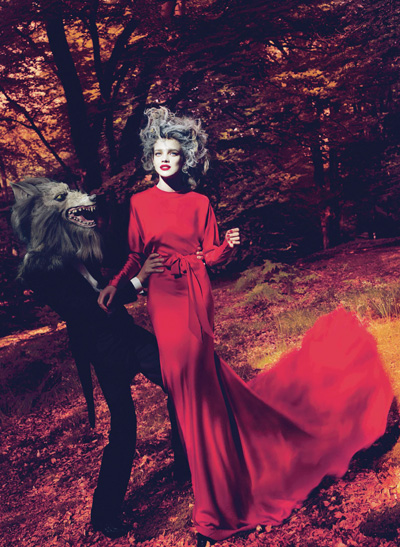 'Little Red Riding Hood,' Vogue, September 2009. Photograph by Mert Alas and Marcus Piggott; edited by Grace Coddington. Courtesy of Vogue.
This week, Coddington spoke at an event held in her honor by the New York Public Library's Council of Conservators. Although she appeared endearingly nervous when she first took the stage, Coddington's well-known resolve ("Usually Anna has the good ideas; I just interpret them and try to change them") shone through as she discussed her life's work.
Below is an edited transcript of her comments, in which she discussed the genius of photographer Irving Penn, weighed in on the recent Ralph Lauren photo-shopping controversy, and deliberated how celebrity culture may be changing the fashion industry forever.
On her earliest contact with Vogue, while growing up on a remote Welsh island:
"As a young girl, the one thing I looked forward to beyond anything was going to the bookstore to buy a copy of Vogue. It arrived three to four months old. I always looked at the pages and dreamed. I used to sit on the rocks and look at the sea, and it was good to think there was a life after this."
On her early days as an aspiring model:
"I used to hang out on the King's Road [in 1960s London] in bare feet and hope that someone would notice me."
On her preference for unconventional beauty in models:
"I was never your average pretty girl. I'm not blonde. And I guess one always goes for people of your own type. I like models with personality, that are as different as can be. Like Penelope Tree ...[or] Kristen McMenamy [or] Stella Tennant."
On a recent photo spread she directed, depicting a couple whose life is drearily dominated by technology:
"At one point, I got obsessed with Twittering and texting ... I'm very passionate about life and want people to focus on what they're doing. People [today] have the attention span of about ten seconds. There's so much to see in life. I like to sit on the subway and look at the people. Every day it's different; every day there are different people ... You just have to keep your eyes open all the time."
On how she draws pictures at runway shows instead of taking notes:
"I'm not very good with words. I'll write down 'red dress' and then later I can't remember what it looked like. So I draw everything I see coming down the runway. It helps me remember the show. But when I used to go to couture shows [while I was] at British Vogue, you were not allowed to do that ... it was against fashion law. There was a release date on which all pictures of the show would come out, and you were not allowed to draw let alone photograph the clothes on the runway. But I somehow got away with it."

On the famous Helmut Newton shot depicting model Nadja Auermann acting out the myth of 'Leda and the Swan':
"Helmut ran the [idea of the picture] past Anna, and I kept thinking, "They're never going to run it." Helmut told her, "Well, I'll need a swan," ... and we went ahead with it and [at the shoot] unpacked the swan. Nadja said to Helmut, 'What do you mean, you want me to lie in bed with this swan?' So Helmut showed her how: he lay on the bed and spread his legs, and told her, 'Hold the swan here.' It is the only time I've ever wished that I had a camera with me."
On photographer Irving Penn:
"It was one the great joys of my life to work with him. He had a tiny, tiny studio, minimal lights, minimal people. Everyone was very focused and he produced these extraordinary pictures. I don't know how he did it ... He was the last of those great photographers like Avedon and Helmut and all those guys; I'm sad to see them go ... It's our challenge now to find more and more and something different [and] I know we'll find another way, but there will never be another Penn."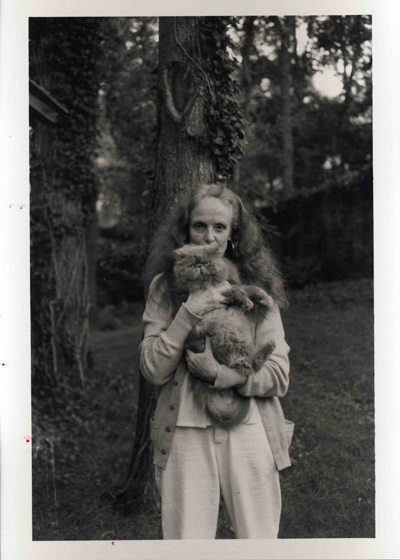 Grace Coddington. Photograph by Didier Malige. Courtesy of Vogue.
On photographer Bruce Weber:
"He taught me so much about America, [and gave me] a whole new way of looking at things. He was really responsible for scrubbing everyone's faces, for fresh-looking women who you could touch, making them look vulnerable."
On photographer David Sims:
"He's much younger than me, and it's a challenge. I have to keep on my toes and be modern and keep up with him. He'll talk for three hours about a white background and I'm trying to go along with him and understand, and then we end up with a white background. But I could do the same shot with a different photographer and it wouldn't look the same. He has that undefinable modern edge."
On the eras she most likes to re-create:
"I love the fifties, forties, and thirties. I like the periods before I stared my working days. As soon as I was living that period, I wasn't interested. I hate the '70s and loathe the '80s."
On her predominantly black wardrobe:
"I'm not popular for that. I want a clean palate. I don't want to think about what I'm wearing in the morning; I want to put all of my focus on the clothes I'm shooting. It's like a uniform. You don't have to make a decision about it. I spend my whole life making decisions."

On the recent Ralph Lauren controversy, in which the company retouched a photo of a model that made her torso look narrower than her head:
"Most of Ralph Lauren's models are not super skinny: this is an isolated situation and I think that it's unfair that he's getting bad publicity for it ... You ask, 'Can't [models] just be normal sized people?' They have to be thinner than you and I, because you always photograph a little fatter ... [But] it is a big problem. I remember when I was modeling and I put on some weight, and they said to me: 'Lose weight or you don't do the show.' I'd spend the week not eating anything and just drinking coffee. I was eighteen or nineteen.
"But these days, the problems are coming with kids that are very young and very vulnerable ... you don't have to go to the extremes they go to. And because they're kids, they take it too far, and they can't regulate their lives, and next thing you know they're anorexic, and it is tragic. And I don't know what the answer is, except to keep on it, which we're all trying to do ... Personally we're not allowed, at Vogue, to work with girls who are very thin, but you never know, because you could book them and think they're a certain size, and they turn up on the shoot and suddenly they've spun into this anorexic situation. And you're on the spot and you have to get the job done and you have one day to do it, and what do you do? But you try to be responsible."
On how celebrity culture is affecting the fashion world:
"I have the reputation of not working with [celebrities] ... I just feel more comfortable working with models because I can push them around. But I do work with them; I took Keira Knightley to Africa and you have to like someone to do that. [However,] I hope it doesn't go completely to the celebs because it will kill off the models, but it's not my call. It's all your call. It's what you all are asking for."
On the fashion world in general:
It's a crazy world we live in. It's so fun. I hope it goes on forever. Or at least as long as my lifespan, anyway.


The transcript above is an edited conversation between Grace Coddington and Vogue editor Jay Fielden at a New York Public Library event ("Close-Up on Grace Coddington") on October 20, 2009.