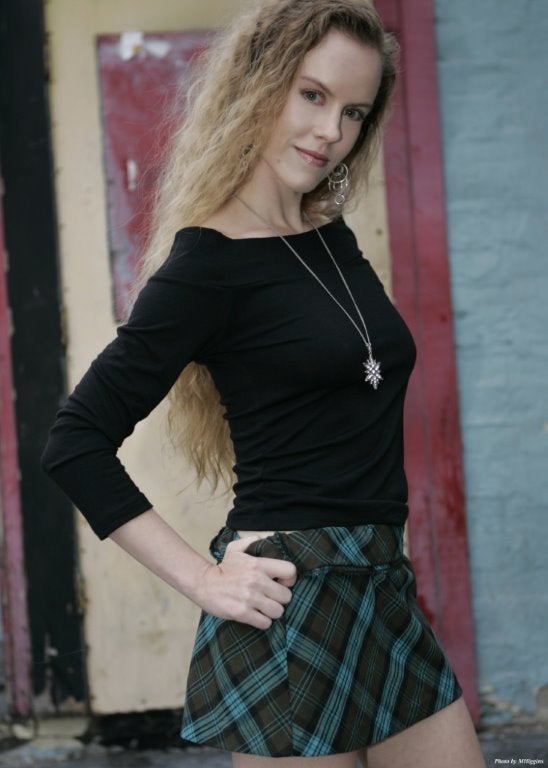 There has been "Riverdance," "Celtic Women" and "Celtic Thunder." Now the wave continues with an entirely new twist on Celtic dance and music. Laura Carruthers is an artistic pioneer in the dance world.
An award-winning Highland dancer Laura was trained both in Scottish Highland Dancing and ballet. Her new autobiographical trailblazing feature film "Grace Fury" which she wrote, produced, choreographed, directed and stars in melds the two disciplines into a hybrid dance form.
She coined the term "dance-umentary" to describe the film Grace Fury which combines full stage performances with behind-the-scenes footage. The music of Grace Fury is a combination of Laura's arrangements, and the original works of composers, Fritz Doddy of ELIAS Arts, John Allan, the Scottish supergroup, Capercaillie, and Eric Rigler/Bad Haggis.
Carruthers multifaceted skills in direction, chorography and post-production combined with her performance in the film captures unique blend of movement, performance and narrative. The film draws the audience into the world—and behind the curtain—of Highland Dancing and ballet.
Attending and participating in Scottish Highland Games was the norm in your family. How did that influence you?
Yes, my family regularly attended and participated in California Highland Games, full of spectacular ceremony, concert, and contest in raw strength, piping, drumming, and dancing - all in celebration of Scottish heritage. My father, in particular, competed as a Scottish athlete, throwing heavy weights, whirling hammers, and tossing cabers. He was very competitive. He liked trophies. He definitely channeled my early obsession with dance in the Highland dance-sport direction. I started lessons at age seven, and within two years it dominated much of my calendar, my identity, my relationships, and my whole experience with dance.
Was it love at first dance?
Honestly, I was enamored with anyone moving to music in front of people, whether I was watching a ballet on television or a dancer at a Scottish Festival. I was naturally drawn to dance and always looking for my own audience! That pre-existing, natural passion drew me to Highland dance. It was a challenge. It also came with immediate opportunities to perform, to travel, to compete for trophies, and to establish a reputation very early. At the impressionable age of seven, those things were also a big deal. And so it became an indelible part of me – of my history and experience.
Did you have an epiphany moment growing up when you knew this was going to be your life's calling?
Actually, I never really thought dance would have anything to do with my life's calling. For a long time, after my earliest preschool aspirations of becoming ballerina, I thought I would become a psychologist. In fact, I subscribed to Psychology Today, while I was in elementary school. I was one of those strange kids, eager to be an adult career professional at ten. So, while I was thoroughly entrenched in competitive Highland Dance, I always thought that I would put it away and go off to college to get those degrees.
And I took the detour from college to professional ballet, more out of impulsive curiosity. I threw caution to the wind, particularly warnings from my honors college advisor (who wanted to groom me for a Rhodes scholarship to graduate school) and focused almost exclusively on the fact that one only has so much time to dance, especially at the highest professional levels.
It wasn't until I had a strange feeling one ordinary day in an empty Ballet Arizona studio, while working on sections of a solo I was due to perform, that I was about to embark on something huge (or completely nuts) for a young female dancer. I guess that was close to an "epiphany" moment because not long after, I made the career shift from professional dancer to independent producer/choreographer.
Many people think of Celtic Dancing as being a monolith. What are the various nuances?
First, when most people hear "Celtic Dance", they think Irish Step Dance. Or perhaps more specifically, they think Riverdance. Celtic is a broader term that speaks to both the Irish and Scottish regions, among others. Scottish Highland dance is definitely different from its Irish Step dancing cousin, most notably or popularly understood as an audible form of dance.
Clogging, tap, hard-shoe Irish step dance – they basically come down to executing grounded, foot-rendered rhythm, and when you get forty dancers to do that in fairly good drill formation, you get Riverdance or a thunderous, Irish dance "chorus line."
In some respects, the kilted Highland dances move in the opposite direction, upward and against gravity. The harder and more advanced it gets, the slower it gets and the higher one must jump. It also demands more of the upper body than Irish step dancing, requiring arms to move sharply or at times, gracefully in sync with the legs, or to be held steadily overhead and at the waist which takes tremendous back strength, while rebounding to a slow and steady beat and executing precisely positioned footwork. The fundamentals and ideals of Highland dancing are arguably closer to ballet than Irish Step dancing.
When did you start dancing professionally?
Technically, I started making money as a dancer when I was a young teenager. I was paid quite often for special Highland dancing gigs throughout high school. And many championships offered cash prizes as a part of your reward for winning. But, I became a professional ballerina and officially joined Ballet Arizona relatively late, immediately after I had graduated from college, at age twenty.
What have been some of the highlights?
I guess you could say, as a Highland dancer, it was "a highlight" to win six national championships, to finish in the top two at World Championships twice. It was a highlight to win trophies and the respect of my peers. Establishing yourself as a formidable force within any particular, long-standing tradition gives you a tremendous sense of belonging and self-respect, and that alone can keep you engaged. Likewise, being accepted into a professional ballet company, which is not easy for anyone, much less a dancer with only a few years of intensive training in ballet was a high point. It was a thrill to be picked for various roles, to have a ballet solo tailored to my unique Highland skills - to be noticed by accomplished choreographers and critics.
But, these highlights and the fundamental challenge to stay physically and psychologically tuned or ready to "be the best" on any occasion were also very self-absorbing and consuming – very isolating, ironically. In fact, at one point, I offered to play "labor representative" for Ballet Arizona's company dancers just to regain some perspective, although my passion in that department didn't go over very well with administration and arguably contributed to my decision to exit the ballet scene.
You both dance and choreograph - What are the different challenges each of those offer?
Now, as a filmmaker, a producer, and choreographer, as well as a performer, my highlights and challenges are obviously diffused or spread across that spectrum. I find it more stimulating to explore and brainstorm fragmented ideas and then conceive of a plan and carry it out, hands-on through all of its stages and see it finally come into being. But, you can't get too caught up in yourself or any one area, without potentially bringing it all down. You have to compromise with yourself and other contributors, to a degree, to keep the ship afloat.
So, for me, the thrill of that moment on stage or winning a competition, that requires more private, physical obsession to be "the best", is no longer the driving point. I'm interested in integrating ideas and skills to build bigger pictures in perspective - making a mind-body contribution and inspiring others to make one too, without reducing or ruining ourselves and each other in the process. To me, that's staying alive and true to your function as "artist", which is not about obsessing over one technique or craft to a stifling degree nor is it about conforming to uninformed markets and trends.
Ironically, that mission creates an enormous challenge and all but forces you to operate outside empowered circles, between well-guarded traditions, and among others, on their own paths and with their own agendas. If you survive that, then exposing the results of this pleasure and pain and sustaining a presence in a socioeconomic system, that's not friendly to art as it is and for its own sake, become your next obstacles.
Of course, it's been a challenge to make art across platforms, when immediately "boxed in" as a tiny, long blond-haired woman, with size four feet – coming from a relatively small, ethnic dance realm. It's really no wonder that my most recent work speaks to these challenges and my journey to peace and activism through art.
Your latest project is "Grace Fury," How would you describe the project?
Grace Fury is a feature film that reveals my personal and artistic "evolution", conveyed through dance and diary - a film memoir. She's the brainchild of my fire and grace, cultivated over years of pioneering …creating multifaceted projects and building upon every passing venture and discovery, all in the face of those challenges - outside, between, across, and among others - as I've just elucidated. Her energetic and cerebral character emerges as she rolls through elemental chapters of my progressive journey, from Scottish dancer and professional ballerina to my completion of this project, as director/filmmaker.
Every chapter opens with choreographies on stage that reflect my signature blend of Celtic, contemporary, and Classical vocabularies, while representing my experiences during particular years or capturing the range of sentiments that accompanied them. But, each of these outwardly youthful and playful dances are offset by my intimate thoughts, feelings, questions – the significant challenges along the way – revealed behind the scenes, in quiet places, and on location in the American Southwest and Argyll, Scotland.
The film's candid reflections leave room for some dramatic mystery, with a bit of puzzle and poetry in her prose that admits of overlapping realizations and nearly seems to go full circle. But it's an unearthed Celtic spiral that drives this story, inside and out – in substance and in form. Grace Fury winds up in a new place to make her stand and her peace, matured with a new sense of connectedness and meaning in person and purpose.
What would you like your viewers to come away with after experiencing "Grace Fury?"
Viewers will take from it what they will. Different audiences will receive different things from it based on their own foundations, passions, levels of inner freedom and curiosity. But at the very least, I would hope that Grace Fury leaves viewers with a sense that they have just experienced something real, something honest and very carefully crafted – Grace Fury does not come from exhausted formula for optimal profit or by need for constant attention and glory at any cost.
In fact, I've merged some aspect of every project, on stage or in short film, made to this point, with fresh ideas and new designs precisely to give Grace Fury comprehensive form and to substantiate her authenticity - her insights from years of firsthand experience, off the beaten path. But unfortunately, she dances in the face of powerful forces at work in our culture that reduce the art, comprised of numerous dance forms and standards, to a false, celebrity-boosting "sport" or mere moment of trick and spectacle. I made the film in the hope that some will truly see her and embrace her edges and curves - her full, nuanced being - brought to life with little institutional or industry support.
That is, Grace Fury is my resistance, full of devotion - but namely in defiance of those attitudes that say the only way we can make or experience art is to resign ourselves to being spectators, looking for escape, or tools of excess and greed, yet ever trapped in reductive mindsets and skillsets, afraid to step outside and to collaborate with new people, to learn new skills, and to gain whole new perspective. Grace Fury seeks to resist all that disconnects and breaks us down – that keeps us from building our own complete stories. One might see her fire and grace in her technically and theatrically vigorous dance – her body language. Another might feel the tension more in the oscillation between her theatrical front and her inner voices, grappling with what it really means to be an artist and an activist. Either way, she has, for a moment, made one look beyond the usual channels of "art & entertainment", exposed good work, raised some questions, planted some seeds, or in other words, laid her beauty and truth on the line. Where you take her and others like her - how far they're allowed to go from there - is up to you.
To learn more, visit: http://www.lauracarruthers.com