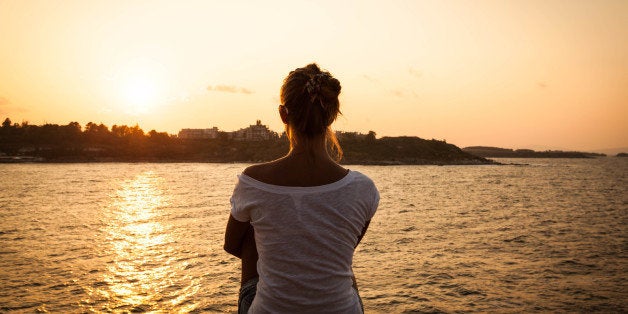 "You can't fully heal until you become transparent with yourself." Kristin Meekhof
Along our grief journey we all struggle at various times with unexpected tearful moments: we find a special item belonging to our loved one, a vacation photograph falls out of a book, or we see someone who reminds us of the past. These are the times that there is a lump in our throat. Quickly the feelings of isolation and loneliness invade into our being.

How we manage our grief / loss the weeks, months even years beyond our loved one's death is just as important as the first days following their passing. Often after I speak about grief and loss, there is a question and answer period. It is during this time that I am often asked this: "How did you cope with grief?" What the person wants to know is what I did those initial weeks, months following the death.
When my husband, Roy, died from advanced adrenal cancer in 2007, I was 33 and truly was in unchartered territory. I was also painfully alone as we had no children together. The funeral was in early November followed by Thanksgiving, Roy's birthday and then the Christmas holidays.
That particular Michigan winter was quite harsh. I ate nearly every dinner alone and read many books, magazine articles and binge- watched various shows on the Food Network channel. Then in the morning, I would hit the gym, run on the treadmill and some mornings I would show up at a local yoga studio. It sounds like I had a good grip on handling grief, right?
Well, one thing that I did not practice much of was self- compassion. This is not the same as being a narcissistic or thinking very highly of one self. Instead, it means being kind and gentle with yourself.
Self- compassion is not just some warm fuzzy platitude of giving yourself a hug. It is advice that you may struggle with at first because it sounds silly but it is can help you cope with a plethora of challenging emotions. Being hard on yourself only creates more anxiety.
So what exactly is self- compassion for those in their grief journey? This means that you understand and accept that there are still wounds to heal and you give yourself permission to treat yourself with love, respect and gentleness. This is not only healthy, but it also promotes healing. Being critical of your own grief doesn't leave room for authenticity. Part of being authentic is being honest and respectful about your struggles related to grief.
Healing is a process. Last month, I was emotionally wiped out during part of Father's Day weekend . I deeply missed my father more than I had in a long time. Although, more than thirty years have passed since his death, Father's Day weekend found me especially tender this year.
For years, I denied to others that I missed my father. After all, my mother remarried about two years after my father died. I would feel guilty sharing my true feelings not only with others but also myself.

Transparency is not for the faint of heart. And becoming transparent with yourself in regards to grief can be painful. It takes a brave and earnest person to examine all that we would rather keep hidden. In doing the interviews for my book, I found that at times widows who lost their spouses to substance abuse or suicide struggled with sharing the cause of death with others. Due to the stigmas in our society about these issues, the widows would often say their spouse died from a heart attack. Repeating this over time became more painful because they knew they were covering up the truth.
None of this is easy because grief is often messy, complicated and scary; however, one can't fully heal until they become transparent with themselves. And only that person knows the truth. Being gentle with all of these emotions, regardless of when the loss happened is important. Nourishing yourself with kind words of understanding and compassion is not only healthy, it is also wise. Give yourself grace.
Kristin Meekhof is a speaker, writer and author of the book, A Widow's Guide to Healing (with cover blurbs from her friend Deepak Chopra, MD and Maria Shriver- Sourcebooks, 2015). Kristin is also a contributor to the Live Happy book (HarperElixir, 2016). She is a licensed master's level social worker, obtained her B.A. from Kalamazoo College, and completed the M.S.W. program at the University of Michigan. Recently, Kristin was invited to the United Nations to attend the CSW60 conference where she introduced Lord Loomba. She can be reached via her website.