The editors here at The Huffington Post are still in shock over seeing Grace Jones up close and personal at AfroPunk Fest 2015 last weekend. The 67-year-old entertainer put on a killer show, belting out classic hits like "Nightclubbing," "Private Life" and "My Jamaican Guy" in the Brooklyn heat. Not to mention, watching her hula-hoop without skipping a beat as she performed "Slave to the Rhythm" is forever etched into our memories. But we're pretty sure makeup artist Robert Greene had the most epic Grace Jones experience at AfroPunk.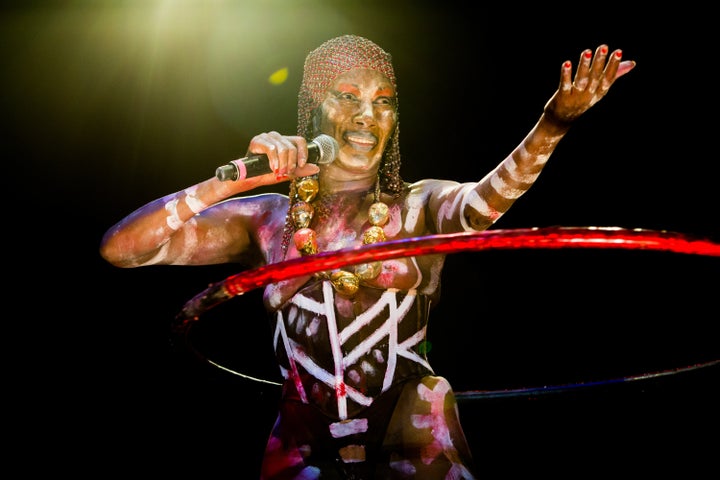 For the show, Greene was tasked with painting Jones' body to recreate a 1984 photo shoot she did with renowned photographer Robert Mapplethorpe, who captured Keith Haring's body paint work. Having studied graphic design at the Fashion Institute of Technology and worked as a professional makeup artist for the past 13 years, Greene was already familiar with the photographs.
With that as his reference, it was still important for him to add his touch. "Wanting all of this and having to deliver on the spot brings out nerves, and a lot of adrenaline," Greene told HuffPost.
"I didn't meet her until the day of the show, in her tent, when we had one hour to get her done, so there was no discussion before," said Greene. "I was told to research her collaboration with Keith Haring, and I knew going into this that I wanted this to be a tribute to Keith, especially since she was performing in NYC."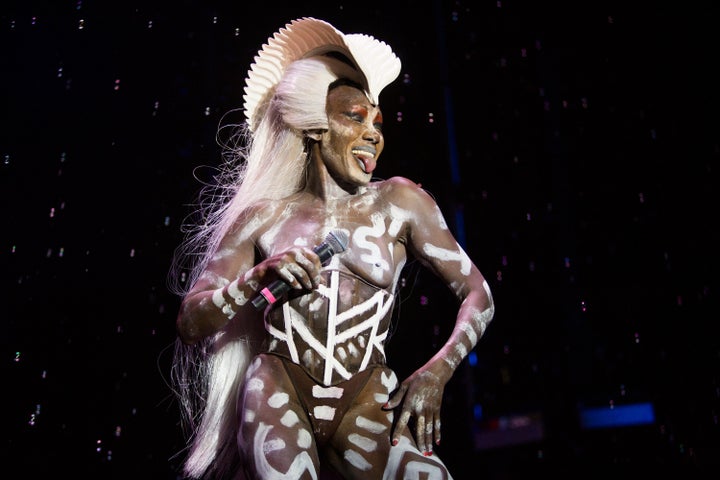 Apart from the pressure to get her ready in time, Greene revealed that "the atmosphere is calm, there's family present, and she and her team are amazing and her music is playing."
"I walked into a very warm welcome, [then] setup, they dressed her, and she says, 'OK, you can start.' I had a mood board with images of her that I referenced as I was painting that she was delighted to see," he said. "Everything was just freehanded in that moment on her for both nights. There's not much time, and the pressure is on, and you have to just be fearless and paint."
"The moment I begin painting is the moment I'm lost in another time and place. I'm so focused and barely speaking just drawing all over her, section by section -- as my assistant cleans and brightens up the lines [and] they constantly remind me how much time is left," said Greene. "There were moments when I would look into the mirror to check what I was doing where I would say to myself inside, 'HOLY F**K! I'm painting Grace Jones!' You see her coming to life right before your eyes and it's an incredible thing to be a part of."
However, it wasn't until Greene returned home and researched the hash tag "#gracejones" on social media that he was able to see the impact of his artistry. "'I'm on stage with her but don't experience what the audience does," he said. "I am thrilled with the results and the journey the makeup goes through as it begins to break down. No one can make that look as amazing as Grace Jones can."
To see more of Robert Greene's amazing work, follow him on Instagram.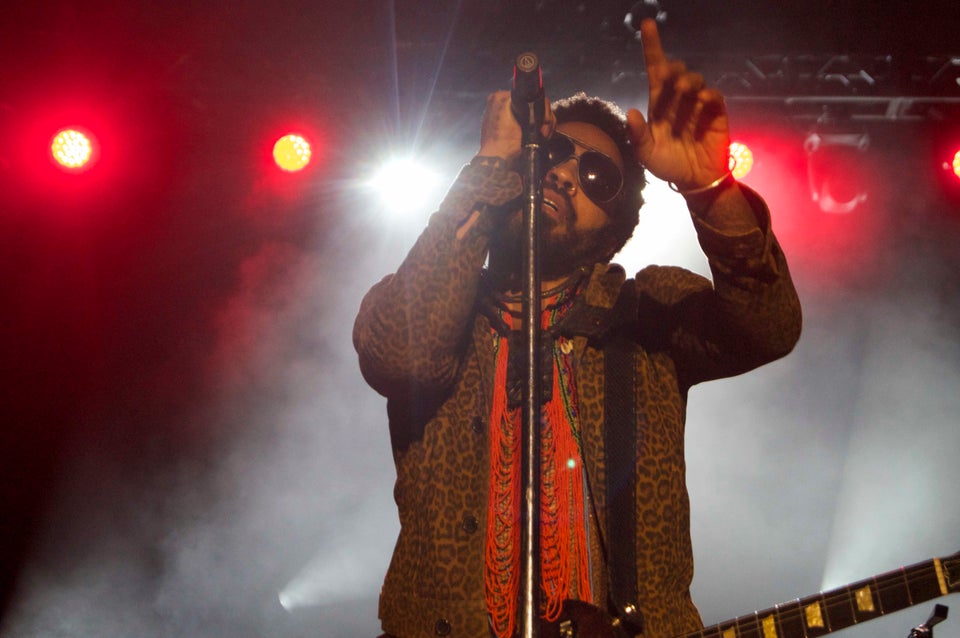 Most Memorable Highlights From AFROPUNK 2015