There is a reason that songs, movies and books were written in Grace Kelly's honor -- the woman was a legend. The Philadelphia native got her start modeling at local social events, and soon thereafter began acting and dancing at her high school. But it wasn't until she moved to New York that she got her first big break on Broadway. From there, Kelly went on to become a fashion icon, Alfred Hitchcock's muse and royalty -- she married Rainier III, Prince of Monaco, in 1956, making her princess consort of Monaco.
In celebration of Princess Grace and Prince's Rainier's anniversary (on April 19), we are taking a look back at their wedding photo. In this 1956 photograph, we see the happy couple posing for a portrait, looking quite regal (natch). Kelly is wearing her wedding dress, one of the most famous bridal gowns in history, complete with a lace bodice, delicate veil and two petticoats. (Her dress has since been on display at museums and even has its own Wikipedia page). Her husband looks dapper in a military-style uniform that he designed himself, and a slew of medals and a red and white sash worn across his chest.
What made this pair's wedding so special was not only the lavish ensembles and over-the-top ceremony, but the idea of a real-life fairy tale coming true -- an ordinary girl from Philly married a European blue blood, and the whole world got to watch it happen.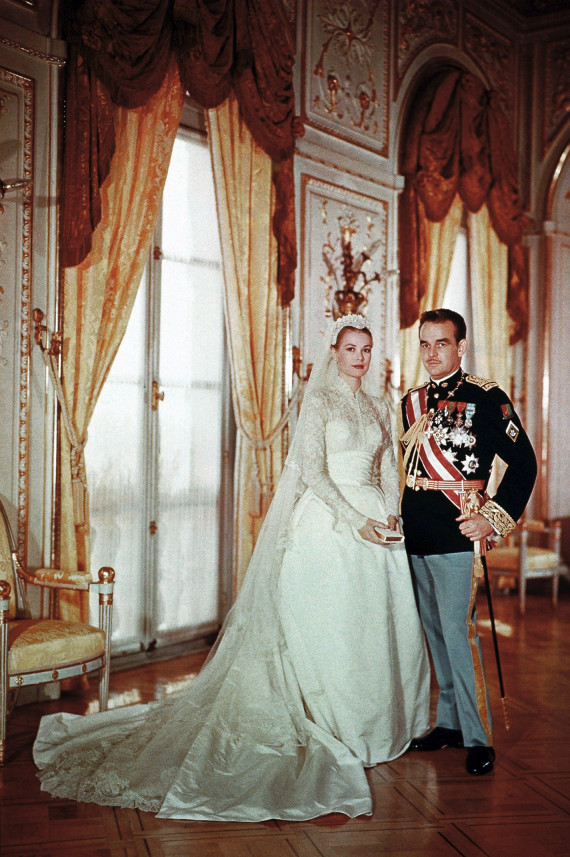 Gamma-Rapho via Getty Images/3777/Contributor