 This past weekend, we memorialized Priscilla Dewey Houghton at her funeral in a packed Boston church. If the "Dewey" name rings a bell: yes, there is a relation to Dewey, as in the Dewey Decimal system. If the "Houghton" part of her name rings a bell: she was the wife of Congressman Amory (Amo) Houghton Jr. of Corning, New York. The Houghton and Dewey names have long been associated with support of education, the art, and other arenas of civic well-being.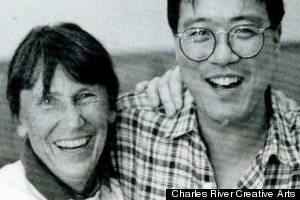 Image: Priscilla Dewey Houghton and Yo-Yo Ma.

Priscilla was a true patron of artists. Not just a patron of "the" arts, but of artists. There is a difference. The Houghtons opened the doors of their wonderful Georgetown P Street home to me when I was developing a theater project in Washington, D.C. They lived on one side of their garden, I on the other. Priscilla was a Boston Brahmin Democrat. Amo is a Republican. There was a bumper sticker on a bulletin board in the kitchen: "The Road to Hell is Paved with Republicans." Priscilla had inscribed the bumper sticker in felt tip pen: "... except for Amo."
Priscilla's generosity knew no bounds. For my Stanford University students, who'd come to Washington to help out, she became an inspiration. When things got funky that first hot, humid summer, as they inevitably do in the charged environment of theater production, she was their frequent hostess. In the beauty of her garden, she offered iced tea and her curiosity. And then there was that remarkable way she had of convincing them that they were each the most essentially perfect, valuable key to the entire undertaking, no matter how tedious, simple minded and laborious their assigned task seemed to be.
She also got Amo on board; talking him into taking me to lunch in the Congressional dining room, or inviting me to tag along to the State of the Union address, or hustling me an invitation so that I could go with them to White House Christmas parties. She also talked Amo into helping me get access to Republicans I sought to interview. Far right-wing Republicans were just as suspicious then, as they are now, of people who are different from them. But when Amo picked up his phone on my behalf, they agreed to meet with me. There was a lot of joy in that house -- the "Theresa Fenwick House -- built in 1826. It rang with laughter about the absurdities of Washington and it was filled with serious conversation, too. Amo is a moderate Republican, and he is committed to the urgent necessity of finding a way to work across party lines.
Priscilla exemplified generosity, but she also exemplified grace, love, and courage. In 1987 she was told she had 6 months to live. She lived until 2012, fighting lung cancer from secondhand smoke -- she herself having never smoked a single cigarette. In 87, almost 88 years, she met struggles head on. She survived polio in the 1950s. She was profoundly empathic, and that is, perhaps, a result of her personal encounters with the dignity of struggle. You could feel her empathy with every laugh, every sigh and every "can I offer you some... " that she uttered. At Priscilla's house, everyone was welcome.
One night she was standing in the pretty living room, holding a piece of paper as though it were a wilted flower. She had spent weeks, maybe longer, visiting a nearby library to study the history of the house which, again, had been built in 1826. From the look of dismay on her face, the sink in her shoulder, I knew what I was about to hear. And so, when she said: "Oh -- Anna... " I completed the sentence for her. I said: "I know, Priscilla... slaves." How refreshing it was to hear her proclaim the full history of the house -- to include in it her passionate account of the injustices done to the Negro slaves who had lived there. Sometimes well-meaning whites, when experiencing evidence of America's moral ambiguity, will timidly ask, hanging off the edge of hope: "But aren't things better now?" Priscilla looked straight into the eye of the storms: past, present, future.

Art is thought to be inspirational. I think of it as aspirational. It sings what cannot be said. I think of it as deeply connected to the political and social sciences. The '60s, which were the birthplace of the nonprofit arts movement as we know it to this day became, finally, one big volcanic party. Everybody was (briefly) welcome. Form and content and authorship changed as a result. But the way art found its way to audiences and the way audiences found their way to art also changed. To whom art is given is as critical as from whom it emerges. The great choreographer Alvin Ailey whose work, by his account, emerged from the work songs and folk songs of his "Black Texas roots," said it best: "The dance comes from the people and must always be given back to the people."

Priscilla Dewey Houghton understood in her veins that art comes from the people and must always be given back to the people. She had a particular passion for art that makes a difference by including young talented people and, beyond that, by including young vulnerable people.

Two of Priscilla's children, Kippy Dewey and Toby Dewey, have an exemplary project called Urban Improv. It began when Kippy and Toby looked at each other and said "We have got to do something about the violence in Boston." That was their aspiration. They created a company where children -- and now their parents -- can literally act out alternatives to violence. They can perceive and act out alternatives to the forces that threaten human well being. Urban Improv is changing lives.

It was Priscilla's empathy that augmented her generosity and inspired others. I saw members of the Urban Improv company at her funeral. They are as radiant now as when I met them 15 years ago. Empathy can fuel art making, and it can also fuel how we distribute it. As I think about all that Priscilla did, I ask: How about expecting a little more of the empathic in the way that we would like nonprofit arts businesses to run in the 21st century? Built with a public trust, nonprofits in the last fifty years have a claim on civic space. We, as a public, have a responsibility to ask more of them, in the same way that we have a responsibility to ask more of other civic leaders.

Political science helped inspire the proposal that "art comes from the people and should always be given back to the people." Yet that proposal is increasingly on rocky ground. It may be on rocky ground for reasons that are bigger than what we do or don't do in the silo of the arts.

Tom Sargent, who recently received the Nobel Prize in economics, said this to me in 2004: "See -- economics is very imperialistic. It's not just about money. It's basically taken over for political science." That really stuck in my mind like a song. It plays in my head often: "It's not just about money. It's basically taken over for political science."
"Taken over for political science." Ouch. Economics is for whiz kids.

Some would say that art is the product of desire and fear. Subtle forces always creep deep into culture. At some point, an artist has no choice but to wake up screaming, flailing, with a muscular response to the silent volcano. Does "it's not just about money, it's basically taken over for political science," mean that we will find ourselves unable to understand, unable to articulate? Because I am writing this to honor Priscilla Dewey Houghton, the ultimate hope-a-holic, I have no choice but to say "Of course we won't be mute! We won't just wake up screaming, we will wake up singing!"
The Very Reverend Dr. Jane Shaw, Dean of Grace Cathedral in San Francisco, has observed an irony. She has been writing and speaking about the societal need to develop and enrich a "moral imagination." She has noticed that churches are taking on mainstream business models, at the very same time that successful business people in her community are turning once again to religion and to art in order to find new value and new meaning in their lives. Our arts institutions, not unlike the religious institutions that Dean Shaw points to, recite the gospel of mainstream business strategies. We have to go beyond those mainstream business strategies. We need more empathic strategies -- strategies that are more empathic and caring of artists, and strategies that are more empathic and caring about our public.
If we extend ourselves in a more empathic way, we may be able to engender an extended patronage. Statistics show that proportionate to their means, the most generous people are not the 1 percent, the top 10 percent or the top 25 percent. Proportionate to their means, working class and middle class people are more generous than the extremely wealthy. They might not support art. But they do support projects that are important to them. Let's continue to chase the "sustenance" that money can buy, but let's not overlook the fact that patronage is first and foremost a relationship. And it goes both ways.

I'm thinking about Mrs. Hubert, who lived across from the great opera diva Jessye Norman in Augusta, Georgia, when Ms. Norman was a very small child. Mrs. Hubert, bound to her front porch by age and lack of mobility, would beckon to Jessye Norman and Jessye would go over to her: "Sing Jesus loves me, you like that song," Mrs. Hubert would say, and Jessye Norman would sing and go home with a day made well. Jessye Norman credits Mrs. Hubert as being among her first audiences outside of her family.
Every community needs a Mrs. Hubert. (Is American Idol enough?)
Priscilla supported all manner of galas in Boston, New York and Washington, but she also had a lot of Mrs. Hubert in her.
Priscilla Dewey Houghton's daughter, Kippy, said this to me about her mother: "She had enough love to go around. She never looked beyond you to someone else in the room. She made you feel like you had something important to say."
I am guilty, and you, the reader, are probably guilty, too. We look beyond -- to someone else in the room. Yet what I am getting at is more than bad manners at a cocktail party. Most nonprofits arts organizations presume public support. Some say that we have lost our way because we are too enchanted with for-profit business notions of success. In connoting success in that paradigm, have we looked beyond the communities we profess to serve? In doing so, we may be looking right past our major advocates. We may be looking right past our next generation of talent, our next generation of audience, our next generation of patronage.
Written to remember and honor Mrs. Priscilla Dewey Houghton.
Related
Popular in the Community