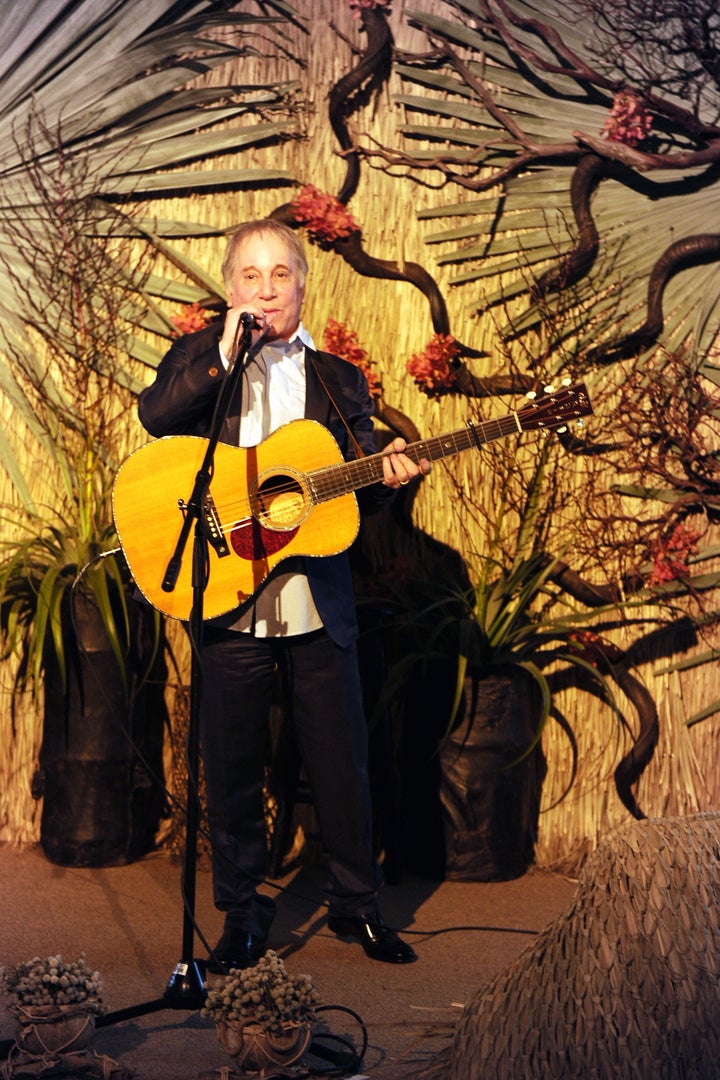 "Writing about music is like dancing about architecture," Elvis Costello has said. "It's a really stupid thing to want to do." Perhaps. And after a certain age, it's certainly a bit ... unseemly. Writers who love rock are supposed to grow up, embrace opera and string quartets. Which I do. But I'm still a fool for three guitars, pounding drums and lyrics with wit and bite.
So I was flattered -- honored, really -- when I was asked to write the introduction to the twenty-fifth anniversary edition of Paul Simon's 'Graceland.' There is music that sticks to you and sustains you and grows with you and pushes you to grow with it. 'Graceland' is all those things, and more. But you'd rather read the introduction, I'm sure. Here it is...
"The Boy in the Bubble" -- the first song on Graceland -- begins with Forere Motloheloa's accordion, a seductive invitation that lasts exactly nine seconds.
It's followed by four bass drum slams that echo like gunshots.
But no sooner has that blunt demand on your attention chilled your heart than the percussion transitions into a strut, and "The Boy in the Bubble" becomes a jaunty, danceable tune.
Paul Simon begins to sing. His voice is conversational, matter of-fact. Nothing much is happening -- he's just setting the scene.
It was a slow day
And the sun was beating
On the soldiers by the side of the road
And then, with no change in his delivery, this:

There was a bright light
A shattering of shop windows
The bomb in the baby carriage
Was wired to the radio

Why aren't we shocked and disgusted, why don't we turn away? Because of the happiness delivered by the rhythm and melody, an unprecedented blend of South Africa and Southern Louisiana. And, next, by a line that matches the radiance of the music: "These are the days of miracle and wonder."
I can't think of a song that delivers a more dazzling array of information in the first 45 seconds -- or of an album that has brought joy to so many listeners in spite of its serious lyrics and unfamiliar music. Graceland is many things: the first "world" music album recorded by an American, a collection of made-in-apartheid-Africa songs that speak not of conflict but of liberation, a vision of a world delighted by technology it cannot master. But, first and foremost, it's great music -- personal and universal, sophisticated and accessible, without a dead moment or a dud song. It's that rarest of albums: a popular masterpiece that reveals something new with each hearing.
The story of Graceland starts with a happy accident. In 1984, when Paul Simon first heard a cassette tape of the street music of Soweto, "world music" was a minor category without global appeal; it took some investigation just to learn the name of the band. Simon soon wanted to know more -- the names of the Boyoyo Boys -- because he had been scat-singing over their songs and thought it might be good to record with those musicians.
This was a brave decision, as South Africa's policy of apartheid had, by the 1980s, led the international community to declare a cultural boycott against the country -- and Simon would be violating that boycott by recording in South Africa with African musicians. But the South African black musicians' union voted to welcome him, hoping that he could help their music become as well known as reggae.
Simon's second brave decision was to go to South Africa in 1985 without any songs in his notebook. Nor did he intend to improvise with local musicians and return to his hotel for a traditional session of writing. This time, he decided, he'd record the rhythm tracks first, then figure out the words. "I'll make the record I like," he said, "and then I'll write the song."
Two weeks in South Africa gave Simon the tracks for six songs. Back in America, he spent some time in Lafayette, Louisiana, where he worked with zydeco musicians. In Los Angeles, he recorded with Los Lobos. And in New York, he added a final song, ''Diamonds on the Soles of Her Shoes," with Ladysmith Black Mambazo, the Senegalese singer Youssou N'Dour and the same rhythm section he'd used in South Africa.
He knew, he said, that "the whole world responds to rhythm, and when the rhythm is right, it's incredible -- people jump up and dance." And he knew that "while writing the lyrics, I always tried to stay true to the mood of the music, which was flowing, pleasant and easy.''
Still, when it was first released. Simon was guarded in his assessment of Graceland. "I just thought it was really interesting for me," he told an interviewer. "I wouldn't have been surprised if other people said 'I don't get it.' I wasn't surprised when people said 'I love it,' because I did. It wasn't inconceivable that other people would agree with me, but it wasn't inconceivable that they just would think that it's an odd kind of rock 'n' roll."
Precisely because it was like nothing Americans had ever heard, the honors for Graceland came fast, and have never stopped. The l986 Grammy for album of the year. The 1987 Grammy for the title song. Inclusion in the United States National Recording Register. "Best of" lists -- and all-time "best" lists -- galore. Graceland was one of the reasons that, in 2007, Simon was the first recipient of the Library of Congress Gershwin Prize for Popular Song. Certainly it's the people's favorite; Graceland sold more copies than any of Simon's 11 solo albums. It's his favorite as well; he calls Graceland the best song he's ever written.
Decades later, Simon has said that he considers himself a songwriter first, then a performer. Graceland is the proof that he's right. The lyrics take us from the heights to the bottom. They are sophisticated ("I said, 'Aren't you the woman/ Who was recently given a Fulbright?'/ She said, 'Don't I know you/ From the cinematographer's party?'") and down home ("I'm standing on the corner of Lafayette/State of Louisiana/ Wondering where a city boy could go/ To get a little conversation/ Drink a little red wine/ Catch a little bit of those Cajun girls"). They address romantic heartbreak, economic inequality and technology used in the service of tyrants. And they give us characters that, once met, we can never forget: "the child of my first marriage," "the human trampoline," "the former talk-show host," the rich girl who doesn't try to hide it and the guy you can call "Al."
In their uniform excellence, these are lyrics that could stand as poems, lyrics that could make Paul Simon a worthy choice as America's Poet Laureate. But their ultimate genius is you don't hear them with admiration or reverence -- they are carried along on a river of rhythm. And, as Simon notes, "the roots of rhythm remain."
Paul Simon was touched by magic in the creation of Graceland -- nothing about it seems dated. The soldier by the side of the road and a bomb in the marketplace; they're this week's headline, pretty much every week. In a corner of the sky, we regularly learn, another constellation is dying. There are many soft-bellied men wondering why their lives are so hard. These are, still, the days of miracle and wonder. And we are, all of us, hoping to be received in Graceland.
Copyright © 2012 Sony Music Entertainment
Popular in the Community