The third season of the thrilling one-hour drama series Graceland, returns Thursday, June 25 at 10/9c on USA Network. To tide you over though, I received some juicy tidbits regarding what's next for the show during recent on-set interviews with the cast. And if you haven't seen this addictive series yet, you can now catch up on the first two seasons on Netflix finally.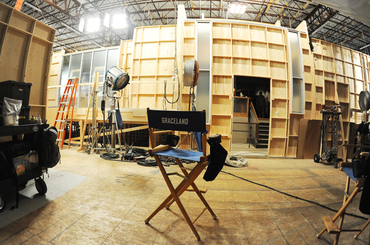 Season three of Graceland resumes after the deadly attack on Mike (Aaron Tveit), which left his fate hanging in the balance, along with anxious fans. Paul Briggs (Daniel Sunjata) gets coerced into a high-risk operation, while his pregnant counterpart Charlie (Vanessa Ferlito) is on a mission to find the person who nearly killed her.
Audiences will be glad to hear that season three plot-lines bring it back to the house, with the Malibu hideout "Graceland" once again at the center for the undercover FBI, DEA and ICE agents.
Actor Brandon Jay McLaren who plays Dale Jakes revealed that the dynamic of the house will be forever changed this season.
"Season one was the least crazy, if what happens is meant to happen, season three will be nuts!" said McLaren. "Not necessarily dark, but surprises, like people will do things that are surprising and cause someone to say, 'that's crazy!'"
Season 3 Secrets Revealed (minor spoilers):
Mike's name is still appearing on the chore wheel at least, and it has been said that he'll be back in some capacity though. However, Aaron was not filming that day.
Unresolved plot lines and characters from the previous season will be dealt with again like Sid knowing their identities, as well as Carlitos and Lucia's drama.
There will also be an overarching Armenian mafia case with mobster Ari Adamian, portrayed by Entourage alum Rhys Coiro.
"The tape" is still out there and falls into someone else's hands yet again and comes back in a big way. Side note: how are there even still people left with tape decks to play the thing? lol
"Everyone in the house has atonement to do, has sins that they have to atone for," says Daniel Sunjata (Briggs). "Karma and chickens that come home to roost, quite literally as there were chickens in the last scene we did."
More of Charlie's backstory will be revealed. Sadly though, as of episode 5, there hasn't been a sauce night yet.
Charlie is still pregnant, but it doesn't slow down her character at all and Briggs is not happy about that.
Jakes still handles the role of cleanup and helps both Johnny (Manny Montana) and Charlie this season though.
Girl power. Paige (Serinda Swan) and Charlie will have their first one-on-one scenes together.
Lots of blood will be spilled this season, including Paige getting shot.
Actress Lucy Liu has been tapped to direct an upcoming episode on the third season, she's also been a fan of the series since its launch.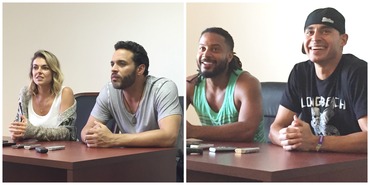 For more photos from the set tour and cast interviews, please visit my blog.
Popular in the Community