Pennsylvania teen Gracey Evans was walking down the hallway with her best friend at Franklin Regional High School in Murrysville, Pa., on Wednesday morning when she saw blood.
"I was walking back from my friend's locker when I heard a girl say to a kid, 'Hey, you're bleeding,'" Evans told The Huffington Post.
That's when the 17-year-old junior said her friend sprang into action, grabbing Evans and throwing himself in front of her.
"He blocked me from getting stabbed, and got stabbed in the back," she said. "I watched him fall. After that, I saw two other people get stabbed."
Evans said she saw 16-year-old suspect Alex Hribal -- now in custody -- wearing all black and wielding two knives. The Huffington Post is not identifying the victims until their names are released by authorities.
As her friend crumpled to the ground, Evans said she initially reacted the only way she knew how -- by letting out a "blood-curdling scream."
Nearby, another student pulled the fire alarm, Evans described. Panic ensued. A teacher ushered students in to a classroom and locked the door.
Evans' best friend was bleeding from the back. And then she spotted a student from her math class, bleeding on the floor with at least one stab wound on the right side of his lower torso.
"The teacher told [the student] to sit up, but I knew that wasn't right so I told him to lay down," Evans said.
Other students raced to grab paper towels and anything else to stop the bleeding, according to Evans. She said she used the paper towels to apply pressure to the wound, her hands soaked with blood as she fought to save her classmate's life.
When EMTs arrived, they took over for Evans and rushed the injured student to the emergency room. On Twitter, a user who identified herself as the sister of the victim tweeted that he is still in critical condition.
Evans said she then turned her attention back to her friend, who was screaming in pain.
"I held his hand and didn't let go," she said. "I kept asking him questions like 'What is your life's dream?' to get him talking. I got him water. My other friend applied pressure to his back wound because I was talking him through the situation."
When asked what kept her going, Evans said simply: "He saved my life, so I saved his."
At the hospital, Evans said the mother of the boy who had been stabbed in the torso broke down in tears when she heard what Evans and other students had done to try and stanch the bleeding and save his life.
"All through this I had blood on my hands, blood on my jeans ... I'm still shaking from the experience," she said. "I was crying, I was shaking. I couldn't believe that it happened at Franklin Regional."
Evans, who is on the honor guard for her marching band and carries the school banner, is an avid fan of superhero movies. Her favorite superhero is Captain America, so when her parents heard the news, her father said through tears: "You're my Captain America."
Story continues below photo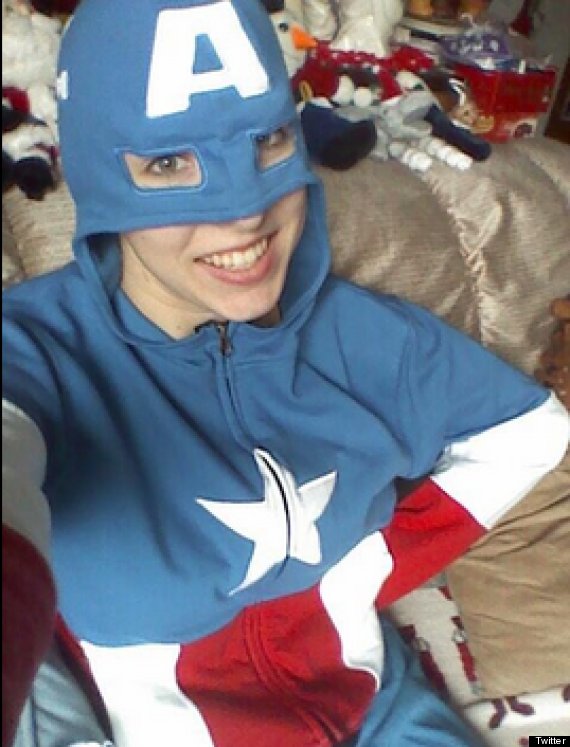 Bill Evans, Gracey's father, is a former Franklin Regional School Board director. He told The Huffington Post that the school has always been rigorous in its emergency management planning. The school employs a resource officer with the Murrysville Police Department.
"People didn't want [a school resource officer] in our school district, but this shows that a quick response is the best response," Bill Evans said. "They were able to correct this situation -- along with Assistant Principal Sam King -- quickly."
When asked about his daughter's heroics, Evans became audibly choked up.
"It brings a tear to my eye," he said. "Not only did someone step in front of her, but she stepped up and helped others. We're very proud, and it's very humbling."