"Gracie was a bit of a couch potato. She was never the dashing, athletic dog that would marvel people with her agility skills or her boisterous affection," Will Lowrey, a volunteer for an animal group named after the dog, told The Huffington Post. "It was sort of funny, if people were expecting this muscular, regal dog, what they found was a very comfortable, lounging, small, strangely shaped black pit bull."
The 11-year-old dog died Monday. Gracie's Guardians, a group devoted to helping other pit bulls live as well as Gracie did for the last seven years, announced the news on Facebook.
Gracie had a heart murmur, problems with her spleen and possibly cancer, according to Lowrey, who said the dog "told her mom it was time to go."
Before her rescue in 2007, Gracie was thought to be a breeder dog, producing puppies forced into fighting. She later got to be queen of the household in Richmond, Virginia, where she lived with adoptive mom, Sharon Cornett, then-president of the Richmond Animal League board.
"Gracie was very, very friendly," Amy McCracken, executive director of the Richmond Animal League, told CNN. "She loved people and was never aggressive to other dogs."
Gracie's Guardians, based at the League, was founded in 2011.
"Richmond Animal League, seeing the plight of pit bulls in our area -- and elsewhere -- decided they wanted to concentrate some specific efforts to help these dogs," explained Lowrey, who says it was a "no-brainer" that the group would be named after Gracie, "as a testament to her struggle and perseverance."
The group continues to provide free spay/neuter services and vaccines for hundreds of pit bulls and gives out free pet food, leashes, collars, dog houses, fences and other resources to Richmond pit bulls' families. In addition, it helps homeless pit bulls find families.
Gracie's Guardians also conducts public education campaigns, with the aim improving pit bulls' public image and showing that all dogs -- no matter how badly they've been hurt, or how abusive their former owners -- deserve to be loved.
"While she was a dog from a high profile case, there are literally thousands upon thousands of other dogs currently suffering the same fate," Lowrey says.
"Her name and memory will always serve as this reminder that we should care about all of the other dogs. The little black dogs, the big brown dogs and all in between," he says. "Their plight is not over. And until it is, countless groups and people should continue to push forward to help them and to alleviate their suffering. That's Gracie's legacy."
Email graciesguardians@ral.org if you're in the Richmond area and want to find out more about volunteering. Keep tabs on Gracie's Guardians on the group's Facebook page.
And get in touch at arin.greenwood@huffingtonpost.com if you have an animal story to share!
Related
Before You Go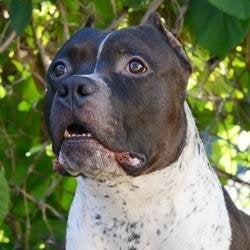 These Shelter Dogs Need Homes!
Popular in the Community