Two years after claiming his massive "phoenix rising from the ashes" tattoo was "fake for a movie," new photos surfaced on Monday showing the shirtless "Justice League" actor on a beach in Hawaii with his gnarly tat on full display. (See it in the video above.)
Here's what the colorful phoenix looked like in 2016, when Affleck was still trying to keep that bad boy under wraps: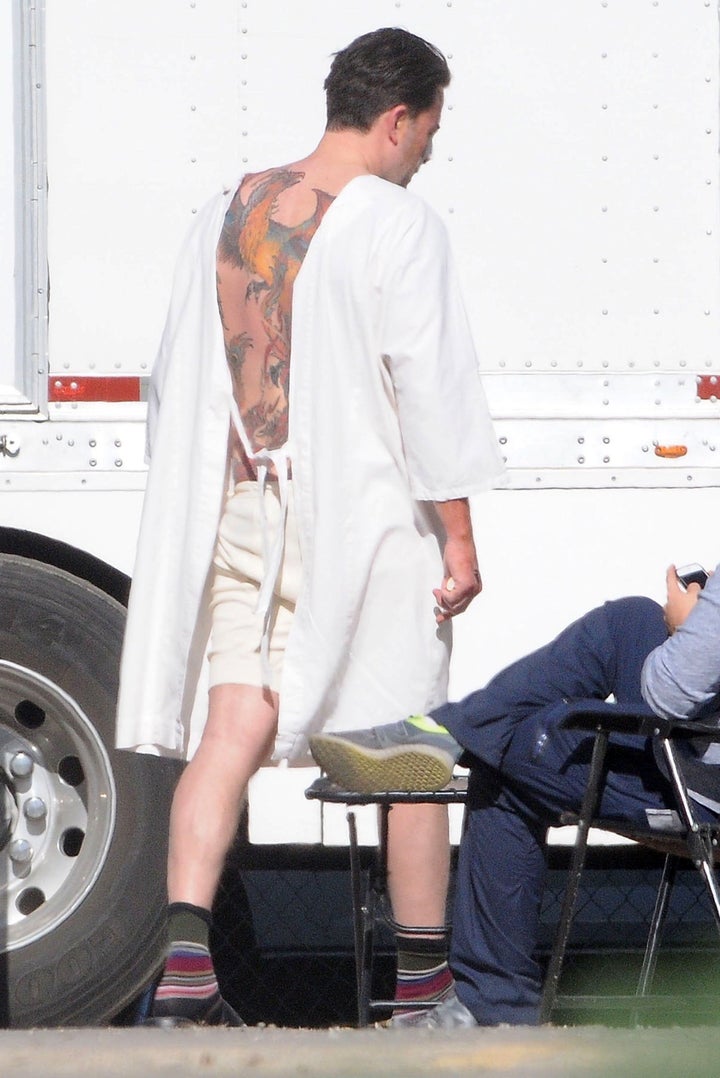 Naturally, the internet had feelings about Affleck's extremely loud ink:
At this point, even Affleck's former wife, actress Jennifer Garner, has commented on the bold ink.
"You know what we would say in my hometown about that? 'Bless his heart,'" Garner cheekily told Vanity Fair in 2016. "A phoenix rising from the ashes. Am I the ashes in this scenario? I take umbrage. I refuse to be the ashes."
"It's awful! I would tell him that," she said on "Watch What Happens" in 2016. "His tattoos always had too many colors. They shouldn't be so colorful. They should be, like, cooler. I don't know."
Clearly, everyone's a critic, but are we all being a little too harsh? To get to the bottom of this inky issue, we asked tattoo artists to give their professional takes on Affleck's bold back-scape.
1. "As far as Ben's tattoo goes, I hope it served him well and empowered him during a time in his life that he may have felt powerless. Tattoos of animals can represent qualities the collector wishes to embody. It would be pretty self-centered to criticize someone for their personal expression. If I meet a new client and they come in with sub-par tattoos, I don't criticize them for it, and oftentimes, they actually love their bad tattoos. Is Ben's tattoo a bad tattoo? I would say that I don't think it was executed with the most masterful hand, but I have seen far worse, and if he doesn't think anything is wrong with it, then it's perfect." ― Christy Fish, owner of Christy Fish Tattoos in Portland, Oregon
2. "So the piece to me seems a little convoluted, is it a phoenix or a peacock that lost a terrifying bet? The color scheme brings to mind a child that just discovered the magic of crayons. I would give the tattoo a 6/10 for sheer scale and audacity." ― Martin Kelly, a tattoo artist at Body Electric Tattoo in Los Angeles
3. "I love it! I give it an A! Ben sat a long time under the needle for that one and earned every minute of its healing value. I think it's great that people can express themselves however they like, whatever they may be going through ― to mark an occasion, a new beginning, goals they desire to achieve and anywhere in between. Our job as tattooers is to perform our service to the best of our ability without judgment. With a tattoo like Ben's, it all comes down to 'owning it' and owning that time in your life." ― Rob Fiore, a traveling tattoo artist at The Wedding Tattooer
4. "Let me first say that as a tattoo artist, I'd like to think that Ben Affleck would go to someone reputable. The tattoo itself represents a time in his life. Typically, people don't get tattoos because of the response it will elicit from others; you get a tattoo for you. Ben got a tattoo for Ben. As for my professional and personal suggestions, I would have chosen black and grey ink because over time, it tends to age better. With that said, I do think the tattoo was well done and ultimately, who cares what other people think? In general, post-breakup tattoos could be a way to provide closure. If this is what it represents for Ben, then it's a bold statement of rising from the ashes." ― Daniel Winter, a tattoo artist based in Los Angeles who's worked with Miley Cyrus and Bella Thorne
5. "To be honest, I'm not buying the fact that it's a post-breakup tattoo. I can't think of anybody that would get a permanent thing on their body to constantly remind them of a failed relationship, especially a back piece, and I've been tattooing for 26 years. Unfortunately, thanks to all the tattoo TV shows like "Miami Ink," the drama behind the tattoo is more important to some people than the tattoo itself. As for the design, Ben has probably looked around and picked the artist that he liked. If he's happy with it ... that's all that matters. And to be honest: I think that that tattoo is still a work in progress. Expect some background design coming soon." ― Marco Cerretelli, a tattoo artist at The Honorable Society Tattoo Parlor and Lounge in West Hollywood, California