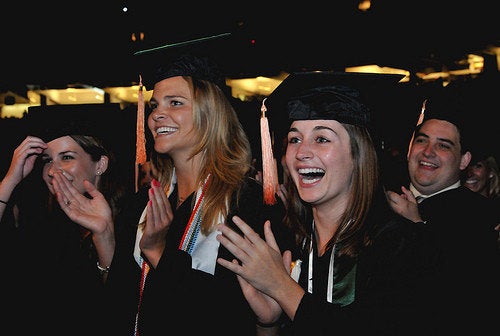 As part of the savings to trim the deficits, Congress would scrap a special kind of federal loan for graduate students. So-called subsidized student loans don't charge students any interest on the principal of student loans until six months after students graduated.
In an email to The Huffington Post, Mark Kantrowitz of FinAid.org notes that "graduate students can defer repaying their federal student loans by capitalizing the interest. The debt deal merely changes the $8,500 in subsidized loans to unsubsidized."
Under the agreement, a special credit for all students who make 12 months of on-time loan payments would also be axed.
The cuts would save the government $21.6 billion over the next ten years.
The cost of the war in Afghanistan costs $27 billion over three months, according to Think Progress, which says "Americans are left to wonder which cost-saving measure would be more worthwhile."
Reuters reports that grad students can currently borrow as much as $20,500 a year in federal Stafford loans. That amount will be raised to make up for the extra money students will have to spend to cover the lost subsidies.
Popular in the Community