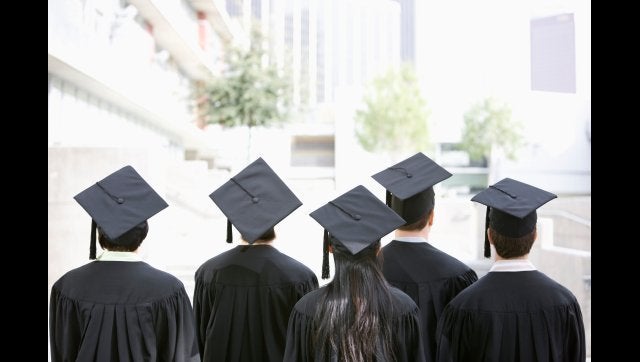 It's that time of year again. I want to congratulate every tassel-capped senior on a "job well done." Graduation is a time for celebration. And what better way to celebrate than to spend time with a principal who is experiencing his first graduating class.
Mike Reed is principal of Columbus Signature Academy-New Tech in Columbus, Ind., located 45 minutes south of downtown Indianapolis. He was the founding principal of CSA NT when it opened in 2008. This year marks the first graduating class.
"These students took a tremendous 'leap of faith' when they decided to attend CSA NT," said Mike. "I am so very proud of these students. We offered a different educational philosophy and methodology than they had been accustomed to at traditional schools, but they took the chance and went with it."
Four years ago, the local school district explored options for new ways to educate students and ready them for college and career. Community businesses -- that had a vested interest in the local workforce -- were also involved in the exploratory process providing feedback regarding what type of skills were needed for their future employees.
Talking with local businesses was just the start of integrating the New Tech school into the community. "I traveled all over the area with my projector and slide show," Mike explained. "I talked to local citizen groups like the Rotary, and other meeting venues, to let everyone know what they could expect from CSA NT."
CSA NT opened with 100 freshmen, who are now the school's first class to graduate. "These kids were the first for everything," said Mike. "Being first has its challenges, but it also has its perks. We gave them a tremendous amount of voice in the design of the school. As a result, our students have a great deal of ownership in CSA NT. They really had a hand in the school's development."
The New Tech Network model is flexible enough to succeed in a variety of school settings and can be implemented in stand-alone facilities or co-located within a campus. CSA NT is a stand-alone public school, located in former warehouse with a colorful history.
"We built CSA NT in an existing automotive parts warehouse. We were truly able to build it 'from the ground up' since the building itself was a huge open structure," said Mike. "The inside design is revolutionary. We had no walls to limit us -- we were able to make the school fit our needs rather than fit our needs into an existing building."
What does a school designed to prepare students for college and career look like?
"We didn't want the school to look like a high school when you first entered the building," explained Mike. "The entire structure is very open. We have lots of glass windows and doors. There's no place to hide here," he joked.
"Our philosophy is that teacher and student work should be public -- not hidden behind closed doors," added Mike. "We believe that Project Based Learning (PBL) and integrated courses cannot be taught in a traditional classroom."
How did Mike and his colleagues go "out of the box" for the design of CSA NT?
"It was a collaborative effort, with many minds involved -- local citizens as well as professionals," said Mike. "I looked at some of the gathering places the students frequent -- such as Starbucks and Applebee's -- for some of my ideas. I wanted to incorporate some "unique space" for the students."
And that he did. There are breakout spaces scattered throughout CSA NT that feature booths and nooks usually found in coffee shops and restaurants.
CSA NT was also one of the first New Tech schools to go totally wireless. "Students can find little spaces throughout the school that give them a sense of privacy," explained Mike. "They can work on a project, read, listen to music or just have quiet time to think. Because the culture at this school is based on respect, responsibility and trust, we know these students will use these spaces properly and stay on task."
How have students benefited from attending CSA NT?
A hallmark of NTN is providing learning opportunities that are real and relevant, the faculty at CSA NT do this every day.
"There is a sense among the students that they are doing something real because they are very involved with community and business partners," he explained. "Projects are based on an authentic problem that needs to be solved. Students are presented with these problems by the community."
It's not just theory. One class created prototype windmills (an outgrowth of ones the students were studying in physics class). "Students this year presented a windmill prototype to a local "green" housing development," explained Mike. "They created a windmill prototype that not only had an energy saving component, but also had an aesthetic aspect that would appeal to the housing development's Board. Residents selected one of the windmills presented by the students. The students then partnered with a local engineering firm to actually hook these windmills to the electrical grid."
As we often say, students can learn from a book and memorize facts, but nothing teaches them to apply what they learn and think critically better than actually producing a work product in a project.
"Our students are great communicators," added Mike. "They have confidence and an ability to advocate for themselves. They understand the value of their learning style and know how to work collaboratively Even when something they are doing is not successful, we don't lecture them as to how to make it better. Instead, they get to see actual professionals addressing the same project challenge and learn from these community partners how to achieve a successful outcome in a collaborative environment."
I have the greatest job -- I get to speak with New Tech seniors from schools all over the country who amaze me with their clear sense of purpose and can talk openly and eloquently about what lies ahead after high school. I can only imagine what it feels like for a principal to have witnessed the transformation of these students from freshman to senior year.
Mike summed it up: "Attending CSA NT changed the way the students think about college. Being in this type of environment enables the students to develop stronger relationships with faculty, administrators and other students -- which is something they want to replicate when they attend college."
Rather than take a well-worn path, these CSA NT graduating seniors have opportunities to blaze many trails after high school. Congratulations to the students, teachers and to the principal who made this happen.
Popular in the Community