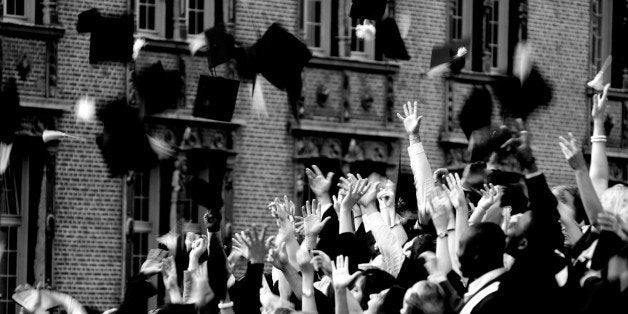 There are boxes lining the hallway from your bedroom down to the family room, waiting to be carried downstairs and loaded carefully into your car so you can leave. Once you get in that car and drive away, this house won't be "home" for you anymore, it will be the house you grew up in, it will be your parents' place and it will be somewhere you visit for holidays, but it won't ever be home for you again.
That makes me sad in unspeakable ways, but it also makes me think back to the day I moved out of my parents' home. I wasn't leaving for college like you are now; I stayed at home during those years of my life so I was a little bit older than you are, but I don't think I was anywhere near prepared for what life had in store for me.
Maybe it's not possible to be prepared. Maybe being prepared is completely overrated. Maybe the best thing to do is buckle up, hang on tight and roll with whatever comes your way.
That's not really what this letter is going to be about, though; what I really want to write to you and say is that you may be grown up and moving off to college now, but I'm not finished with you just yet. You've learned all that the school system had to teach you, you've learned all your ballet teacher could teach you and soon, you'll learn all that college can teach you, but I won't ever be through teaching you as your mom.
I have so many things I still need to teach you about how to be the amazing person I know you can be. You're already becoming her, and watching you turn into that woman you'll soon be each and every day has been the highlight of my life for the last 18 years.
Has it really been 18 years? I still remember the moment that the doctor laid your tiny, wiggling body on my stomach and I saw you for the very first time. It's like it was yesterday. I don't know if I have ever told you, but the only thing I could think of to say was, "I can't believe I did that!"
It may sound silly, but it's true. And I still think that when I look at you today. I can't believe I did that! I didn't do it alone, of course, no mother ever does. I see your father when I look at you, I see your brother, I see my parents and your father's parents. You are truly a combination of all of us, the good and the bad. (Sorry about the bad parts, it comes with the package, I'm afraid).
You have my love of reading and you have my love of animals. You have your father's sense of adventure and willingness to try new things. You've also brought your own things to our family and someday, someone will be saying that they got their passion for dance from you!
When you dance, there is nothing else like it. I hope you never ever give that up! I hope you dance until you're too old and frail to tie your own shoes, and then I hope you pull up a chair and teach others to love it as much as you have! It has been such a gift to you; that love of dance you have inside of you, it has taught you how to be confident, it has taught you how to work hard for a goal and never give up on something you really want. Dance has taught you to be focused and to pour your heart into something. Dance has taught you that beauty comes in all forms and that being able to express yourself is a magical thing! Please, don't ever lose that!
There are so many things I still want to teach you and some lessons I hope you never have to learn. I hope you never need me to teach you how to heal from a broken heart. I hope you never need me to teach you how to walk away from a friendship that isn't healthy for you anymore. I hope you never need to learn how to reinvent yourself, because life doesn't seem to be working the way you hoped it would. I hope you never need me to teach you so many things.
For everything I hope you never need to learn, there is twice as many that I can't wait to see you experience. I can't wait until you fall in love for the first time. I can't wait to see you find your life's passion and figure out how to turn that into a career you'll love. I can't wait to watch you become even more beautiful and more confident with each passing day, and I hope that you never let anyone stop you from becoming exactly who you were born to be.
I know that someday, you'll come to me and you'll tell me that you are going to be a mother, and inside I will think, Wow, I can't believe I did that! and I'll get to watch you go through all the experiences that I've had watching you grow up and become the beautiful young woman you are today.
The time is coming to carry the last of the boxes down to the car and find a way to tuck this letter inside your bags so you'll find it some day when you're in your new place.
Today, the advice I want to give you is this: Take your time. Enjoy this independence! Enjoy your time alone in this world, not responsible to or accountable for anyone else on this earth.
These days may seem long and filled with empty space, but this space is there to help you listen to the quiet inside your own heart. This is the time to figure out who you are and what you want to be. Someday soon, your life will be filled with the noise of a career and a husband, a house and a family. There will be bills to pay, groceries to buy, dinners to make and lunches to pack. The days will be full to the brim with things that need doing and you will silently, maybe even secretly, long for the silence and the empty space that come in these days before you now.
Take long walks alone. Sit in a quiet book store and enjoy the sounds, the smells and the silence. Talk to strangers. Smile at children playing in the park. Say something nice to an old lady and make her day. Some day you will be that old lady, and it will happen much faster than you think!
Take your time, my sweet baby girl, you are grown up and leaving home but I'm not finished with you just yet.
Related