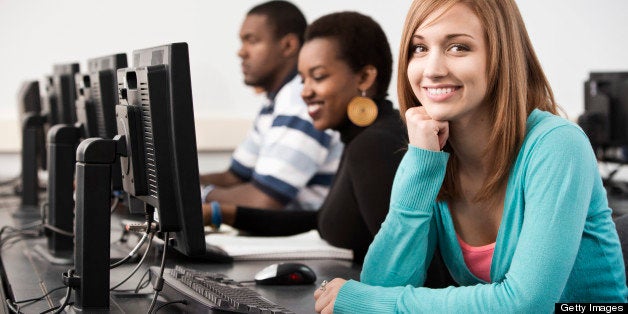 Many adult learners enrolling online for the first time may be somewhat apprehensive about online education. After all, their only experience of learning has been in traditional, face-to-face settings. Other adult learners expect it to be fun, fast, and friendly. This certainly is the message of the enticements from television, websites, print media, and the salespeople in response to inquiries. However, students soon find that success in the online environment requires significant energy, personal discipline, and sacrifices that test patience, willpower, physical stamina, and even domestic tranquility. As withdrawing students often explain to their academic advisers, "Life got in the way."
A Saint Leo University Case Study
In the fall of 1998, after assessing the probable future of the institution and of post-secondary education in general, the Board of Trustees of Saint Leo accepted a recommendation of the senior administration and made what consultant Ram Charan calls a "strategic bet." One form of a strategic bet is a major and dramatic investment in a new and largely unknown marketplace. Saint Leo's strategic bet was that a traditional, nonprofit, brick-and-mortar institution founded in 1889 could attract a significant number of adults to pursue university degrees online. hus, the Saint Leo became an early adapter.
The launch of the Center for Online Learning (COL) at Saint Leo brought myriad surprises almost daily. Marketing and recruiting proved to be expensive and often perplexing. Technology was expensive and presented ever-changing challenges. What had been effective pedagogy in a classroom setting often was not successful in cyberspace. Despite such challenges, Saint Leo found success in adult online education and, by fall 2003, enrollment exceeded 3,000. Furthermore, a cadre of students had earned degrees and reported that having an online option made what had once seemed an impossible dream become a reality. At the same time, dark clouds had appeared that dampened some of the excitement. Large numbers of students were dropping out with first-to-second-term with retention dipping as low as 45 percent. These results were not satisfactory to the faculty, program staff, or senior administrators, including me.
Early efforts to improve retention did not bring about dramatic change. But after a few years, we brought in a new director of the Office of Assessment and Institutional Research followed by a new head of COL. Each came with research experience and both had worked for several years as consultants. This background appears to have helped them to develop collaborative skills and they put them to use. Literally, the first words from the interim director of COL suggested the adoption of a student-success-oriented theme -- "Graduation Begins Today." The theme reminds everyone -- faculty, staff, and students -- that degree completion requires daily discipline by every individual. There is no substitute for diligent, consistent student effort and equivalent institutional support. The entire COL community quickly embraced the theme. However, COL needed data to assess the current situation, to identify the most promising initiatives, and then to monitor the implementation and effects. This need was the catalyst for what quickly became a close collaboration between Assessment and Institutional Research and COL.
The new director of COL had a working hypothesis: Ideas that have helped promote student success in traditional programs will work in online programs. Thus, one of the first initiatives was to conduct a degree progress check-up for students close to completion similar to what had proven effective at California State University, Long Beach. He did not want to find any students nearly at the end of their quest fail to make the finish line. Assessment and Institutional Research provided COL advising staff with lists showing all students and "stop-outs" with over 90 credits so they could conduct a review to determine those who were not following their program evaluation (a degree map showing the most efficient route to completion). Because COL has adult students, it has a policy of allowing those in good standing to re-register themselves. This process has worked well overall, but we discovered that, given this independence, some students had gotten themselves out of kilter. The "90+" review addressed this problem and helped facilitate their timely graduation.
Many institutions have some form of an "early alert process" to identify students at risk before it is too late to help them succeed in that term. Because COL operates in an accelerated manner, "early" is a word with real urgency as it means "soon after Day One." The challenges for COL included determining what constitutes "risk," what student behaviors to monitor early in the term, and how best to assist the individual students. Again, Assessment and Institutional Research proved invaluable to COL.
First, we analyzed data extracted from the online learning management system that monitors, to the split second, participation in the online classroom for all students (and faculty members). Looking historically at those who had succeeded versus those who did not, we learned that "completers" averaged 6.8 hours per course in the online classroom during the first week while those dropping out averaged 3.4 hours. Second, we looked at time in the threaded online discussions. In a typical threaded discussion, students reply to questions designed to engage them in higher order thinking about course content and to interact with fellow students and the instructor. Again, we found threshold points for those who succeeded and those who did not. Third, we realized that focusing solely on activity fails to identify those who are not mastering the material. Thus, we needed to look at actual academic progress after the first two weeks of the term.
These became the three triggers for the Center for Online Learning early alert process. COL Faculty Services staff generates weekly exception reports that identify students who fall below the early alert trigger points for time in courses and time in discussion threads. They then notify the appropriate academic adviser to follow up. In addition, COL staff members analyze student performance on Monday of the third week and notify all students with grade averages below specific targets to contact their academic adviser. (We also put some teeth in the process by noting that students are not able to re-register until the adviser signs off.) Upon contact, the adviser's first suggestion to students is to reach out immediately to their instructors for assistance. (Happily, we find that faculty members, many of them adjuncts, consistently prove warmly responsive to such requests for assistance.) The academic advisers also may explore and implement other appropriate actions. For example, they may send useful articles that address typical problems -- e.g., time management, study skills, procrastination. They also may discuss using online tutoring services and perhaps even develop a contract with the student detailing such things as regular check-in times for ongoing discussions and counsel.
While attrition of online students continues to be a challenge as life -- in terms of job, family, and other personal issues that still "get in the way" for adult students -- these and several other initiatives, most adapted from approaches used at traditional institutions with success in improving student success, have proven valuable. Over time, we have seen improvement in term-to-term retention and timely degree completion at Saint Leo University.
REAL LIFE. REAL NEWS. REAL VOICES.
Help us tell more of the stories that matter from voices that too often remain unheard.