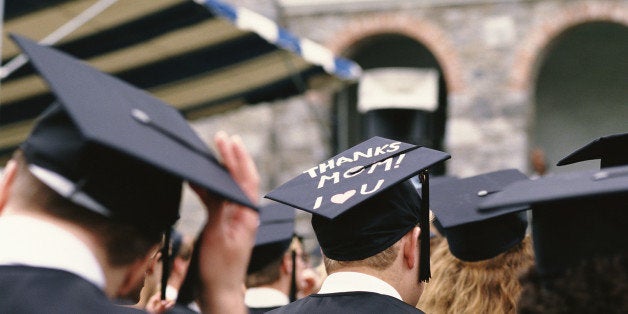 Whenever my children transition from one clearly marked phase to another, I weep. I don't think I'm unusual in that way. Big occasions marking a new chapter make parents kvell. Graduating from high school and heading off to college is a major milestone, irrefutable proof of their growing independence. The music swells along with our hearts. Our love for them and our hope for their future defies words. So we cry.
As graduation ceremonies and parties wind down and you begin thinking about the next round of challenges coming up in the fall, here are some tips to help you through this transition:
1. Step back so they can step up. Summer is a great time to help kids of all ages enhance their spirit of initiative and cooperation. They'll need it because each grade level requires them to take more responsibility for their education until they reach college and then, it's all on them! (Unless you plan on packing yourself along with that new comforter.) As soon as school ends, call a family meeting and be specific about your expectations of your kids this summer vis-à-vis helping out around the house, etc. Listen with respect to their expectations for the summer. Make agreements and hold them accountable. They'll be better able to meet upcoming challenges when we require more of them as members of Team Family.
2. Let them have their summer. Kids need to relax and so do we. They also need a balance of structured and unstructured time. Of course loads of items must get checked off The List before your college-bound son or daughter bounds off for campus. But you don't want to spend the summer nagging and micromanaging. Colleges and universities provide incoming freshmen with plenty of information and connections to other students to help them prepare for their arrival. Let your high school grad deal with it. It's excellent practice for them and for you. Ask your son or daughter what, if anything, they'd like your help with, then back off.
3. Create new goals for yourself. Our kids are moving toward independence. We're also moving in that direction and eventually, we'll work our way out of this full-time parenting gig. That's part of your job description. (Check the fine print on your kid's birth certificate. It's right there.) If your child is graduating from high school, the clock is definitely running down on the "under the same roof" phase of parenting. But even if your child is just graduating from kindergarten, he or she is becoming more independent. That means less hands-on parenting for you! Summer is a great time to remember that before you were a parent you were a person with unique interests and talents. What would you do with at least one extra hour a week just for yourself? Set a goal for yourself this summer and get started. Let your kids in on the goal and on your progress, too. (That's great modeling!) If you chose well, working on your goal will sustain you on many levels when your child (eventually) leaves the nest.
Now go have some summer fun and pass me a tissue on your way out.