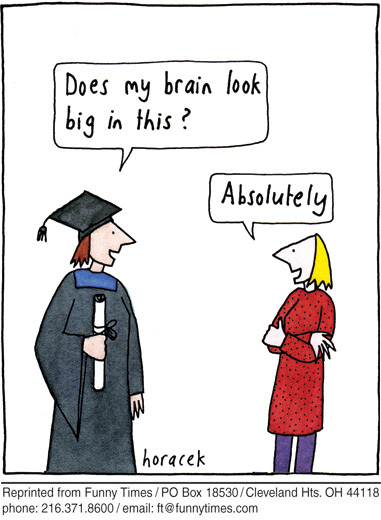 Graduation season is upon us; which offers loads of opportunities to celebrate someone and something monumental, hence the infamous song and the matching hats. It is a way to make us all really pay attention.
With graduation comes parties and gifts, friends and family, relatives and more relatives and that ever-important small talk. Remember, these fresh-faced graduates are our future leaders and -- maybe more importantly -- our caretakers. So it behooves us all to truly celebrate their accomplishments and encourage them to do great things in the world. After all, they may be the ones mixing up our tapioca pudding somewhere in the not-so-distant future.
How, exactly, does one go about acing graduation season? Well, take out your pencils and make some notes because these tips will score you an A. Plus, I'm including some cheat sheets so you can avoid the small talk 'F' -- which stands for 'Failed to keep foot out of mouth.'
Sending and Receiving Graduation Announcements:
If you are sending announcements:
And by "sending" I mean using an envelope, a stamp, and a hand-written address on the front. You know, mail. Send announcements to every person you have ever met in your life. And don't forget those people who have made an impact on your child: a special elementary school teacher, a soccer coach, a previous neighbor who knew you when your teen was a tot.
Don't be concerned that you might appear to be fishing for gifts; you are simply letting the world know that your child has achieved a major goal. Friends and family far and wide will be happy to hear your news.
If you are receiving announcements...
Acknowledge this milestone by calling the graduate, calling the parents, sending a card or sending a gift.
Cheat Sheet for responding:
Whether you call or send a note you can say the same thing. Here is a simple and sincere sentiment: We received Jane's announcement and are so pleased to hear of her accomplishments. Please keep us posted on her future adventures.
Sending and Receiving Graduation Party Invitations (and Hosting and Attending Tips, Too!):
If you are hosting the graduation party:
If you are the host of the party, make the details clear on your invitation. If it's an open house, clarify:
Join Us In Celebrating Jane's Graduation
Open House
4 p.m. - 10 p.m.
Dinner and Drinks and Dessert!
(add other details as necessary)
If you are the host and it's a more formal affair, like a sit down brunch or dinner at a restaurant, make that known:
Please join us for an intimate dinner celebrating Jane.
Bella Cucina
6 p.m. Cocktails 7 p.m. Dinner
(add other details as necessary)
If you are attending the graduation party:
Decide if you are, in fact, attending or not and then (this is the big part) tell someone. Let the host know immediately by phoning them. If an email address was included on the invitation, then emailing your RSVP is acceptable. If not, it's best to call. Not text. Not email. Call.
What to say when you call and...
...are accepting:
Thank you for including us in Jane's graduation celebration! Ted and I will be there to celebrate this great occasion. See you at 2 p.m. on the 28th!
... are declining:
Thank you for including us in Jane's graduation celebration. Ted and I cannot attend but we will be thinking of you on May 28.
...if you can't go:
Send or drop a card or a gift at the home of the graduate with a note that reiterates your appreciation for being included and your happiness for Jane's success.
...if you can go:
Bring a gift for the graduate or a small hostess gift for the host or both if you are able. Receiving an announcement does not necessarily call for a graduate gift, but attending the graduate's party does. If a check or cash is your go-to, do what is comfortable.
If you are giving cash take an extra minute to ensure your bills are crisp, clean and all facing the same way. If money feels too informal or too spendy, opt for a small, personal gift such as stationary (the graduate is about to have a lot of thank-you notes to write!), a book, a journal or a silver-plated picture frame. Many of these items can be found on-line or at stores such as HomeGoods for under $10.
If you find a suitable graduate gift, buy a few so you have them at the ready. Pretty stationary can be used as a graduate gift, hostess gift or last minute birthday present. Wrap everything in a fun paper and you're ready to go before the next soirée.
What to say to the graduate:
What are you plans this summer?
Thank you for allowing us to celebrate with you!
What will you miss most about school?
Congratulations!
What NOT to say to the graduate:
Do you have a job?
Do you have student loans?
What's your GPA?
Are you going to (fill in the blank) college/graduate school/jail?
Teachers don't make any money.
Lawyers are all snakes.
Doctors are cocky.
Liberal arts won't get you anywhere.
Do you have a boyfriend?
Do you have a girlfriend?
My child (fill in the blank) got a scholarship/can't find a job in his field/is brilliant/won't leave our basement.
You should (fill in the blank) take a year off/go to medical school/start a ponzi scheme/get me another Rum Runner because clearly you are destined for a life of bartending.
When in doubt on what to say, go back to the small talk basics - and drop the Rum Runner.

And finally, if you are the guest at any of these events, your job is pretty simple. Make sure you arrive when you say you are going to arrive and then work your magic:
• Greet the parents of the graduate and the graduate herself first; then make an effort to connect with others at the party.
• An obvious icebreaker is "How do you know Jane and her family?"
• Remember to arrive with three topics to talk about with others.
• Smile.
• Mingle.
• Ask others about themselves and use their names in conversation.
• And have fun! This is a big day for Jane and her family and they thought enough of you to include you in the celebration. The nicest thing you can do is truly immerse yourself and enjoy it. And try not spill anything. Like your Rum Runner.
Related
Popular in the Community