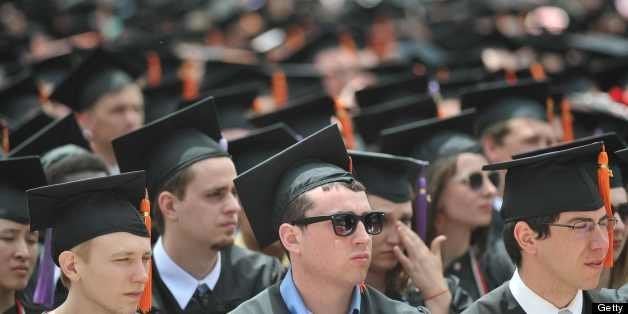 Tennessee and New Mexico give money to public colleges and universities for graduating high numbers of older and low-income students. Mississippi uses the power of the purse to promote science and technology programs. And Missouri is tying taxpayer dollars to graduation rates and students' scores on tests and professional licensing exams.
The goals differ from state to state, but performance-based funding is a growing trend in higher education. Traditionally, states subsidize schools based on how many students they enroll. But a dozen states now tie funding to performance, four are moving in that direction and another 20 are considering it, according to the National Conference of State Legislatures (NCSL).
In most states, the portion of public money tied to performance is still relatively small — typically between 2 percent and 5 percent. But tight state budgets, rising tuition rates and a sharper focus on producing graduates with marketable skills may change that.
"There is a strong push to have a well-educated workforce. At the same time, there's been a lot of pressure on state budgets," said Brenda Albright, a Tennessee-based educational consultant who has advised states on performance-based funding. "This all leads to a focus on productivity and a desire that (colleges and universities) educate more students at a lower cost."
Albright's home state may offer a glimpse of the future: In 2010, Tennessee began tying all of the money it gives to public colleges and universities to graduation rates and other benchmarks, which are tailored to fit each individual institution. Ohio is phasing in a similar system, though it does not apply to community colleges. And Louisiana ties 15 percent of its higher education funding to specific outcomes, and schools can increase that to 25 percent if they achieve the state standards.
"Our campuses have completely changed the way they interact with students," said Russ Deaton of the Tennessee Higher Education Commission. In the past few years, Deaton said, "degrees are up, graduations are up and the number of low-income students is up. Is there a causal relationship that can be determined? Probably not, but we like to think the formula model has indeed contributed to that."
Private colleges and universities are not immune from the sharper scrutiny. Last fall, the State Council of Higher Education for Virginia released a database showing how much graduates from specific college programs, public and private, earn when they find jobs. Arkansas, Colorado, Nevada, Tennessee and Texas have embarked on similar disclosure efforts.
For states, the idea of tying pay to performance is especially appealing at a time when many of them are still struggling to recover from the recession.
A March report on higher education by the Center on Budget and Policy Priorities found that states now spend an average of $2,353 less per student (adjusted for inflation) than they did five years ago. The Washington-based think tank also found that, with the exception of North Dakota and Wyoming, every state now spends less per student than before the recession. Arizona and New Hampshire have cut their higher education spending in half.
One reason per-student spending has declined is that the number of students has gone up: The undergraduate population in the U.S. increased 34 percent between 2000 and 2009, according to the Department of Education.
Though students and their parents bristle at fast-rising tuition rates, there is ample evidence that a college degree pays off in the long run. A study released earlier this year by the Pew Charitable Trusts found that during the recession, college graduates 21 to 24 years old were far less likely to lose their jobs or have their pay cut than high school graduates of the same age. (Stateline is a project of the Pew Charitable Trusts.)
A 2011 report by the Brookings Institution concluded that college graduates who pay an average of $102,000 in college tuition will earn an average of $570,000 more than high school graduates over the course of their lifetimes.
But advocates of performance-based funding insist colleges and universities have to concentrate even more on preparing students for the workforce. They say financial incentives will spur public institutions to make the most of scarce public dollars by graduating students more quickly and with more marketable degrees.
"Governors and state legislatures have recognized that more college graduates will be needed as their states adjust to a knowledge-based economy, and yet many states don't have the resources to substantially increase funding for higher education," said Thomas Harnisch of the American Association of State Colleges and Universities. "They are looking for opportunities to boost productivity with existing resources."
A handful of states tried performance-based funding in the 1980s and 1990s, but those efforts sputtered because of a lack of data and strong resistance from schools. Some college administrators and professors are still wary. They argue that the college experience should be about more than preparing students for jobs, and fear that schools will pressure professors to dumb down courses or pass unworthy students to meet certain benchmarks.
"I do think there is sort of a general push for more of an emphasis on training and job preparation as opposed to education conceived of more broadly, such as being a citizen, or preparing a student to think for him- or herself," said John Curtis of the American Association of University Professors. "It's not about efficiency. It's not about doing it in a specific time frame. It's about making sure students get a quality education."
In California, state colleges and universities defeated Democratic Gov. Jerry Brown's proposal to give roughly 5 percent bonuses to schools that improved their four-year graduation rates and accepted more transfers from community colleges. Instead, under a recent budget deal, the schools will have to track certain trends, such as the number of low-income students and the percentage of students who finish in four or six years.
"Some of what they are asking are common-sense goals and what we are already doing. The question is, are we measuring the right things?" Cal State spokesman Mike Uhlenkamp said during the debate.
Supporters emphasize that performance-based funding should be tailored to fit particular schools. In Missouri, for example, all public colleges and universities get more money if they show improvement in four categories: student retention rate; graduation rate and degree completion; the quality of student learning (as measured by test scores); and financial responsibility and efficiency. But there also is a fifth area that is different for each institution, based on its needs and mission.
"We aren't measuring anything the schools weren't already trying to improve," said Paul Wagner, executive director of the Council on Public Higher Education in Missouri, which represents the state's four-year institutions. "These are so common-sense."
Calling all HuffPost superfans!
Sign up for membership to become a founding member and help shape HuffPost's next chapter
BEFORE YOU GO
PHOTO GALLERY
States With The Best College Completion Rates For 25-34 Year Olds