It's been three years since the masses on Cairo's Tahrir Square cheered upon hearing of the resignation of long-time despot Hosni Mubarak. Protesters had been demanding Mubarak's ouster for 18 days, using the walls of buildings and houses across the Egyptian capital as an open letter to the regime. Cairo's protest street art highlighted the fury of the demonstrators and their resilience to force the hated president out.
Three years after his fall, Mubarak may be in jail, but his face still adorns the walls of the capital city. Graffiti on Cairo's concrete veins tells one ugly truth: the more things change in Egypt, the more they stay the same. Infamous Egyptian street artist Ganzeer told Voice of America for example that he is using motifs from 2011 to protest today's regime. "So in a way things have changed, deceivingly changed. You think they change, but actually you're back to square one again," he said.
Take a look at the murals pictured below and find out how Egypt's revolution has come full circle.
After Mubarak was ousted in February 2011, the Supreme Council of the Armed Forces (SCAF) took over the leadership of the country until elections. Many of the protesters who had camped out on Tahrir felt the revolution had been hijacked by the military. The mural below shows the deposed Mubarak and the head of the SCAF, Field Marshal Hussein Tantawi, as two sides of the same face. The painting warns: "The revolution continues."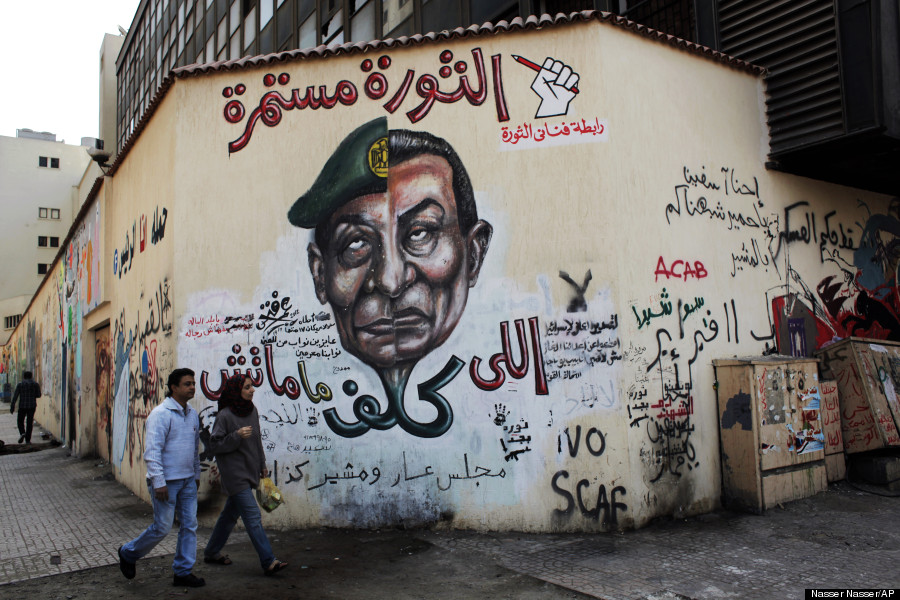 Mural near Tahrir Square, Cairo, on March 22, 2012 (AP Photo/Nasser Nasser)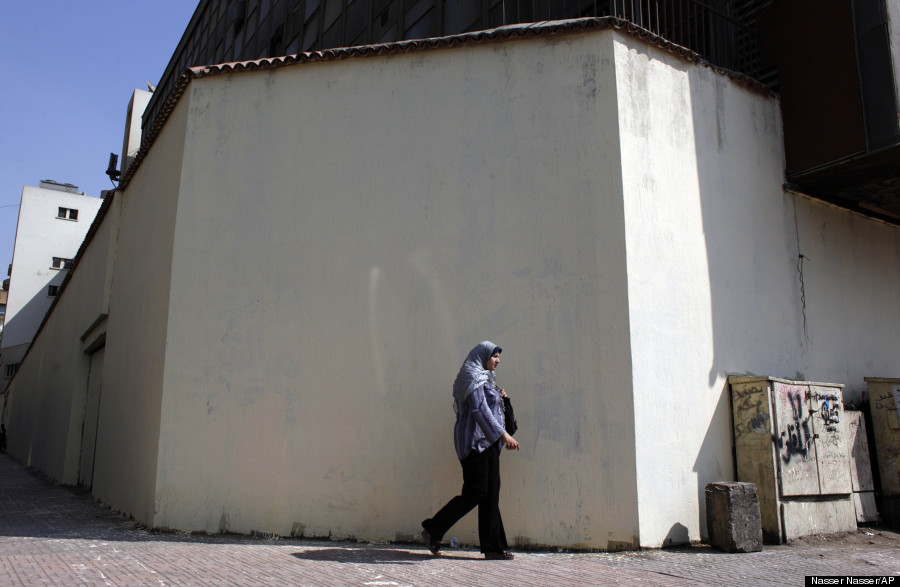 The same wall near Tahrir Square, this time whitewashed, on September 19, 2012.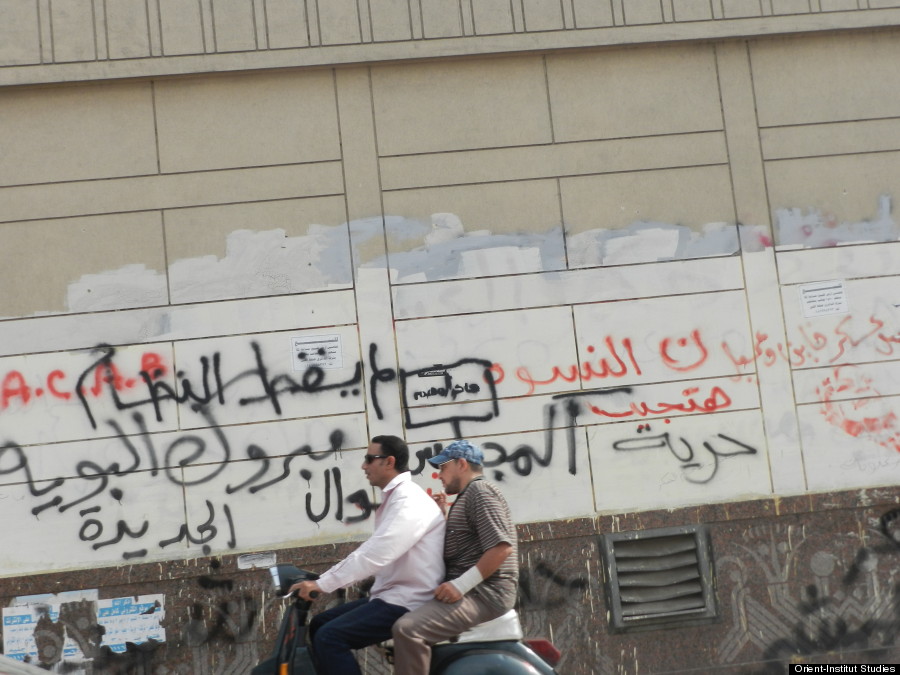 "The regime has not fallen down. Congratulations for the new paint," is written on the walls opposite the opera house in Cairo's Zamalek neighborhood, October 16, 2012. (Source: Mona Abaza, Satire, Laughter and Mourning in Cairo's Graffiti, Orient-Institut Studies 2 (2013)
Most protest murals reappeared within 24 hours. As Morsi drew increasing criticism for giving himself sweeping new powers, the Islamist president's face became a new regular in the murals. In this painting, the artist wrote: "2011, Down with Mubarak's rule. 2012, Down with military rule. 2013, Down with Brotherhood rule."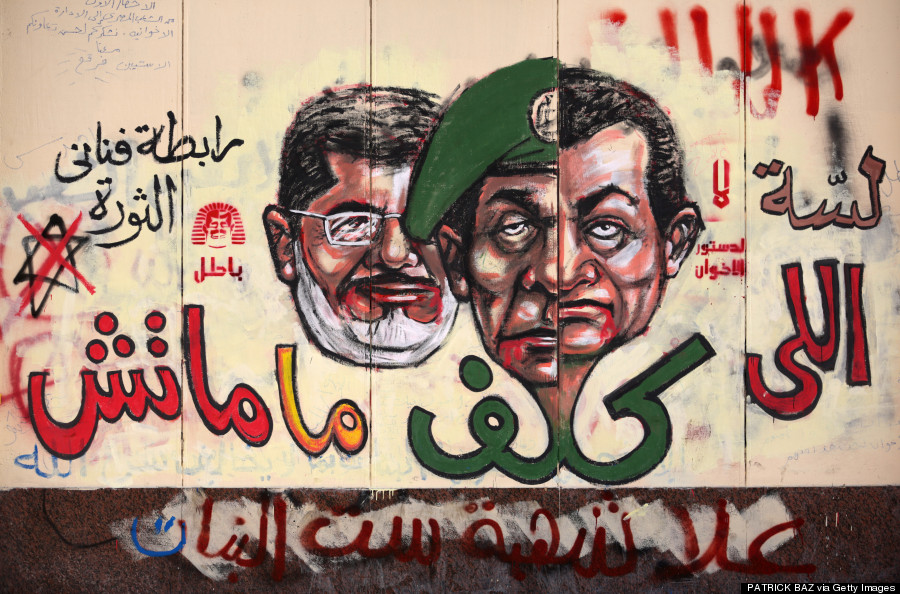 Graffiti outside the presidential palace in Cairo, December 8, 2012 (PATRICK BAZ/AFP/Getty)
After the Islamist president was thrown out of office in July 2013, the military once again took over and put in place an interim government that will rule until new elections take place. Military strongman Abdel Fatah el-Sisi is widely expected to run for president. Former president Morsi is imprisoned and currently standing trial, just like his predecessor Hosni Mubarak. A new face appeared on the mural, the next chapter of protest still yet to be written.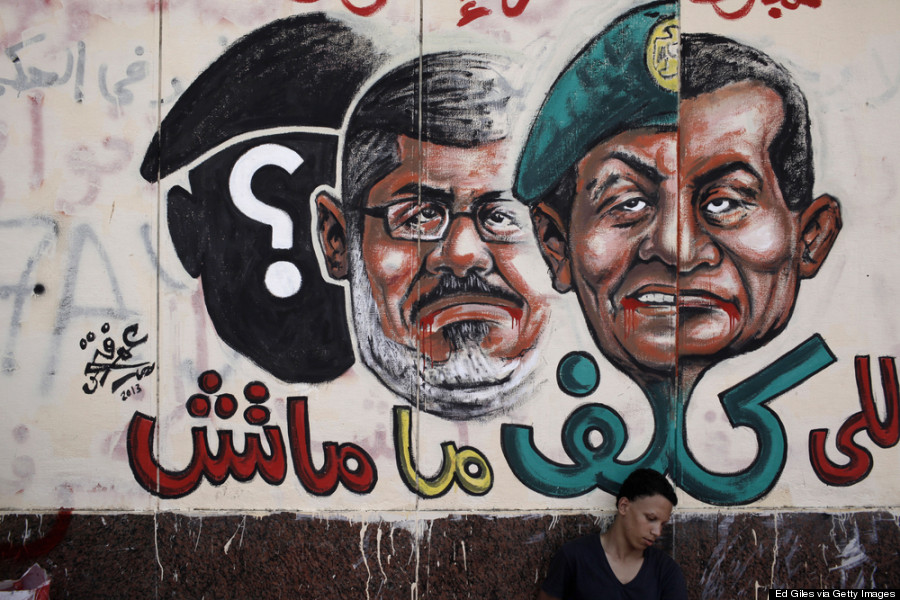 Graffiti outside Egypt's Presidential Palace, July 3, 2013 (Ed Giles/Getty Images)
Take a look at the photos below for a more detailed look at the life of Hosni Mubarak.
Before You Go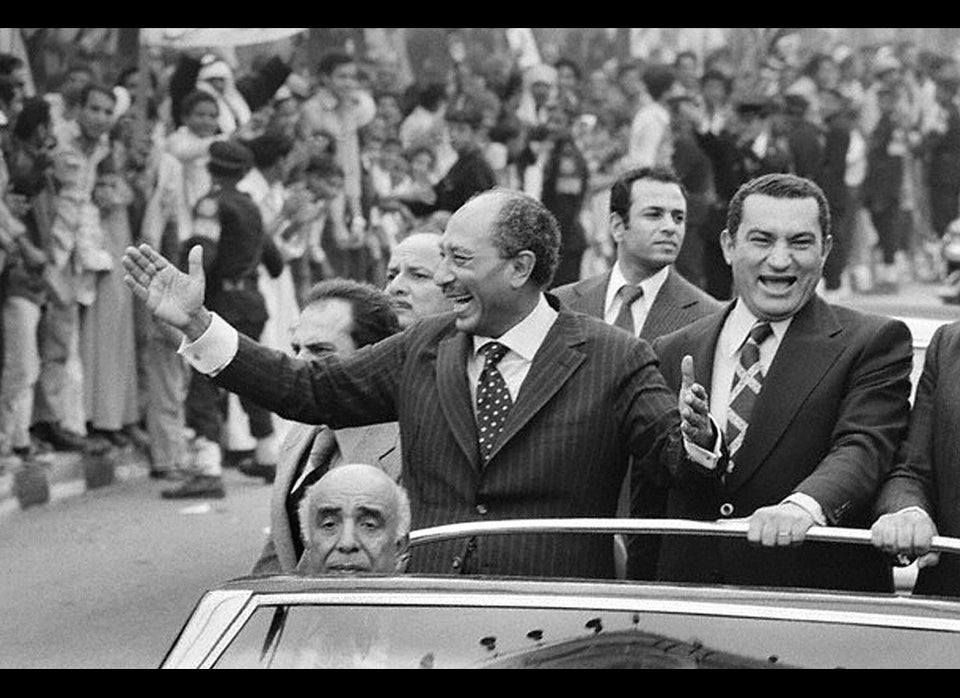 Hosni Mubarak Facts
Popular in the Community