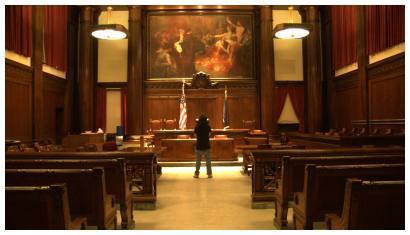 Former Judge Mark Ciavarella wants you to know it was never about Kids for Cash. In his interviews with director Robert May (and kudos to the documentary-maker for scoring lens-time with the perpetrators of this scandal, along with their victims), he bristles against being tagged with that identifier. And, indeed, he's got a point: It's not as if the operators of the private jails he helped build threw bags full of foldin' green at his feet every time a kid was cycled through his court and into their facilities. He was just holding true to his zero-tolerance policy for juvenile crime, making sure that there was sufficient room for the kids he condemned, and then assuring there were enough warm bodies consigned to the facilities -- frequently without benefit of counsel, and regardless of whether it was a boy unaware that the scooter his parents had bought for him was stolen, or, in a particularly Putinesque example, a girl whose sole crime was to publish a satirical MySpace page about her assistant high school principal -- to justify the institutions' expense. That the owners of the jails merely kicked back a little somethin'-somethin' (to the tune of millions of dollars) to both Ciavarella and his Wilkes-Barre, PA colleague Michael Conahan for awarding them the contract, well, why belabor that point?
In some ways, director May is in accord with Ciavarella. If this was only about this one scandal, Kids for Cash couldn't really justify its existence -- the news media had covered the story extensively; no less than Michael Moore had addressed the matter in Capitalism: A Love Story, not to mention the episodes devoted to it on Law and Order: SVU and The Good Wife. But May has a bigger target in mind: a juvenile law system that, in the wake of Columbine, has overreacted to the threat of escalating, if isolated, violence by lunging for condemnation for even the slightest of infractions. In heart-breaking interviews with the children, ex-children and parents subjected to Ciavarella's not-so-tender mercies -- plus such experts as the founders of the Juvenile Law Center -- May holds the "Kids for Cash" scandal as a worst-case scenario, a symbol for something happening across the country: a knee-jerk reaction to crime that has taken a system developed to address the especially delicate issues of juvenile correction, and warped it into an unthinking instrument of institutional punishment.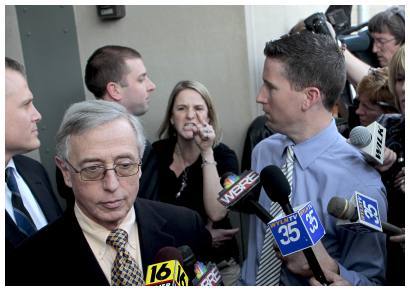 Kids for Cash neatly balances the specific details of this one scandal against the broader dilemma the nation has yet to fully confront. In one of the film's most devastating moments, May runs news footage of Ciavarella and his lawyer trying conduct a courthouse-steps press conference, attempting to put a positive spin on the judge's guilty verdict, while off to the side, a mother whose son committed suicide after spending time in one of Ciavarella's lock-ups screams her grief and anger. As soul-ripping as the particular moment is, it also serves as a keen reminder that the issues here go beyond the crimes of a few, corrupt men, and that the costs are greater than mere dollars can account for.
KIDS FOR CASH. Directed by Robert May. Senart Films, 2/14, 102 mins. With: Mark Ciavarella, Michael Conahan, Marsha Levick, Robert Schwartz, Terrie Morgan-Besecker, Steve Corbett.
Support HuffPost
The Stakes Have Never Been Higher
Popular in the Community