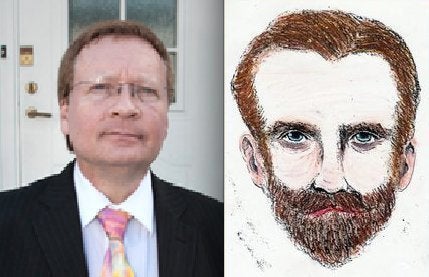 A psychic medium and the spirit that possesses him are behind bars after he allegedly stabbed his twin 4-year-old daughters at the hospital.
Graham Bishop, a 58-year-old clairvoyant who claims he's possessed by a 19th-century German doctor named Dr. Karl, stabbed the young girls several times at the Denmark hospital before throwing himself out a window, The Copenhagen Post reports.
It's yet unclear why the attack occurred at the hospital, where one of his daughters was staying for a long-term illness. He and the girls survived.
The B-list celebrity medium has appeared on German TV shows (see below), where he's claimed to have the ability to speak to the dead -- with the help of Dr. Karl. He also has a website, which gives descriptions of both himself and his ghostly companion.
"All of my life I felt a bit of an outsider and I have experienced many things that seemed to have no practical explanation," Bishop writes.
"It has been many years now that I have been honoured with sharing a very deep personal connection with spirit Dr. Karl, and work in the state of 'deep trance' (from my viewpoint a totally unconscious state). This particular spiritual ability is rare and so I am one, of only a few, able to offer this unique service of providing such strong and direct access to those in the spirit world."
"The first time spirit Dr. Karl undertook healing using my body was in 1992, since which time he has helped many thousands of people across Europe and the USA.

Personally, I have never enquired about his identity and only know him as Dr. Karl since other people frequently inquired as to his identity. After a number of enquiries, he stated that he would share some information regarding his earthly existence, after which he would not speak of it again.

He told them his name was Dr. Karl and he was born in 1848 into a family of doctors in Prussia (now part of Germany). He showed a keen interest and skill from a very early age and performed his first "unofficial" operation on a person at the age of 12 years."
Bishop reportedly locked himself in the girls' hospital room during the incident while his wife went for help, the Daily Mail reported. He's being held without bail for 24 days before his next court date, where he'll face double murder charges. His lawyers say he'll plead not guilty.
Calling all HuffPost superfans!
Sign up for membership to become a founding member and help shape HuffPost's next chapter