Republican leaders have decided not to vote on Obamacare repeal legislation this week, effectively ending the party's latest effort to wipe away the 2010 health care law.
When, and whether, they will try again remains to be seen. But at least for the moment, the GOP's seven-year crusade to undo the Affordable Care Act lies in shambles ― and insurance for the millions of Americans who depend on the law remains intact.
The decision to shelve repeal legislation came during a weekly caucus meeting on Capitol Hill, as leaders acknowledged that the the latest proposal, from Sens. Bill Cassidy (R-La.) and Lindsey Graham (R-S.C.), lacked the support it required to pass.
"We don't have the votes," Cassidy said afterwards.
Sen. Susan Collins (R-Maine) had announced her intention to vote against the measure on Monday, joining two of her colleagues, Sens. John McCain (R-Ariz.) and Rand Paul (R-Ky.). That left Republicans with just 49 votes, one short of the 50 they needed.
And the clock was ticking, because special authority allowing Republicans to pass repeal with a simple majority, rather than the 60 votes it takes to overcome a filibuster, ends on Sept. 30.
"We basically ran out of time," said Sen. Ron Johnson (R-Wis.), a co-sponsor of the repeal bill.
"Republicans still do not agree among themselves on how to replace the ACA, and have no policy plans living up to promises."
As Graham and Cassidy have promoted their bill in the last two weeks, and GOP leaders got behind it, it appeared for a while that repeal legislation, a version of which had come within one vote of passing in July, might finally get through the Senate ― putting it on track for quick approval in the House and then signature by the president.
Even on Tuesday, Republicans were vowing not to give up.
Many in the party already have their eyes on a new push for repeal, using the same special legislative authority, once they are done working on an upcoming bill to cut taxes.
"There's plenty of fight left in us," Graham vowed on Tuesday.
"We haven't given up on trying to change the American health care system," added Senate Majority Leader Mitch McConnell (R-Ky.).
But the failure of the Graham-Cassidy legislation, following the collapse of the July effort, has made clear that Republicans still do not agree among themselves on how to replace the ACA, and have no policy plans living up to promises ― from Trump and other party leaders ― that they can deliver better, cheaper health care to more people.
The Affordable Care Act has helped millions to get health coverage, bringing the number of people without insurance to historic lows and improving both access to care and financial security. But because people at higher incomes don't qualify for the law's tax credits, many of them face high premiums and high out-of-pocket costs ― in some cases, more than they paid previously and, in the worst instances, more than they can realistically afford.
Those higher costs are largely a function of the law's new requirements on insurers ― to cover everybody, regardless of pre-existing conditions, and to provide comprehensive benefits with each policy. Republicans have decried these effects, but every plan they proposed would have left many millions without insurance and gutted protections for pre-existing conditions.
Graham-Cassidy was one such plan. It would have cut Medicaid, replaced the ACA with a less generous state-based program and undermined insurance regulations.
The ACA's performance varies enormously across the country, with thriving markets in states like California and faltering ones in states like Tennessee. A big reason for the struggles, where they exist, is that insurers are not attracting enough of the younger and healthier consumers they need to balance their books ― forcing the carriers to jack up premiums or pull out of markets altogether.
But in most parts of the country, markets appeared to be stabilizing until this year, when Trump took office. His administration has slashed funding for advertising and outreach, and mused frequently about allowing the program to collapse. The president has also threatened to cut off a set of payments, currently the subject of a legal dispute, that insurers need to offset some of their costs.
In just the last few weeks, a bipartisan effort to shore up the markets ― by guaranteeing those insurer payments and giving states some extra flexibility over management of the program ― had gotten underway in the Senate Committee on Health, Education, Labor and Pensions (HELP).
The chairman, Sen. Lamar Alexander (R-Tenn.), called off those talks last week, as GOP leaders prepared for a floor vote on Graham-Cassidy. On Tuesday, Democratic leaders reiterated their interest in restarting those talks.
"We are ready at this moment to roll up our sleeves and work with our colleagues on bipartisan solutions," said Senate Minority Leader Charles Schumer (D-N.Y.).
But having seen repeal die and then come back from the dead several times already, the ACA's defenders were also promising not to stand down ― and were encouraging their allies to keep up the pressure.
"We are not out of the woods yet by any means," said Sen. Patty Murray (D-Wash.), ranking Democratic member of the Senate HELP committee. "And until Trumpcare is finally set aside, we will not stop fighting, because this last version was the worst one yet."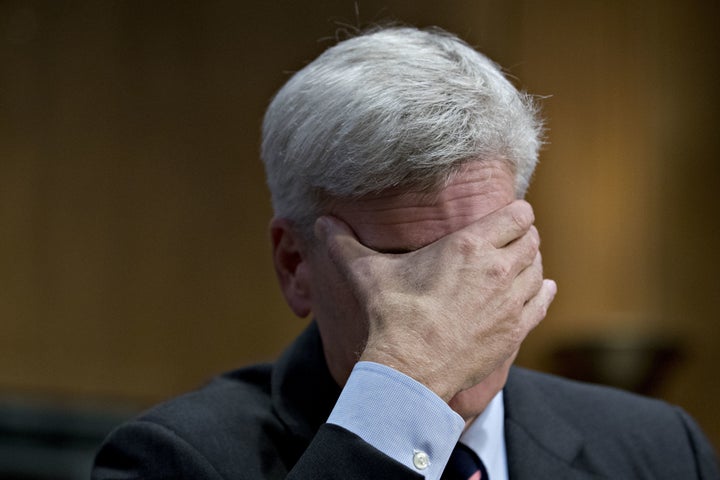 Popular in the Community