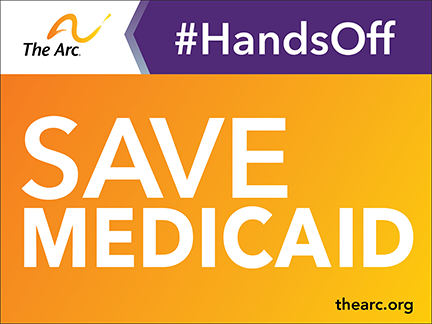 On Monday, September 25, the Senate Finance Committee will hold a hearing on the Graham-Cassidy bill. Passage of this bill would be a devastating blow to people with intellectual and developmental disabilities and their families who have worked so hard this year to prevent block grants and per capita caps from destroying the Medicaid program. Below is the statement The Arc submitted for this hearing.
Senate Finance Committee Hearing Entitled
"Graham-Cassidy-Heller-Johnson Proposal"
Written Statement of The Arc of the United States
The Arc of the United States (The Arc) is strongly opposed to provisions reducing access to affordable health care and to long term supports and services that are included in the revised bill offered by Senators Lindsey Graham (R—SC), Bill Cassidy (R-LA), Dean Heller (R-NV), and Ron Johnson (R-WI). This dangerous legislation uses per capita caps to deeply cut and radically restructure the traditional Medicaid program that individuals with I/DD rely on to live and work in the community. It ends the Medicaid expansion and the affordability provisions to help people pay for private health insurance, and replaces it with a temporary block grant that expires in 2026. It also gives states the option to end key consumer protections that have helped people with pre-existing conditions, including people with disabilities, access the health care services they need.
The Arc is deeply concerned that the Senate is discussing moving forward, outside of regular order, without a complete analysis by the independent Congressional Budget Office (CBO) of the revised bill, known as the Graham Cassidy plan. The Arc is also concerned that there have not been hearings or stakeholder input to assess the bill. Given the rush to pass the bill before September 30th, CBO will not have time to do a complete analysis of the bill's impact on people needing health coverage and Medicaid's long term supports.
Health care consultants and think tanks have tried to fill the CBO gap by providing analysis that consistently demonstrates the negative impact on states, including how deep cuts to the Medicaid program would be over time. For example, a recent study by Avalere showed that for 2020 through 2026, 34 states and DC would see funding cuts. Once the block grant for Medicaid expansion ends in 2027, all states would see large cuts (the cut in 2027 alone would be $283 billion). Total cuts to federal funding for coverage would total over $4 trillion through 2036. Cuts to the traditional Medicaid program would be more than $1 trillion over two decades. And looking at the growth rates by population, federal funding by 2036 would be 15 percent below current law for people with disabilities, 31 percent below current law for kids, and 37 percent below current law for non-disabled adults. The need won't go away, so these cuts would be devastating to state Medicaid systems and mean life and death to people with disabilities.
Nationwide, Medicaid provides essential services to more than 10 million people with disabilities. People with disabilities rely on Medicaid for personal care services, specialized therapies, intensive mental health services, special education related services, and other needed services that are unavailable through private insurance. With greatly reduced federal contributions to Medicaid as proposed under the Graham Cassidy plan, most states would not be able to make up the difference. Cuts to Medicaid, including to home and community based services, would force a return to outdated modes of serving people with disabilities, such as institutional care and segregated services.
Cutting and capping Medicaid will force longer waiting lists for services in many states. The Arc has worked in a bipartisan manner for decades at the federal, state, and local level to build a home and community based system and reduce waiting lists. Waiting lists exist because the Section 1915 waiver authority allows states to limit eligibility for services and waive the requirement that all eligible people in the state receive comparable services. The problems with waiting lists are not related to the expansion of the Medicaid program to childless adults. The Medicaid expansion allowed millions of people with chronic illnesses and disabilities to gain access to health care. Allegations that the Medicaid expansion are causing waiting lists are false.
The Arc does not believe, within the radical restructuring of the Medicaid program and the deep cuts, that any eligible population can be protected. The Graham Cassidy bill includes language exempting children with disabilities from the per capita cap. If this language is intended to target the 1.2 million children who are eligible for Supplemental Security Income (SSI), it would leave out many children who have health needs or disabilities and do not meet SSI's strict income and disability standards but who become Medicaid eligible through many different eligibility pathways.
This "carve out" implicitly acknowledges that Medicaid under per capita caps is unacceptable for children with disabilities. These children grow up to be adults and will face a devastated Medicaid program. States will not be able to make up the difference from the deep cuts under per capita caps and will not be able to protect any group. States will be focused on keeping Medicaid spending under the cap, or face penalties. The Senate bill's cuts are greater over time and, to make up for this massive loss of federal funding, states will be forced to cut services, eligibility groups, reimbursement rates for providers, make across the board cuts, or take other actions to cut costs. These cuts will impact the doctors, hospitals, therapists, and other providers that serve these children. While the traditional match may be an incentive for some states to continue serving children with disabilities, there is no specific language in the bill that provides protections against tightening eligibility for these children or cutting their services and supports.
The Arc is disappointed that the bill also retains the $19 billion cut of the enhanced federal match in the Community First Choice Option, which is a permanent program that provides an enhanced federal match to any state that chooses the option to provide additional personal assistance services. Instead, the Senate bill includes a new home and community based demonstration program. A total of $8 billion is available over four years to a limited number of states. This is a woefully inadequate response to the deep cuts to Medicaid and the threat that poses to home and community based services.
In addition, the Graham Cassidy plan ends the Medicaid expansion and the current tax credits and cost sharing reductions that assist low income individuals purchase health insurance in 2020, replacing this assistance with a block grant that would reduce funding by $239 billion by 2026. After 2026, there would be no federal funding to help the millions of Americans, including millions with disabilities, who rely on Medicaid expansion and marketplace coverage to access health care. These are people who previously fell through the cracks in our system, such as individuals with disabilities in a mandatory waiting period before their Medicare coverage begins and millions of people with a behavioral health condition who previously had no pathway to steady coverage. Also, millions of family caregivers who work caring for a child or older adult with a disability and hundreds of thousands of low wage direct care workers who serve people with disabilities gained coverage through the Medicaid expansion. Medicaid expansion helps stabilize our long-term care support networks by keeping caregivers healthy and reducing turnover.
Likewise, marketplace coverage ensures that people with disabilities can buy comprehensive and affordable health care and have equal access to much needed health care including examinations, therapies to regain abilities after an illness or injury, and affordable medications. We have serious concerns about the Graham Cassidy private market provisions, including the state waiver authority to eliminate protections for people with pre-existing conditions (including people with disabilities), older adults, and people who need access to essential health benefits. The nondiscrimination provisions and health insurance reforms, the expanded access to long term supports and services, and the expanded availability of comprehensive and affordable health care have helped many more individuals with disabilities live in the community and be successful in school and the work place. No longer do individuals with disabilities and their families have to make very difficult choices about whether to pay their mortgage, declare bankruptcy, or choose between buying groceries and paying for needed medications.
The lives and independence of people with disabilities are on the line. The Arc urges you to oppose the Graham Cassidy plan to preserve health care and access to community living provided under Medicaid.
The Arc is the largest national community-based organization advocating for and serving people with intellectual and developmental disabilities and their families. We have more than 650 state and local chapters across the United States.
Calling all HuffPost superfans!
Sign up for membership to become a founding member and help shape HuffPost's next chapter
This post was published on the now-closed HuffPost Contributor platform. Contributors control their own work and posted freely to our site. If you need to flag this entry as abusive,
send us an email
.