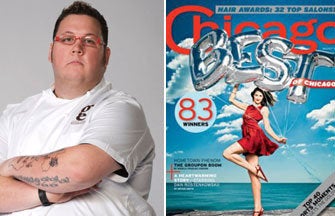 The relationship between chef and food critic is obviously not an ideal one--and this week one Chicago magazine writer made a very, very vocal enemy.
The war continued from there, with Elliot calling Walker a member of the "JV Yearbook team" and blasting the magazine for "overall crappy writing."
Chicago magazine decided to end the battle there...with one more tweet on the matter:
"It was a little strange to review the food at a sample event, especially considering that these were small samples of the food, and that the actual items would be bigger at the festival," Grub Street Chicago blogger Nick Kindelsperger wrote Wednesday. "Still, we didn't quite expect this reaction from Bowles..."
Bowles went on to explain his outrage over Walker's reviews on the Windy Citizen, where a robust discussion was taking place in the comments section over the twitter war.
When toiling in the restaurant trenches, nothing is more abhorrent, more boring, more flaccid, than programmed cynicism. Wait! No - you know what? There's something deeper, more repugnant; a quality so malignant that people literally waste years of their precious lives in its delusive grasp: Self-Importance. If we were to fuse these shining traits in an unholy marriage not unlike Frankenstein or Will Smith's Wild Wild West - we'd only begin to scratch the surface of the article in question.

Who cares if we've tweaked the food offerings at Lollapalooza (whose home lies in Chicago), with an amazing lineup of Chefs that represents...wait for it...Chicago? And seriously, why worry about the tens-of-thousands of dollars these independent restaurateurs are putting on the line by trying to make a music festival even better by serving inspired food? Pretty blasé when compared to the collective inhale of the entire city, holding its breath for a "writer" to critique/rate sampling portions of the food that will be offered.

Aside from meddling with the parasitic formula that affords her a job in the first place - Cassie Walker has donned the garb of a fourth-rate Joan Rivers covering the Daytime Emmy's. What was supposed to be a fun gathering of Chefs, foodies, bloggers, writers and musicians celebrating the fact that our town now sports the best food offerings of any music fest in the country, sadly turned into a opportunity for a catty, reckless blog post fueled by a sick self-importance for insidious and prosaic journalism.
Support HuffPost
The Stakes Have Never Been Higher
Related
Popular in the Community