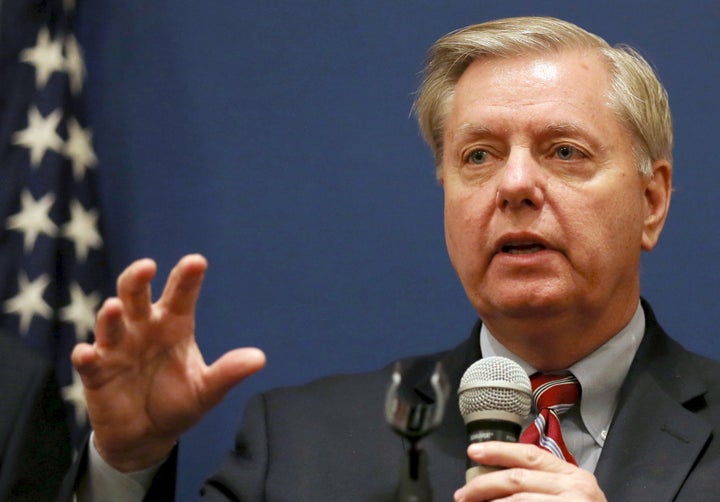 Republican presidential nominee Donald Trump could embrace a clean energy policy as president, but only if he can be convinced that it's a good business decision, Sen. Lindsey Graham (R-S.C.) told The Huffington Post on Thursday.
"He's the type of guy that, if you show him that's the only pathway forward, he may have more sensitivity to the environmental side," Graham said.
Graham has acknowledged the reality of climate change, which makes him something of an outlier among Republican lawmakers. Trump has called climate change a hoax perpetrated by China to hurt U.S. manufacturing. 
Graham has been critical of Trump since they both were competing in the GOP presidential primary. In June, the South Carolina senator called on fellow Republicans to unendorse Trump after the billionaire estate mogul claimed that a judge presiding over a lawsuit against him was unfit to serve on the bench because of his Mexican heritage.
Trump's skepticism on climate change has severely hurt the GOP presidential nominee with young voters, Graham said, since the vast majority of them firmly accept that human activity is causing significant shifts in Earth's climate.
"Trump the dealmaker may emerge here if he gets to be president," Graham said. "But when you're campaigning for president, this is one reason he's hurting with millennials. Millennials overwhelmingly believe that climate change is real, and when they hear a candidate say it's a Chinese hoax, I think that is a barrier to growing the vote."
On Thursday, however, Trump spoke to a gathering of fracking industry leaders, promising to lift environmental regulations and open more federal land to drilling ― probably not exactly what Graham had in mind.
Graham's comments came moments after the senator spoke at a gathering of conservatives to discuss clean energy efforts. In his speech, Graham urged Republicans to join the ranks of climate change believers, and criticized the party's lack of environmental awareness.
"Does anybody know what the environmental platform of the Republican Party is?" Graham asked. "Neither do I." 
Calling all HuffPost superfans!
Sign up for membership to become a founding member and help shape HuffPost's next chapter
BEFORE YOU GO
PHOTO GALLERY
Climate change seen from around the world