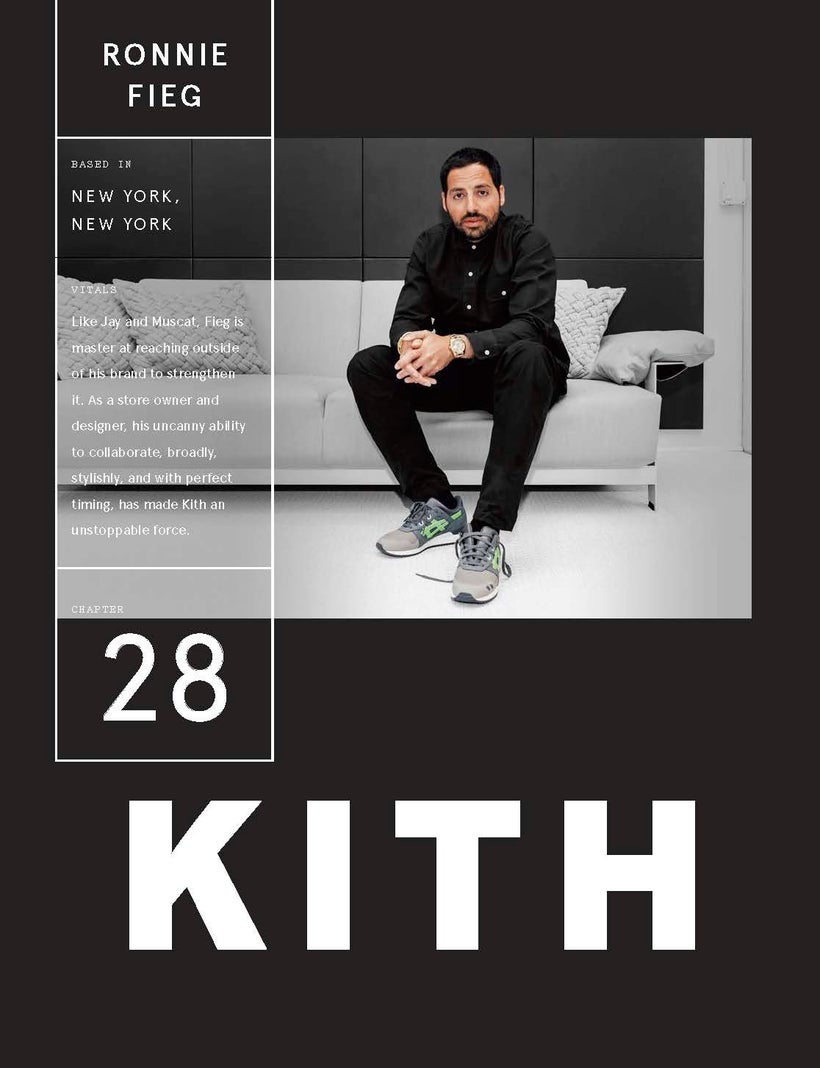 I swear if some dudes had no choice, they'd walk around naked, leaving only their feet 'clothed' to rock their favorite sneakers. Today, the statement — which isn't even necessarily just reserved to a fashion-statement anymore, is a statement people make with their sneakers to define a lifestyle led, even if just for a day. Of course, real sneakerheads might literally have a different sneaker for every day in the year, which brings me to think of a count of my own: 1, 2, 3, 4...probably about 10? My cousin Marc, from Brooklyn, NY had over 80 pairs at one point, and he's not even some baller, sports figure or celebrity, which just goes to show. He had an entire closet full; not to mention a storage unit for some spill-over; an app to alert him when a new one was releasing; using twitter to seek bids on exclusives; another app to sell ones he'd preserved but never wore; and the sneaker-insanity goes on and on! It's a culture MANY share and thrive in. "Growing up I always loved sneakers," Marc casually says. "But around 2003, I really got into Nike Dunks and that stared my desire to collect, as some pairs were released in very limited numbers." In the end, he recently moved to Miami Beach (ironically wears dress-shoes during the week, flip-flops on the weekends!), and donated about 30 pairs of his sneakers to this guy.
Living in NYC, sneakers are almost a MUST. Those anti-sneaker folks, seem to be making more of an effort NOT to rock them. Kinda like the ones who'd you hear say, 'Oh I don't do the train'. PLEASE. Everyone, from kids to adults, and from teenagers to even old grannies, have at least one pair. Used, abused, untouched, stored, or shelved for display, we all know of our own personal relationship with sneakers, sneakers...oh sneakers, how art thou?
Just ask culture and style writers/journalists Alex French (Esquire, "The Killing Season"), Howie Kahn (WSJ, The Wall Street Journal Magazine) and designer Rodrigo Corral (Rodrigo Corral Art + Design Studio), who got together to author their latest book, "Sneakers". Through this 320-page new book, they'll take you behind the scenes of this 85-billion-dollar-a-year global sneaker industry's most intriguing stories, highlight original art, funky designs, deep interviews and mind-blowing photography that neatly fits into, shines and laces-up tight!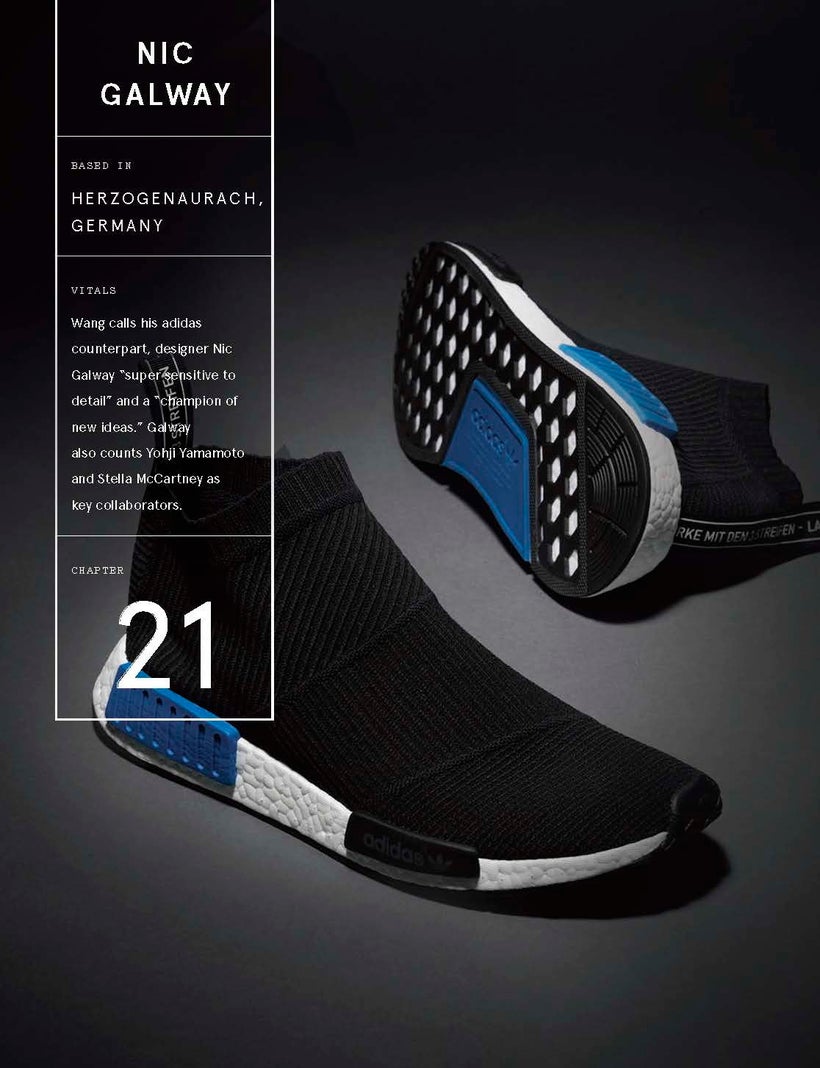 The trio — through this book, embody the beat of sneaker culture from the corporate perspective and creative designer's mindset, to the sports/pop culture and street aesthetic. It includes heavy hitters such as Virgil Abloh, Alexander Wang, Serena Williams, Tinker Hatfield, Ronnie Fieg, Kobe Bryant, Tom Sachs, DJ Clark Kent, Daniel Bailey and features every imaginable "Jordan". Just kidding. There's much more than just a variety of "Jordans", other brands and HTMs. But Nike definitely dominates. Of course the book (hardcover - limited edition only), comes in a shoe box. NOT kidding. I caught up with the trio to get to the bottom of the 'sole' — wearing and tearing at this book, by asking them questions to hear what it'll mean to sneakerheads by showing the relationships between their human behavior, pop culture and the many design-patterns/trends for the future.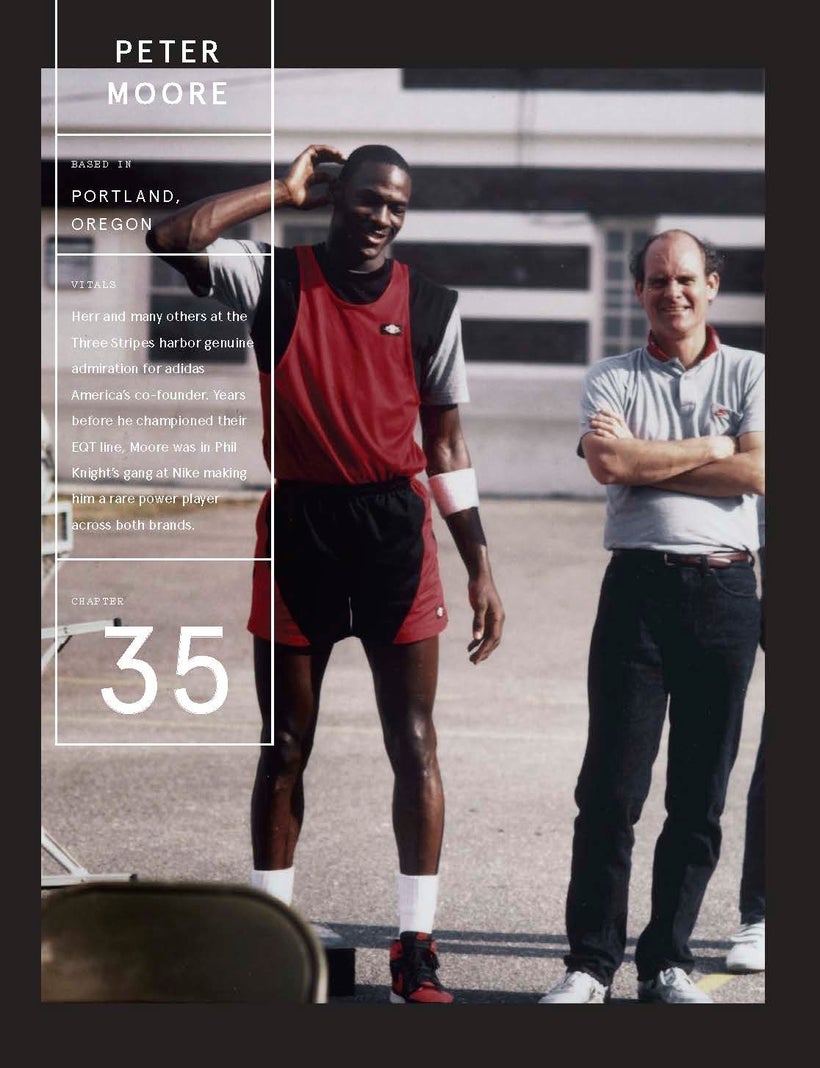 Q. As writers/reporters and designers covering the culture and style of sneakers, amongst other forms in the creative universe, why was it important to you'll to collaborate to put out a book, and let's say, not some informative website or blog updating all that's included?
Alex French: Howie and I are always on the lookout for subcultures to investigate places where the personal, creative work of an individual has an emotional payoff for the masses. A couple years ago we started talking a lot more about sneakers. We both have a history with them, growing up alongside the "Air Jordan", "the Pump", "Bo Jackson's", "Agassi's". For a decade +plus, there'd been a sort of medium-sized population that was intensely into the whole scene--camping out for coveted releases, hunting for rare finds in Marshall's, paying thousands for $90 shoes on the secondary market, reading limited edition zines. But that population blew up. It very clearly seemed like sneakers had become important to everybody.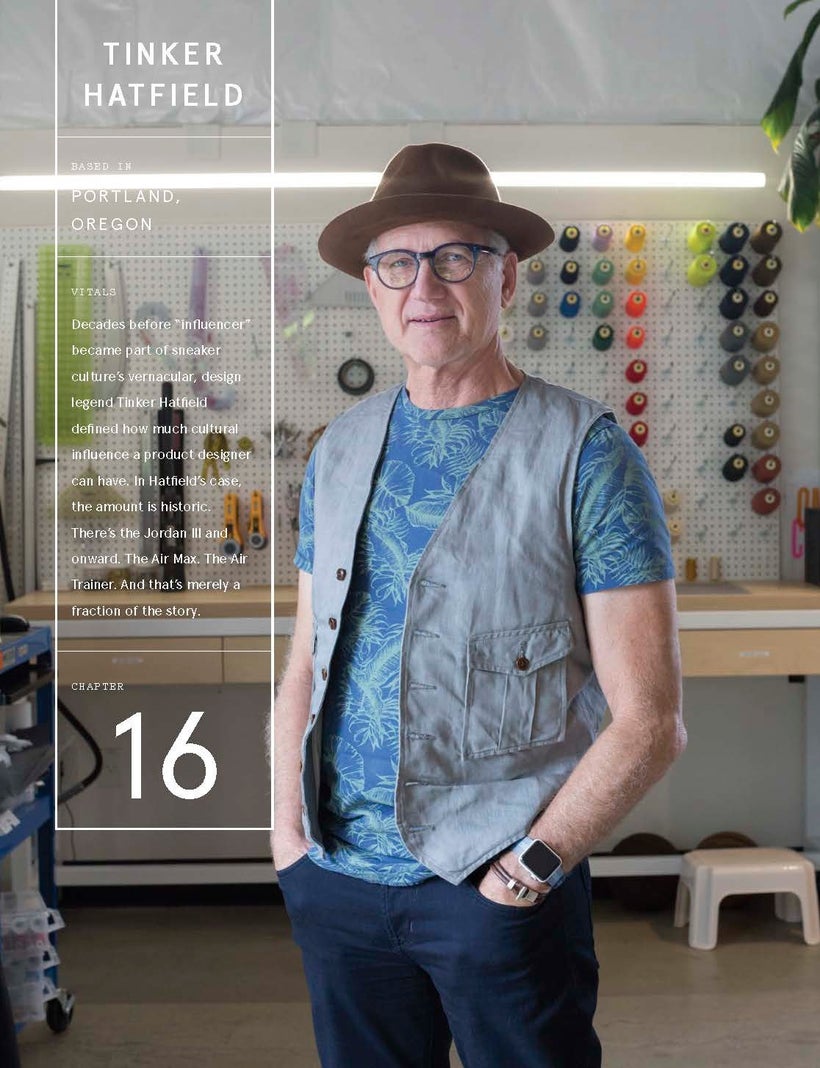 AF: It wasn't just 22-year old HYPEBEAST's anymore. Now it was also middle-aged friends who worked in PR and finance. It was chefs. And high-end fashion houses. What's interesting to us is how sneakers became part of the mainstream while still fiercely projecting a subculture's ethos: it's intensely personal; it's driven by artistic vision and creative tension; people plan their their lives around it with uncompromising passion; there's a community that feels insular. Part of this exercise was figuring out why this was happening. What is it about the shoes?
We discussed a book that would chronicle the lives of the designers, athletes, tastemakers, artists and journalists who were responsible for pushing sneakers closer and closer toward cultural ubiquity. When we started interviewing these folks we were absolutely blown away by the richness of their stories. They were heartbreaking and inspiring. They beautifully conveyed feelings of nostalgia and a determination to make it. They spoke about aesthetics and design in ways that we'd never heard. In time, we ceased viewing shoes as disposable clothing objects and started thinking of them as meaningful art objects. For us, the meaning of the shoes was rooted in these stories. As Aaron Cooper, a prominent Nike designer says in the book--it's all about the stories. Without the stories, the shoes don't mean jack! Rodrigo is really the person who brought all of this home. A book format was a better choice than doing something digital because we wanted to make something physical that was as beautiful as the shoes these people lusted over. That's where Rodrigo and his incredible team came in. They totally killed it.
Q. Beautifully said. So what's it like collaborating and working through pairings such as w/Jay-Z or any of the number of sports celebs vs actual designers such as Tory Burch or Alexander Wang you've worked with (and on sneakers too)? Does a constant, universal challenge always present itself, or no?  
Rodrigo Corral: Yes there's always a "constant universal challenge" working with everyone, from authors, to musicians, to designers.  Everyone is a celebrity today in their own channels. The biggest challenge is, all the people between you and them. It's hard to get a direct artist-to-artist dialogue going and when you do, it's brief. Jay-Z actually made the time, inviting us into his home.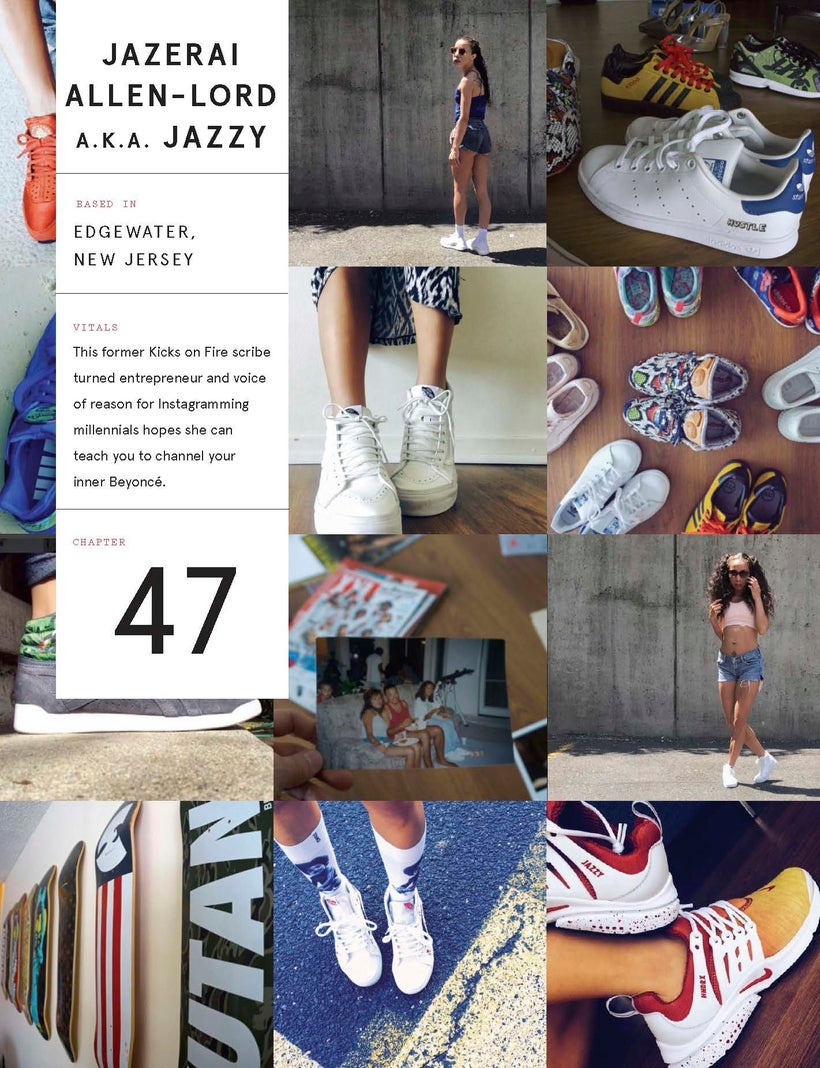 Q. Not surprised he did. That's cool. And I guess, since dozens of interviews were conducted and personalities included for this book, does any one or a few stand out as bizarre, unpredictable or truly insightful? Care to elaborate further on?
AF: We spent a lot of time talking to top designers and executives at the big brands like Nike, Adidas, and Reebok; people like Tinker Hatfield and Tiffany Beers at Nike, or Todd Krinsky at Reebok, or Paul Gaudio and Josh Herr at Adidas. Those folks are incredible. John C. Jay, the former creative director at Wieden + Kennedy did an extensive interview for "Sneakers". He's responsible for bringing world famous artists and designers like Tom Sachs, Kaws and Hiroshi Fujiwara to collaborate with Nike. These folks are regularly formulating and  transmitting industry-shifting ideas. Being in presence of that, was so intense.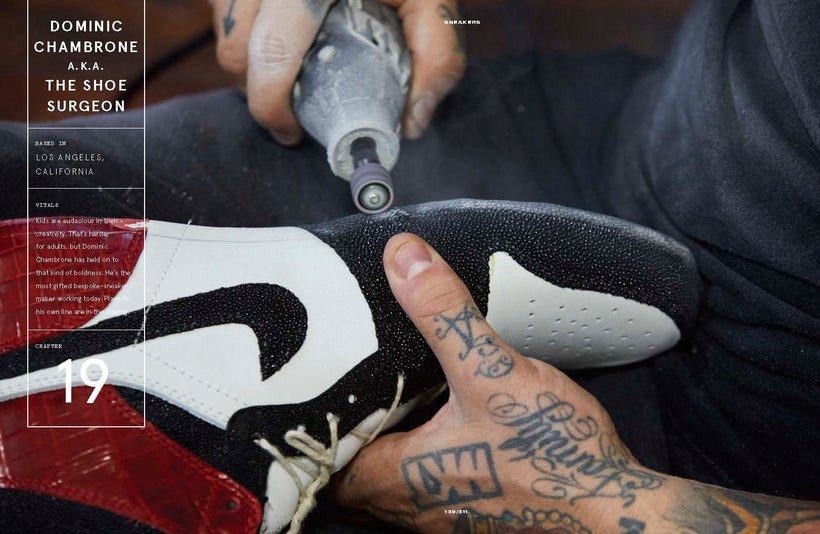 I developed an affinity for the people who operated on the margins of the industry--the people who don't have the backing of a huge brand and have to hustle and scrap and be really creative everyday to make it. A few people come to mind: Dominic Chambrone (AKA "The Shoe Surgeon"), for instance, he deconstructs iconic shoes like Air "Jordans" or "Yeezys" and makes them a million times more beautiful by reconstructing them with super premium materials like python skin.
We met an artist named Gary Lockwood who, after art school, found himself adrift. He was walking dogs and managing an unsigned hip-hop act and then one day, he was inspired to tear his shoes apart and re-purpose the parts as a gas mask. He's made hundreds of these masks. They're fine art. He sells them for thousands of dollars. Adidas and Nike have taken notice and used these masks as window dressing for their stores and in commercials. One of the core tenets of sneaker culture is taking a product and finding a way to flip it and make it your own. Dom and Gary really embody that aspect.
Q. Do you see any patterns based on the weather, race/ethnicity, TECHNOLOGY and type of culture associated with some featured in this book, when it comes to the design, aesthetic and direction of sneakers? After all, I'd like to think those based or from NY differ to LA, and even Tokyo, Japan?  
Regionalism was a real recurring theme; people finding inspiration in their surroundings. I found it fascinating the way the designers in our book spoke about telling stories through design collaborations with the big brands. One of my favorite chapters in the book is about Derek Curry, the owner of Sneaker Politics, a wonderful chain of sneaker boutiques in Louisiana. Derek has used the really rich history of Louisiana to guide his collaborations. He made a scarlet, ladies shoe of quilted leather with Reebok called the "Storyville" that was inspired by the red light district in New Orleans circa the 19th Century. He did a shoe with Saucony called the "Courageous Cannon" to commemorate the two-hundredth anniversary of the Battle of New Orleans--that shoe was the same color blue as the canons used in the battle. He designed a Reebok pump that was based on the legend of a man-eating beast that dates back to the first French settlers in the region--the upper was covered in long brown fur. He made a Mardi Gras, Adidas Gazelle and a "True Detective" sneaker. Even his stores are made from local materials--salvaged wood taken from abandoned barns and swamp cypress. At the excellent store, Concepts in Boston, Deon Point is doing big splashy collaborations inspired by his travels, the rich history of Boston, mythical toxic lobsters, and the cocaine trade in the 80s. Deon has taken sneaker story telling to the next level. The packaging and even how they stage the stores during the release is very specific. Matt Halfhill of Nice Kicks, made a shoe inspired by a drive he made up through Texas Hill Country. I think there's a rich lesson there for artists about being inspired by your surroundings.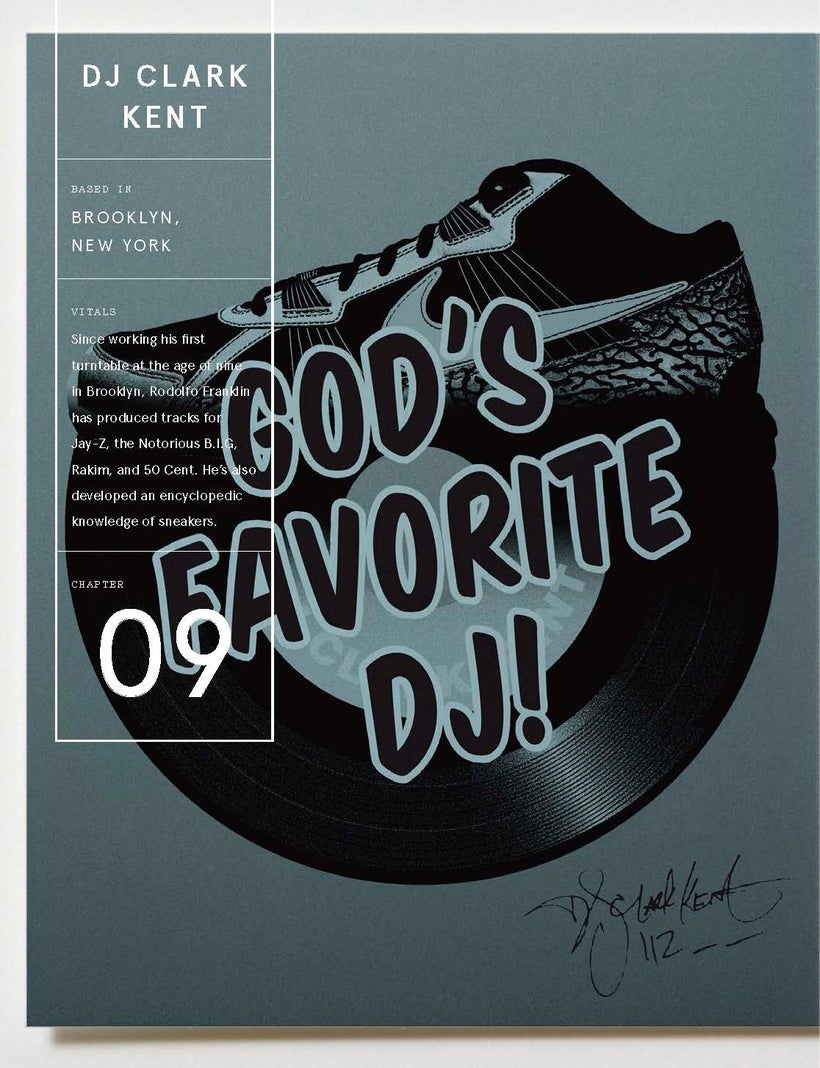 There are socio-economic themes throughout the book, too. Yu-Ming Wu, who went on to found SneakerNews and SneakerCon, grew up first in a rural Chinese village where they barely had shoes, let alone sneakers; and then in Sunset Park, Brooklyn, where his family worked in a sweatshop. He credits his upbringing with making him tenacious. DJ Clark Kent, the legendary Brooklyn-born music producer, gravitated towards sneakers early on because he idolized some guys from the gang, the "Jolly Stompers" and those guys always looked good. Looking fresh held real significance in his neighborhood. Bobbito Garcia, who grew up on the west side of Manhattan, came to sneakers through sport and family--he was an excellent hoops player--also shows how much sneaker style actually emerged from street culture. Shoes and clothes are a way that people silently communicate with the rest of the world, what they've got, what they're worth. It's like a call and response. Brands still appropriate so much of what was going on in these neighborhoods in the 70s and 80s. The influence is so huge it's impossible to measure.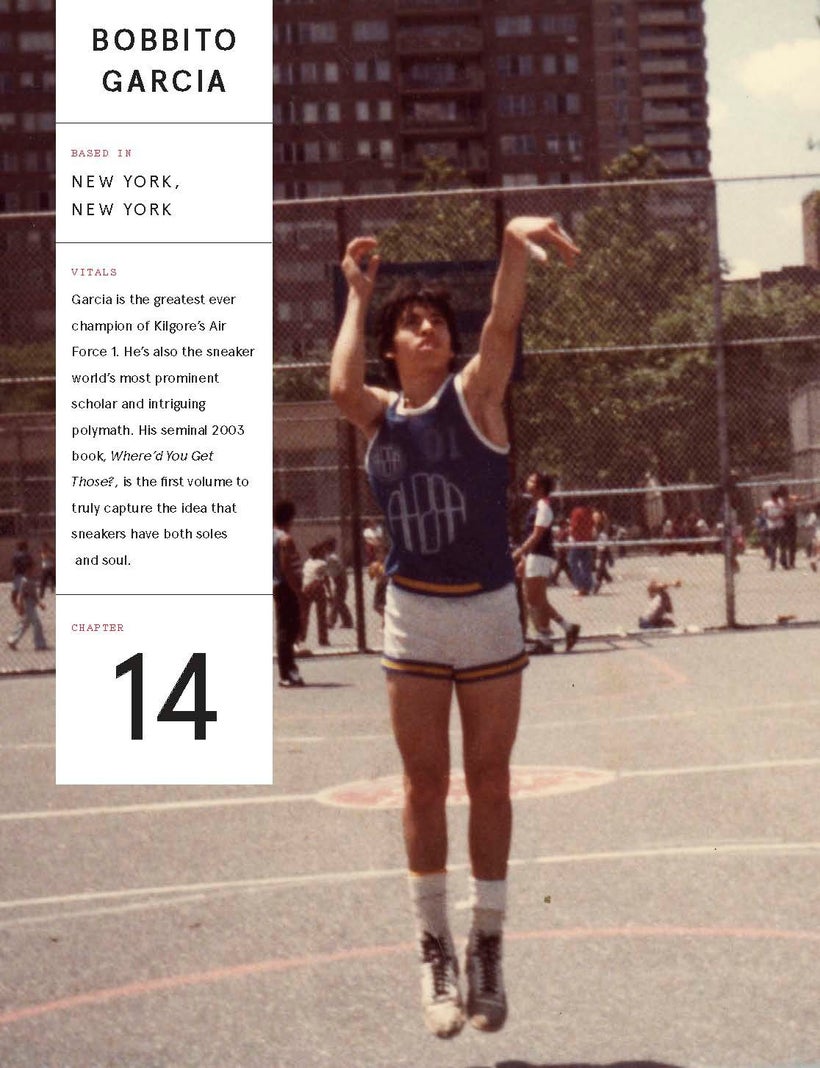 Q. Such a human aspect to this, indeed. There's sneaker retail stores, and then there's sneaker retail boutiques - what's the types of relationships you've seen in covering this sneaker industry, between the person(s) behind the design of a shoe from the beginning, to the store clerk/owner selling -- ultimately to what type of consumer?
AF: The boutique connect--the easy and reliable hook up for the hot release--is like the unicorn of sneaker culture. I saw it in action only once, at Undefeated in LA last November, on the day the "Jordan 1 Black Toes" dropped. Those shoes sold out in minutes. Hours after the mad rush was over I watched this really natty dude stroll in and pick up his pair. Derek Curry spoke to the relationship between boutique owner and customer with great effect. Sneaker Politics, his shop, really struggled early on and he had to make customer service a strength. He has this policy of giving his cell phone number to his customers. He talks about opening his shop in the middle of the night for some guys who drove all the way from Houston to Lafayette just for some sneaks. One customer even asked Derek to officiate his wedding.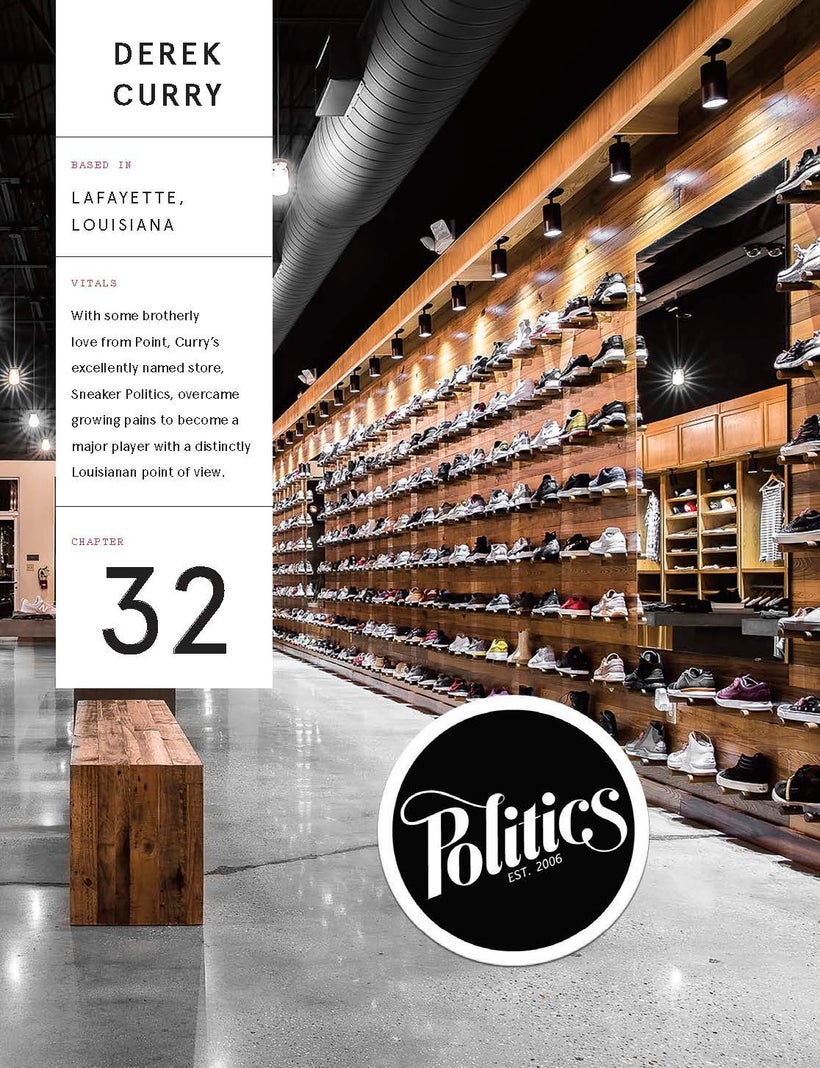 Q. His wedding, are you serious!? Wow, that is funny. Have you been able to clearly see how music + art -- through whatever genres or mediums, have played an integral role in the design, popularity/demand and legacy of sneakers?  
RC: That's why we wanted to do this book, "Sneakers" isn't one thing. It's not culture, it's a wearable object that represent the stories that live in culture.  It's not that far off from what I do: I design images that visualize the stories from books or movies. Sneakers are a concept shaped by a story.  That's why the cover of our book is a white box, people can put anything in it, anything that makes them feel tight, or as DJ Clark Kent says, feel "fresh".
Q. If you had to be relegated to living in ONE city, no ifs - &s - or buts, as regards to this sneaker culture thriving in your lives, what city would that be for each of y'all, and of course WHY?
AF: That's tough. The internet has forever altered sneaker culture. You can get the same thing everywhere.  I'd go Tokyo. The fashion scene there is incredible. The Japanese perfect everything. They pay incredible attention to every detail in their shoes. Atmos, Bape, and Hiroshi are all located there. They did the three of the hottest collaborations of this past year. It's the one place where they get shoes that we can't get here. And their boutiques, places like Architecture + Sneakers are so beautiful, like cathedrals for sneaks.
RC: New York City hands down, pretty much everyone in our book would agree. You have other cities where sneakers thrive through sport like soccer in London, Brazil - those are Adidas cities. But if Nike is the biggest brand in sneakers, its home is definitely NYC.
Howie Kahn: I'm with Rodrigo here. It's NYC hands down. For me, it's about variety and diversity. While working on this book, especially, I'm always looking down--in Manhattan, Brooklyn, Queens. I saw a guy on the subway last week with these custom airbrushed Vans. He'd clearly done them himself. The shoes could have been in a museum. In Queens, a few weeks ago there was a group of women decked in "Ewings", like a uniform. They looked amazing. My wife works in the building above Supreme. That's like a shoe parade everyday. And I travel a ton, too, so I'm confident in saying the most interesting feet in the world, from a sneaker point of view, are definitely in New York City.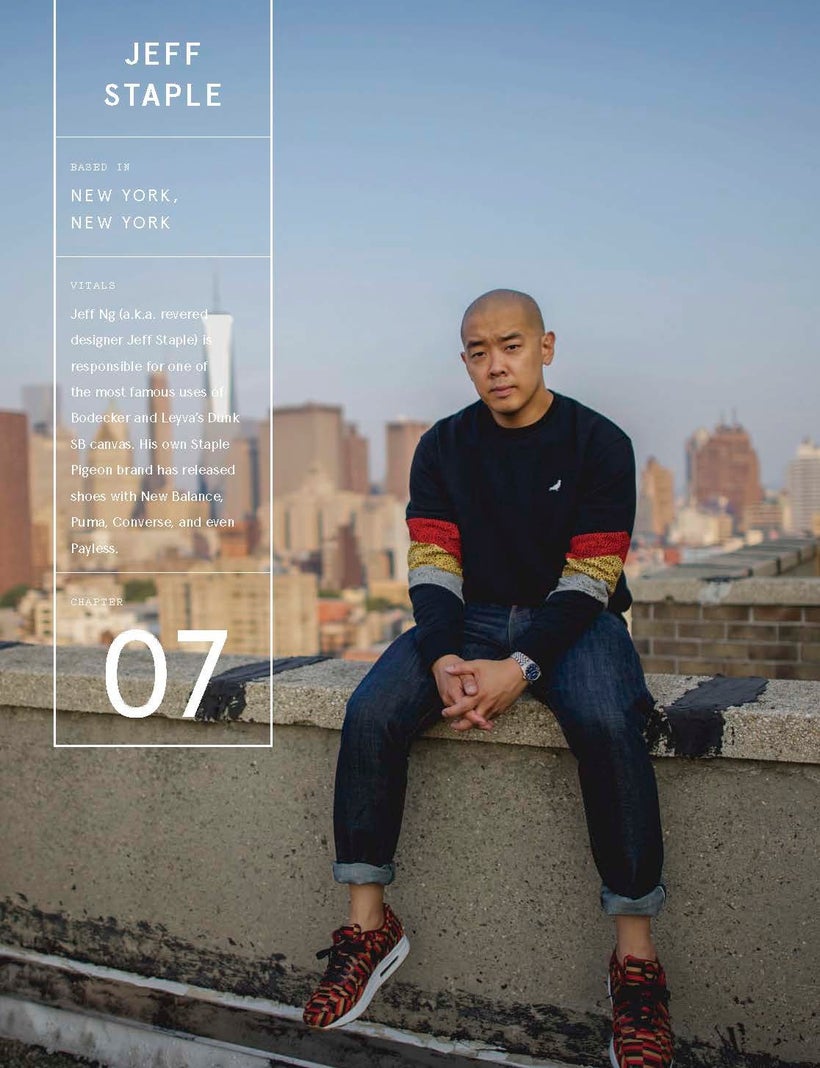 Q. OK, so Tokyo and NYC, bet. Guess we could give NYC the edge: 2 goals to 1, haa! So ultimately, what is the significance of sneaker culture based on your findings through working on this book? And how does it tell us where we as humans are stepping to next?
HK: The takeaway is really about what the people in the book have done: they're world builders. It's a huge achievement. Using design, empathy, passion--negotiating risk and struggle-- to create a livelihood for themselves and an engaging community for millions of others. The challenge ahead is finding ways to make their world more sustainable as it continues to grow. That means new materials, a greater focus on ecology, taking care of people in better ways. There's a way sneaker culture actualizes its own idealism. That's powerful. And, in many ways, it seems like it's just getting started.
Cop your "Sneakers" when it hits the world, October 24.
REAL LIFE. REAL NEWS. REAL VOICES.
Help us tell more of the stories that matter from voices that too often remain unheard.
This post was published on the now-closed HuffPost Contributor platform. Contributors control their own work and posted freely to our site. If you need to flag this entry as abusive,
send us an email
.