Two of this year's chief overlords of music (and controversy) -- Kanye West and Miley Cyrus -- both came up short. Cyrus' album, "Bangerz," didn't make the Sept. 30 cutoff for eligibility, but the summer hits "We Can't Stop" and "Wrecking Ball" failed to garner any nominations. West, who is wont to tout his impressive 21 previous Grammy honors, made out with only two recognitions. Despite being a potential favorite for Album of the Year (the critically adored "Yeezus") and Song of the Year ("New Slaves" or "Black Skinhead"), West was only a finalist for Best Rap Album and Best Rap Song.
In a year where one ubiquitous hit eclipsed the next, it's inevitable that Record of the Year and Song of the Year came with notable omissions. Macklemore & Ryan Lewis' "Thrift Shop" and "Can't Hold Us" were omitted from both categories along with the Taylor Swift hits "Begin Again," "I Knew You Were Trouble" and "Red."
Jay Z, the most-nominated artist of the year, failed to ink a spot among any of the top-tier categories in which he was eligible. "Magna Carta...Holy Grail" grabbed Best Rap Album but was left out of Album of the Year, while "Holy Grail" and "Tom Ford" appeared in other categories without cracking Record or Song of the Year.
A similar fate met Jay Z collaborator Justin Timberlake, whose "20/20 Experience" earned Best Pop Vocal Album but not Album of the Year. Timberlake's singles, "Pusher Love Girl" and "Mirrors," appear in Best R&B Song and Best Pop Solo Performance, respectively. Both of the duo's joint singles -- "Suit & Tie" and "Holy Grail" -- received an impressive four nominations between them, even without cracking the top categories.
Another Album of the Year oversight came in the form of Bruno Mars' "Unorthodox Jukebox." Mars racked up several nominations but failed to reclaim the accolade "Doo-Wops & Hooligans" received in 2012, despite the newer album's immense success. The same goes for J. Cole, whose only glory came in Best Rap/Sung Collaboration for "Power Trip," his song with Miguel. Omitted from Album of the Year and Best Rap Album, J. Cole's "Born Sinner" couldn't live up to the Best New Artist nod the rapper received in 2012.
It seems this year is lacking an esteemed alternative act, a la 2013's Mumford & Sons, 2012's Bon Iver and 2011's Arcade Fire. Vampire Weekend, whose album "Modern Vampires of the City" was a critical and commercial smash, could have filled that role. Instead, pop dominated the nominations, as evidenced by Sara Bareilles' unexpected inclusion in the Album of the Year and Best Pop Solo Performance roundups.
Another alternative act that was shut out was critical darling HAIM, the sister trio from Los Angeles that's become one of the year's most touted new bands. The group, whose album debuted on the day the eligibility period ended, was heralded as an ostensible favorite for Best New Artist. Instead, HAIM went home empty-handed, failing to garner that nomination or any others for their beloved album "Days Are Gone" and trendy single "The Wire."
Lorde, too, was shut out of Best New Artist, despite grabbing salutes for Record of the Year, Song of the Year, Best Pop Vocal Album and Best Pop Solo Performance. Instead, James Blake, who received no other nominations, was among the Best New Artist shortlist.
On the country side, one of this year's top acts -- Florida Georgia Line -- was a surprise omission. The duo, fresh off the CMA Awards' Single of the Year honor for "Cruise," had four Top-5 country singles and a No. 1 album, all of which failed to crack the finalists.
Was this year's music field simply too crowded? Are Grammy voters out of tune with how to best reflect the big trends, or did they nail they nominations? Chime in below with what you think were the worst snubs.
Before You Go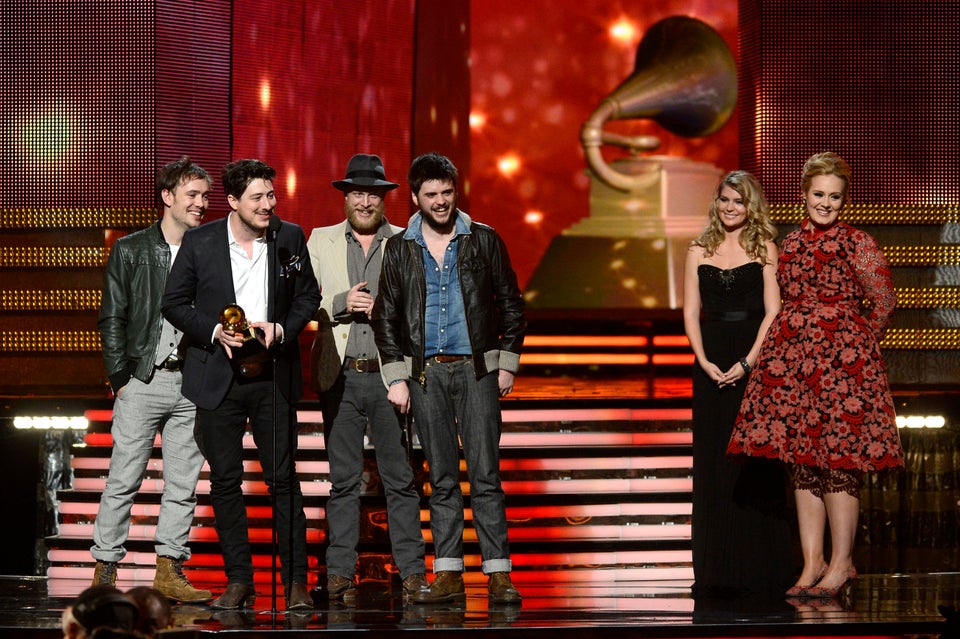 Grammy Awards 2013
Popular in the Community