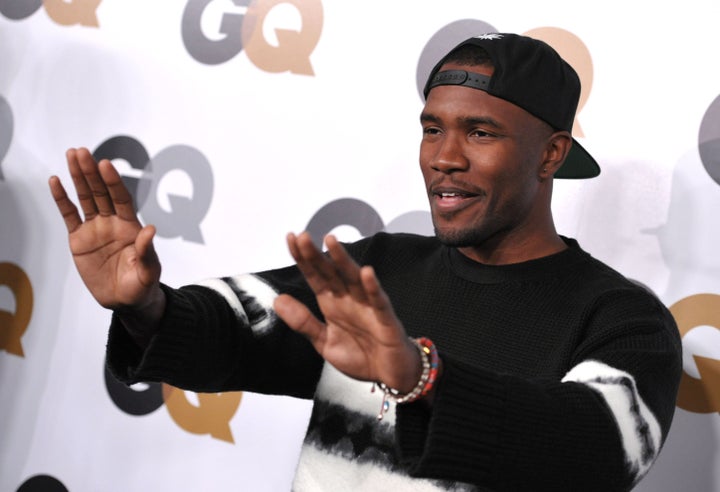 LOS ANGELES (AP) -- Everybody's thinkin' about Frank Ocean - but his main competition Kanye West and Jay-Z took home two early Grammy Awards.
They won best rap song and best rap performance in the pre-telecast awards Sunday for the song "N----s in Paris" from their "Watch the Throne" collaboration, joining Skrillex, Esperanza Spalding, Chick Corea and Matt Redman atop the pre-telecast awards show toteboard.
Other early winners included Rihanna, Beyonce, Taylor Swift and Mumford & Sons.
Ocean is a cause celebre and the man with the momentum as Sunday's Grammy Awards. One of six top nominees with six nominations apiece, Ocean - the 25-year-old R&B singer turned cultural talking point - will have the music world's attention.
It remains to be seen if it will be the "Thinkin Bout You" singer's night, but there's no question he's dominated the discussion so far. Already a budding star with a gift for building buzz as well as crafting songs, Ocean was swept up by something more profound when he told fans his first love was a man last fall as he prepared to release his major-label debut, "channel ORANGE."
It was a bold move and one that could have submarined his career before it really even got started. Instead, everyone from Beyonce to the often-homophobic R&B and rap communities showed public support. It was a remarkable moment.
"It speaks to the advancements of our culture," renowned producer Rick Rubin said. "It feels like the culture's moving forward and he's a representative of the new acceptance in the world for different ideas, which just broadens (our experience), makes the world a better place."
A recent altercation in a parking lot with Chris Brown only focused more attention on Ocean. Ocean says Brown was the aggressor; both are competing against each other in one of the Grammy categories.
Ocean is up for the major awards best new artist, album of the year and record of the year when the show airs live on CBS at 8 p.m. EST from the Staples Center, sharing top-nominee billing with fun., Dan Auerbach of The Black Keys, Mumford & Sons, Jay-Z and West.
The Grammy pre-telecast awards had 70 trophies up for grabs, including rock, pop, rap and country categories. Skrillex won three early awards for dance music, while former best new artist winner Esperanza Spalding, jazz man Chick Corea and Christian singer-songwriter Matt Redman had two wins apiece.
Corea, who competed against himself in two categories, won best improvised jazz solo for "Hot House" with Gary Burton and best instrumental composition for "Mozart Goes Dancing."
And Redman won best gospel/contemporary Christian music performance and best contemporary Christian music song (in a tie) for "10,000 Reasons (Bless The Lord)."
Other early winners included Rihanna, who won short form music video for "We Found Love" featuring Calvin Harris, and Taylor Swift won her seventh Grammy for best song written for visual media for "Safe & Sound," her collaboration with The Civil Wars on "The Hunger Games" soundtrack. It was Swift's seventh Grammy and the third for Joy Williams and John Paul White of The Civil Wars.
"I think it's appropriate that Taylor thanks us because we've been carrying her for a while and it's getting really tiring," White joked.
Beyonce won for best traditional R&B performance. Mumford & Sons took their first Grammy, winning along with Old Crow Medicine Show and Edward Sharpe and the Magnetic Zeros for their long form video documentary "Big Easy Express."
Celebrities rolled down the red carpet in the early afternoon, but it remained to be seen if any would try to skirt CBS's mandate that stars dress appropriately with butts, breasts and other sensitive areas covered adequately.
""I think it's just, you know, we should always stay classy and dress according to the event that's being held," Ashanti said on the red carpet, where she showed off a thigh-baring gown. "So I don't think people should be limited so much and told what you can and cannot do. But, you know, you do have to have a certain class and prestige about yourself."
Ocean might be riding a wave toward some of the night's biggest honors, but limiting Ocean's chances for a clean sweep are his fellow top nominees. Fun. became just the second act to sweep nominations in all four major categories with a debut album, equaling Christopher Cross' 1981 feat. Like Cross' "Sailing," the New York-based pop-rock band has ridden along on the crest of an inescapable song: "We Are Young," featuring Janelle Monae.
Cross won five Grammys, sweeping the major awards. Fun. likely will have a much harder time piling up that number of victories because of the buzz surrounding the group's competitors. It's not just Ocean who has people talking.
London-based folk-rockers Mumford & Sons had one of the top-selling albums of the year with "Babel" and already has a history with The Recording Academy's thousands of voters, having been nominated for major awards the year prior. Also, The Black Keys have a winning track record at the Grammys.
And don't count out West and Jay-Z, who were shut out of the major categories but remain very much in voters' minds.
Jack White's "Blunderbuss" competes with fun.'s "Some Nights," Ocean's "channel ORANGE," Mumford's "Babel" and The Keys' "El Camino" for the night's top award, album of the year.
Gotye's "Somebody That I Used To Know," featuring Kimbra, Taylor Swift's "We Are Never Ever Getting Back Together" and Kelly Clarkson's "Stronger (What Doesn't Kill You)" join the fun., Ocean and Black Keys entries in record of the year.
Fun. and Clarkson also are nominated for song of the year along with Ed Sheeran's "The A Team," Carly Rae Jepsen's "Call Me Maybe" and Miguel's "Adorn."
And rounding out the major categories, fun., Ocean, Alabama Shakes, Hunter Hayes and The Lumineers are up for best new artist.
Those major nominees figure prominently on the 3 1/2-hour telecast, broadcast live on CBS.
Swift will kick things off with a show-opening performance. Fun. and Ocean will take the stage. Others scheduled to perform include Justin Timberlake, Carrie Underwood, Clarkson, White and Juanes.
There will be no shortage of mashups the Grammys have become famous for, either. Elton John, Mavis Staples, Mumford, Brittany Howard, T Bone Burnett and Zac Brown are saluting the late Levon Helm, who won the Americana Grammy last year a few months before his death. The Keys will join Dr. John and the Preservation Hall Jazz Band on stage. Sting, Rihanna and Bruno Mars will perform together. Other team-ups include Miranda Lambert and Dierks Bentley, and Alicia Keys and Maroon 5.
By Chris Talbott, Associated Press. AP writer Nekesa Mumbi Moody in Los Angeles contributed to this report.
Follow AP Music Writer Chris Talbott: .
REAL LIFE. REAL NEWS. REAL VOICES.
Help us tell more of the stories that matter from voices that too often remain unheard.
BEFORE YOU GO
PHOTO GALLERY
2013 Grammy Nominees