February is definitely "high season" for awards ceremonies, which means that gifting suites -- official or unofficial -- tied to the various events are popping up left and right. Brands shell out big bucks for reserved space at the various suites in the hopes of getting their products in the hands of artists and celebrities.
There were several Grammy suites, including the organization's official gift lounge held backstage at the Grammy venue, L.A. Live. Other were spread out from downtown Los Angeles all the way to Century City. There was even an early Oscar suite with a Valentine's Day theme!
But no matter which one celebs went to, they were sure to leave with goodies ranging from the practical to the fashionable to the just plain old questionable.
Below is a smattering of what was out there in the past week: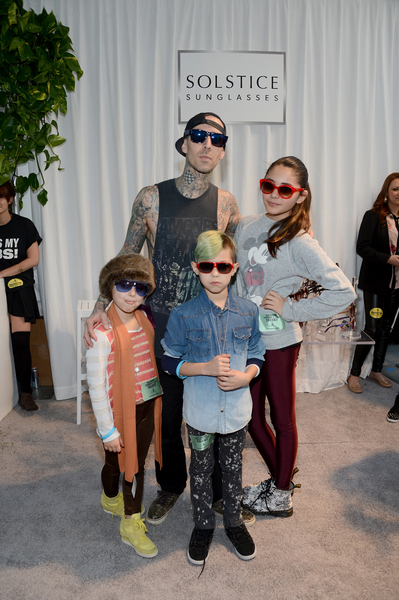 Travis Barker and his children wearing Solstice Sunglasses at the Grammy Gift Lounge at L.A. Live. (photo credit: Wire Image)
The Grammy Gift Lounge presented by MTG, held at L.A. Live in downtown Los Angeles, and produced by Distinctive Assets.
Japanese beauty and heath product MTG was on hand with a variety of ahead-of-its time beauty products. There was Plosion, a carbonated lotion-based misting device and the Glalent Platinum Ion portable mist.
What would a Grammy suite be without Gibson Guitars? Among the Gibson goodies, attendees were invited to the Gibson Beverly Hills Showroom to pick up such gifts as Gibson Les Paul Studio Guitars in Alpine White with chrome accents.
SOLSTICE Sunglasses let artists and celebrities pick from array of sunglasses. The most popular proved to be Polaroid Eyewear, whose new Polaroid Plus line doesn't hit stores until Spring 2013. The each pair, produced by Safilo Group, contains the Polaroid UltraSight Plus lenses.
Other goodies included swimwear by D'Milikah, iPad and iPhone cases by Devicewear, hand-illustrated tennis shoes by Carlitos Brand and New Era Caps. There were also gourmet chocolate truffles and soy candles from diva songbird Chaka Khan. The names of her brands? The aptly named Chakalates and Khana Sutra Candles
Celebs also left with gift bag filled with goodies including Luden's throat drops, Hydroxycut weight loss gummies and sprinkles, the Touchfire iPad Keyboard and an elastic lacing system from Hickies that transforms laced shoes in to slip-ons.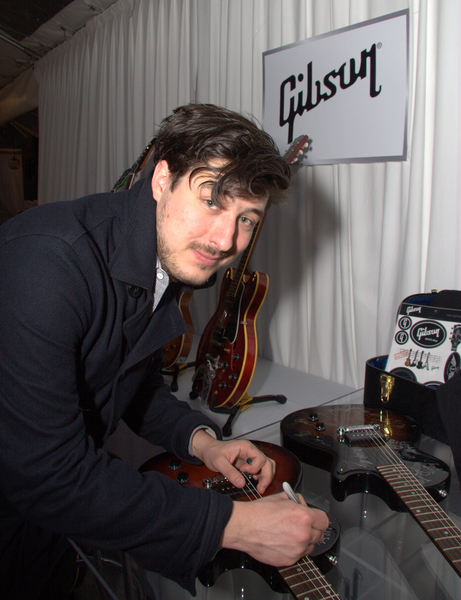 Marcus Mumford of Mumford and Sons (photo credit: Dave Schlosser)
Red Carpet Events LA Annual Grammy Awards Style Lounge at the Hyatt Regency Century City Plaza Hotel:
Visitors got to make their own interchangeable pendants from Dutch brand Quoins by combining two different sized coins and discs made from such materials as silver, glass, semi-precious stones, pearls and more. Meanwhile, Belle Etoile jewelry -- which means beautiful star in French -- handed out specialty made pendants just for the event, in keeping with the company's motto that everyone woman is -- and deserves to feel like -- a beautiful star.
There were Rings, necklaces, bracelets, pet tags and nylon sport bands from Shuzi, all of which are embedded with contain nano vibration technology, purported to improve circulation and reduced inflammation among other health benefits. Also for the health, Nuwati Herbals handed out loose tea blends designed for a variety of ailments including their popular The Healer Tea for the immune system, sinus, allergies, colds and headaches. All are inspired by founder rod Jackson's Cherokee ancestors. It really works!!!!
Awards suite staple Bite-Lite mosquito control candles showcased some new products including their citrus-mint air scenter as well as Epic Scents air fresheners based on the characters from the MegaMan video game.
Also, Weberline Couture handed out cotton knit fingerless gloves and crystal hairbands. Meanwhile, Santa Monica-based Tikkun Holistic Spa was promoting its various services, some more unusual than others, including the Vagina Steamer that can be used for an array of benefits including PMS relief and aiding in fertility.
Rhiamon Energy Essential by Opus Gaia had various aromatherapy items including Chakra balancing oils and the Clear Away Essential Spray designed to dissolve any bad harmony that may be in the air. For those who love to travel, Carlyle International gave out trips from Hotel España, Royal Belize and Viceroy Bali.
Krave Jerky took beef jerky to a whole other level with such decadent flavors as Garlic Chili Pepper, Lemon Garlic, Basil Citrus and Pineapple Orange among numerous others. For those with a sweet tooth, Chocolate Creations were handing out chocolate in the shape of a high heeled shoe that resembled more of a piece of art than the delicious edible confection that it really is!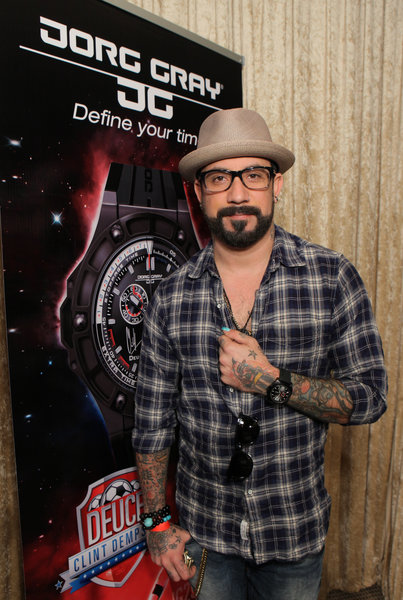 The Backstreet Boys' AJ McLean at Red Carpet Events LA's Grammy Style Lounge
Doris Bergman's 5th Annual Valentine Romance Oscar Style Lounge and Partyat Café La Boheme in West Hollywood:
Items included carry-on Luggage from Pacific Gear and Traveler's Choice, including roll-on duffels, wheeled carry-ons. There were also solar backpacks and laptop messenger bags with a built-in flexible external solar panel. It charges an internal battery to which you can plug in your smart phones, PDA, iPod, etc.
Whitening Lightning handed out goodie bags filled with their signature teeth whitening products, and debuted its new all natural no-peroxide/no sensitivity Dial-A-Smile Zero White teeth whitening system.
Kendra Bridelle and her Lusciouss line of jewelry were gifting various earrings, rings and cuffs ahead of its debut on HSN March 15. Fashion designer Kelly Nishimoto, co-host of TLC's "Something Borrowed, Something New," was on hand with her Cute Booty line of lounge pants.
Qmadix had several stylish styles of iPhone 5 cases made with shock absorbent material. Other products in their line included lightweight rechargeable stereo blue tooth speakers and the Tech Armor, an ultra-thin screen protector made of tempered glass.
Solana Beach-based store Bon Bon Home & Garden had plenty of accessories for the home including Orchid candles, heart-shaped (fake) stone rocks with embedded pennies that can be used as paperweights, garden decorations or display art.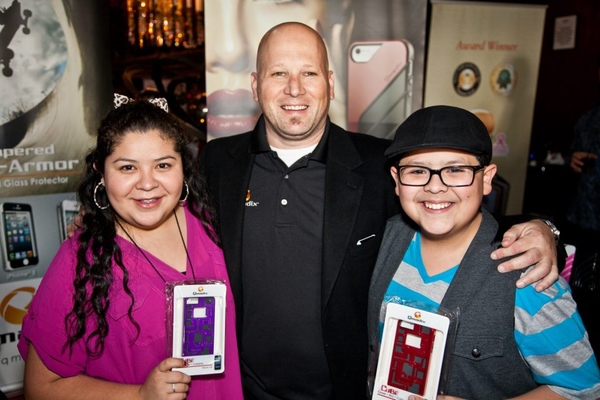 Raini Rodriguez (Austen and Ally) and her brother Rico (Modern Family) pose with Qmadix at Doris Bergman's Oscar/Valentine lounge. (Photo by Ben Shani Photography)
The Firlm L.A.'s Pre-Grammy Award Gifting Louinge held at the LoftSEVEN Penthouse in downtown Los Angeles:
Contemporary women's clothing store Noblita made its gifting suite debut by handing out various items from their downtown-based store, including their heart sweater. Noblita, owned by husband and wife team Ric and Adrienne Guido, opened its doors two months ago and carries such fashionable items as wax non-denim jeans and sequined leggings.
Also at the suite were anti-aging facial serums and moisturizers from MH3, colorful belts and watches with interchangeable bands and faces from One Eighty Limited and double-sided silhouette jewelry from Luxurious Poverty. There were decorative bowls by L'Object from Neiman Marcus and kids got to pick out a blanket/puppet all-in-one combo know as CuddleUppets from Hong Kong-based Jay@Play.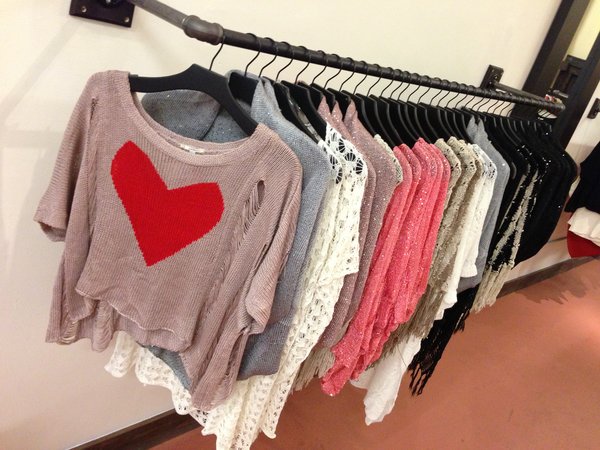 Noblita clothing store gifted this heart knit sweater among other things at The FIRM L.A.'s pre-Grammy gifting lounge from its downtown L.A. store.
YM's Grammy Awards 2013 Gifting Suite Experience at private residence in Trousdale Estates in Beverly Hills.
Steps4paws was on hand raising awareness for dog rescue organizations. Artists and celebrities received shirts from the organization's fashion rescue S4P collection including the t-shirts emblazoned with phrases like "loyal and true" and "my dog rescued me." The tees will be available for purchase at select retail store beginning in April with proceeds from the sale going to rescues supported by Steps4Paws including Best Friends Animal Society, The Gentle Barn and the New York-based North Shore Animal League
Flat irons and hair products from ISO Professional, teeth whitening pens from Smile Sciences and liquid sleep enhancer 8 Hour Snooze. Author Dr. Beth Haney handed out copies of her book "Be You-T-Full" which gives readers the low-down of understanding the pros and cons of many of the beauty enhancing and anti-aging procedures that are out there.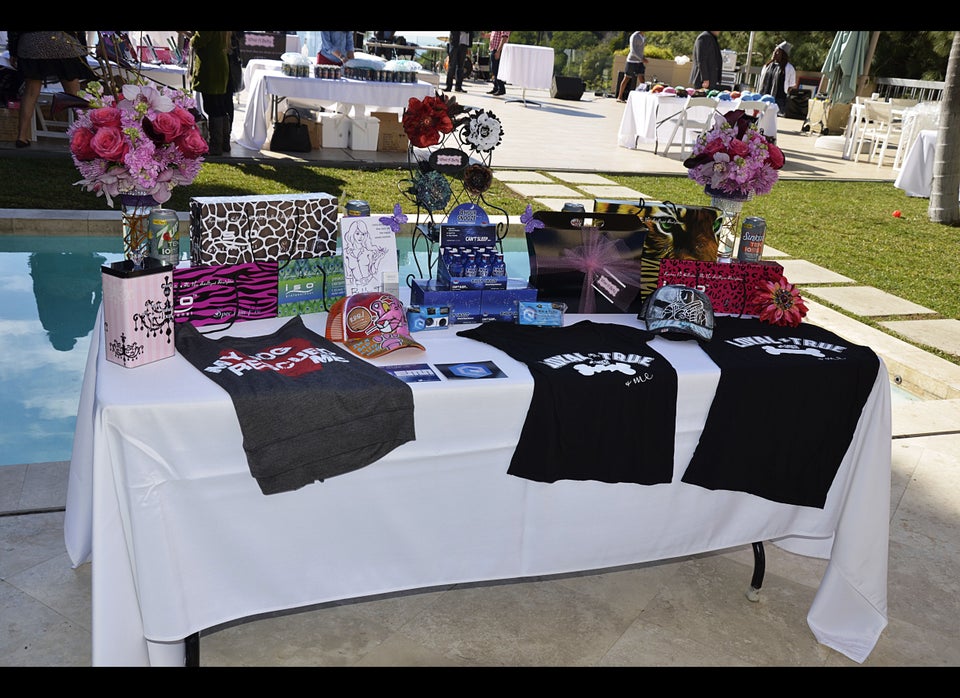 For more on celebrities and their swag, "like" the Hollywood Suite Life on Facebook.
Popular in the Community