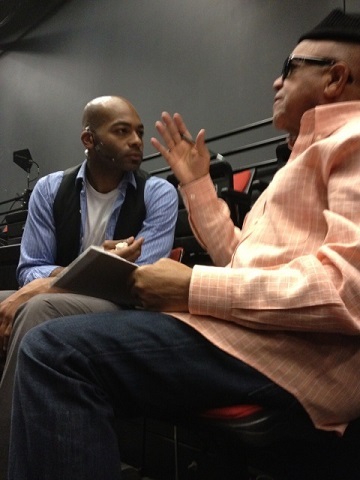 Brandon Victor Dixon is currently starring as the legendary Berry Gordy Jr. in the hit Broadway show, MOTOWN: The Musical. Pic: Brandon with Berry Gordy Jr.
Brandon's Website. Twitter: @BrandonVDixon
Don't ask Brandon Victor Dixon what sleep is, because he doesn't know the answer. In 2013, Brandon formed WalkRunFly Productions with friend Warren Adams. They co-produced two of the most anticipated shows this theater season as their first two projects: the Neil Patrick Harris starrer Hedwig and the Angry Inch and Of Mice and Men, starring James Franco and Chris O'Dowd.
You're currently starring as Berry Gordy Jr. in the Broadway hit show MOTOWN: The Musical. Tell us a story about your experience with the show that you haven't shared yet. Did you seriously get the job just by the Director asking you?
Yes, I really did just get the job because the director called me and asked me to work on the project with him and the creatives. Now, mind you, had I met Berry and not hit it off, I'm sure something would have changed. When I first joined the project we did a two week reading here in the city and at that point, I didn't know if I would even want to move forward with the project after that. As much as I admire and respect the Motown legacy and family, the only thing I'm interested in is good work. If the work wasn't good, I wouldn't have continued with it regardless. I just wanted to help them in their search for what the show could be in any way I could.
Two months after our first reading, the team flew myself, Valisia Lakae and a couple other actors out to LA for a week to workshop some of the material and that was when the project became real for me. We did some wonderful work that week and the energy of brainstorming and creating with Berry and his team at his house in Bel Air was pretty extraordinary. On the morning of our last day, Berry and I met to talk about my notes. I stayed up the entire night before writing down my thoughts and suggestions, we met and I really broke down for him very honestly what problems I thought the script had. And then I offered my solutions. This is a thing that I love about Berry. He wants your most honest opinion. But if you identify a problem, have a solution.
I explained my thoughts to him in the pool house and it was from this conversation that "Can I Close the Door," the wonderful song I sing at the end of the show, was born.
We talked it over and then went down to the tennis court and played a match -- I won't say who won.
What possessed you and Warren Adams to create your own production company called WalkRunFly Productions? What are your goals?
Warren and I have been very close friends for years and are very like minded in the scope of how we view our art. Warren is an award-winning choreographer and as the creatives and I were developing Motown, I knew Warren would be an invaluable asset. Not solely for his abilities as a choreographer but also because he has great, intelligent, creative vision when it comes to performance.
I recommended Charles Randolph Wright meet with him and I was correct in my estimation because he and his collaborator Patti Wilcox won the Astaire Award for their work.
While working on Motown, since we were operating on both sides of the table to a certain extent, we knew it was time to take that next step. So we formed WalkRunFly to not only drive the projects we were passionate about for ourselves but really our goal is to provide young artists in our community the opportunity to develop and showcase their work. We help them to Walk, give them a platform upon which to Run so that they can have the resources with which to Fly.
What's the difference between working in theater vs. working on television shows such as "The Good Wife" and "Law & Order: Criminal Intent?"
For me it's more about the project than it is about medium. I love performing on stage with the live audience but I'm focusing on doing more television and film work now. I really love the immersive nature of both.
How did you find out you were nominated for a Tony Award for your work as Harpo in The Color Purple and for a Grammy Award? Where were you and who told you?
I was shooting "One Life to Live" at the time and was getting ready to head to the studio. As I was prepping, my phone started ringing of the hook. When I finally answered, it was my dresser Lizz calling and she's the one who told me. I then walked into my bedroom, put "Endless Night" from Lion King on my stereo, fell to my knees and cried. "Endless Night" and my whole Lion King experience have been a big part of my development as a professional and so I listened to it as I shed tears of gratitude.
I actually found out about the Grammy Nom on Twitter, I believe. I was out with a friend from college whom I used to do shows with so I got to celebrate with him.
I did attend the Tony's and have been back since, and this year I was at the Grammy's. You know, award shows are a special blend of joy and awkwardness since they are television shows and are run and structured that way. They were both dreams come true in many respects though. I've been nominated for a number of awards now so I'm ready for a win!
What's your biggest accomplishment?
My biggest accomplishment is building this production. It has been such and extraordinary experience and I always say what I'm doing currently, whatever that is, is built on the success of all that came before it. So this experience is my biggest accomplishment to date.
What are you most passionate about?
Education and the end of privately owned prisons are the things I am most passionate about. The prison industrial complex is such shameful failing on the part of our society and lack of education is what drives that and most of the issues we have today.

You went to Columbia University. What other schools did you apply to? Why did you choose Columbia? Did you graduate?
Yes I went to Columbia and the only other school I applied to was Juilliard. But I received my acceptance to Columbia before my Juilliard audition, so I never went. I wanted to go to a more traditional university with a campus because I had interests outside of the arts and I think being well-rounded is necessary. The more you know in general, the better a performer one can be. And Columbia gave me access to auditions in the city. I always say go where you want to be.
I was studying theater while being an economics major simply because I thought it would be useful but eventually I no longer wanted to spend that kind of time on something I wasn't that interested in. It worked out and I was able to build the career that I wanted and yes I did return to finish my degree at CU while I was doing The Color Purple on Broadway.
How did you hook up with two time Grammy nominated Ryan Shaw, who hosts Soul Out Loud at @CuttingRoomNYC ?
Ryan plays Stevie Wonder in Motown with me and is the best male vocalist I have ever heard in my life. He's like a superhero. When Ryan sings, nothing else matters. So when he asked me to join him and Morgan James, who is also phenomenal, I was hype. It's gonna be an evening of Soul music and I promise it will be an amazing time. I hope you come check us out.
If you could change three things about you, what would they be and why?
I wouldn't change anything about myself. I am who I am the good and the bad and hopefully I'll learn all I need along the way. Actually, that! I wish learned more quickly. Some lessons take too long!

Do you wear contact lenses? When did you give up the glasses?

I wear contacts for practical reasons but I'm not averse to wearing my glasses. It really started in high school for when I was playing sports.
Why is your middle name Victor?
Victor is my fathers name and so I just wanted to use my full name since that's what my parents named me. I thought it suited me.
Calling all HuffPost superfans!
Sign up for membership to become a founding member and help shape HuffPost's next chapter