Joan Osborne calls 1995, when single "One of Us" ruled airwaves and garnered three Grammy nominations, "a weird time." Though "being part of a song that reaches so many people is gratifying," the singer admits such widespread fame is "not the most comfortable spot" for her.
"Certain people love it, and I think there are certain great things about it," shared Osborne, whose acoustic trio plays Yoshi's Oakland on Sun., April 17, "But I didn't enjoy feeling like I couldn't go out and walk around my neighborhood or go to the store and buy tampons."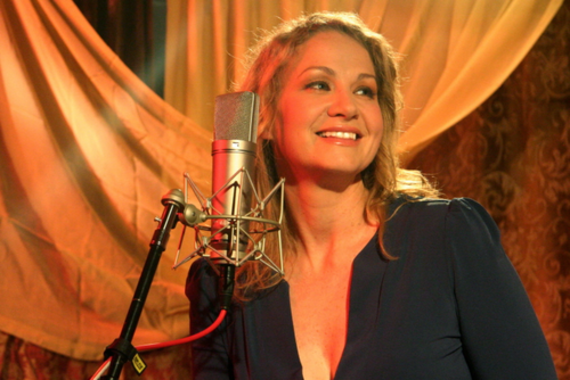 Singer Joan Osborne Plays Yoshi's Oakland, Sun., April 17
Jokes about success aside, Osborne is "grateful for the experience of having a big hit song and multi-platinum selling album." However, on the latest episode of Party Foul Radio with Pollo & Pearl, produced in conjunction with San Francisco's Left Magazine, the artist said she is much more at home with her career now.
Over 20 years, Osborne has amassed a solid fan base, With that, she can support her family and celebrate her art without the pressures of mainstream fame.
"It's a very liberating position, where these fans I have and have cultivated for a long time, seem really open and ready for whatever I'm interested in doing," said Osborne. "That's a very privileged position to be in, I think."
For Osborne, an understanding, enthusiastic fan base is not only beneficial, it's necessary. Since major label debut Relish, she has released seven studio albums -- each straying significantly from the formula of the last.
"In a way, it's a recipe for commercial suicide to have that kind of restlessness about what you like and what you want to do," said Osborne of her catalogue's propensity to wander from one genre to the next. "It's easier for people to latch onto something when they know what it is, when they know what to expect."
Listen: Grammy-nominated Joan Osborne Joins 'Party Foul Radio,' also featuring 'RuPaul's Drag Race' star BeBe Zahara Benet, out singer Steve Grand, photographer Jose A. Guzman-Colon & Miss Gay United States Brandonna Dupri LaReese.
Influenced by "American Roots Music," her creative stylings range from pop and country to gospel and soul. Bring It on Home, her 2012 covers album, received a Grammy nomination for "Best Blues Album." Her latest release, the 2014 album Love & Hate, took yet another musical turn.
A theme throughout her career, Osborne acknowledged, is honest, authentic examinations of life. Combined with early participation in Sarah McLachlan's Lilith Fair -- which gained an early reputation as a wonderland for lesbian fans -- the singer has gained a strong following within the LGBT community.
"Certain parts of my writing have been about sexuality and a certain mystical connection with sexuality," she shared, "I think there have been people of a lot of different communities -- but particularly of the LGBT community -- who have gravitated toward that material and found something that resonated with them.
"I have never really seen sexuality so easily defined that you can label yourself and say, 'This is who I am. This is what I like. Period. End of sentence,'" Osborne continued. "I have always seen it as being a bit more fluid, if you can be honest with yourself about it...There are a lot of other shades of meaning and flavors people have inside themselves, if they choose to connect with them."
Unquestionably, this message "resonates with" LGBT fans, says Osborne. However, she has consistently shied away from making statements about anything -- including her own sexuality -- which could be seen as "courting" the LGBT community.
Though Osborne has "been attracted to" and "had experiences with" women, she won't "front" and call herself bisexual. She is unsure what term best describes her sexuality -- or whether defining it is even necessary.
"There's kind of no need to label me," Osborne stated, "I feel like that can be a detail of your personal life you can use to sell yourself to different communities and make yourself look approachable to certain people.
"That's not what it's about for me," she concluded, "It's about being honest about experiences I've had."
For ticket to The Joan Osborne Acoustic Trio at Yoshi's Oakland, click here.

Calling all HuffPost superfans!
Sign up for membership to become a founding member and help shape HuffPost's next chapter