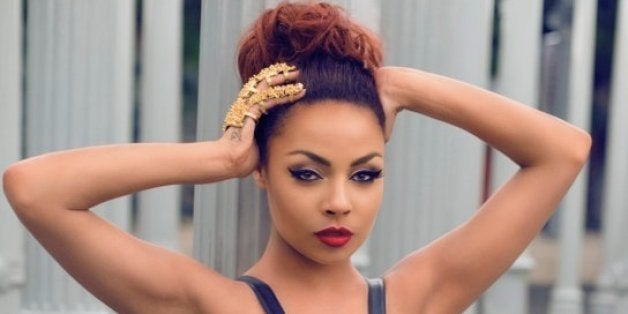 It's the biggest night in music, one of the most-viewed award shows in America and the music industry's highest honor. Every recording artist dreams of that first Grammy nomination -- and to actually take one home is the most rewarding experience they could imagine. For me, making it to the Grammy stage was a career highlight, but my perspective on this star-studded night is totally different than a musician's -- because I'm there to dance.
For a big performance such as the Grammys, the dancers and other talent typically aren't directly booked; choreographers and artistic directors will hold auditions. And let's just say, the audition process can get crazy: Everyone is there fighting for the same jobs, and performing at the Grammys is definitely one of a dancer's top career goals. They may be looking to hire two dancers or 20 of us -- either way, each job goes to who best fits the role.
Once you make it past auditions and are booked, the rehearsal process starts. Rehearsals usually run between four and 10 hours a day, and they may last a few days to a few weeks, depending on the prep time necessary. Unless you are an overachiever, you're likely skipping the gym on rehearsal days -- the time commitment, the intensity and the constant body movement are grueling enough.
But rehearsal is more than just physical practice, it's the most crucial part of the creative process in dance. It's the time to make changes and try new things, to play around with what works and what feels right. We create formations and transitions, and sometimes props or stage gags are added. And with more complexity comes more rehearsal.
Of course, the show itself is spectacular and entertaining, but for me, the behind-the-scenes preparation that goes into an event like the Grammys is always the most exciting part. I sometimes wish the cameras could capture all the hard work, decision making, rehearsing, lighting, staging and fittings, as well as the work with fog, pyro, stage gags and more.
So much stuff goes on to make these performances so memorable in the few minutes we have live on stage. It really is something special. Everyone works so hard! And we seem to forget about all the people behind the scenes who are working just as hard as the people in front of the cameras, from hair and makeup to wardrobe, creative, stage hands, lighting, production and management. It's this full cast of people that makes the production so epic! The magic of what everyone's hard work and imagination can create is awe-inspiring. I'm constantly amazed at how it all comes together in the end so effortlessly.
Professional dancers love to have jobs like the Grammys come up, not only because we get to perform live on a huge, televised award show, but also because of the consistent work. In this entertainment industry, and with dance being my only job, I have to hustle. I avoid putting "all my eggs in one basket," so even when I'm on a job, I'm still working on other projects and things that can help me in the long run.
Yes, longer-term jobs like a tour or a TV show or a movie might keep us busy for months straight, but the reality of the situation is that eventually that job will end and we have to start back over -- gigging or auditioning for something else. With my lifestyle it's hard to say what a typical day is like. I'll be in 12-hour rehearsals for two months straight, then on other days I'm left not knowing when my next job will come. It's the business. We always have to stay on our toes and stay grinding.
The dance world is very small. It may seem big, but once you're really in it, you get to know everyone and, eventually, get to work with everyone. It's like one big family. Most of us are very supportive of one another, be it at rehearsal studios, the dress rehearsals or backstage during all the chaos. We are such a small -- and sometimes looked-down-upon -- group, we have to stick together and support each other.
The Show, And The Reality
Over my years in the dance industry, since 2007, my most consistent work has been with Beyonce. Throughout that time I have also worked with many other artists, including Usher, LaToya Jackson, Ne-Yo, Ciara, J. Lo, Tina Turner, Pitbull, FloRida and Snoop Dogg. Some have been long-term, some have been just short-term gigs.
But that glow of celebrity can be misleading. I think everyone would be pretty shocked to know the amount of money dancers make. A lot of people see you on TV, or in a music video with a rich and famous person and automatically put you in that rich category. The truth is, dancers have to work extra hard to fight and prove our worth in this industry. We don't make enormous amounts of money for being next to an artist, or being on the television screen. We still sometimes can get treated as those we are replaceable. That's been the struggle in the dance world for a while now, and we do our best to stick together and show that we are special and worth it.
After something like the Grammys, they usually have a big after-party. I enjoy going and letting my hair down after working so hard. It's nice to take a moment with the whole team and all celebrate together. I have some great after-party memories! That's when everyone really lets loose … and we'll leave it at that.
Embrace movement and bring Degree Women's Deodorant with Motionsense technology to your next dance party to ensure that you double down on protection when you need it the most.

Related