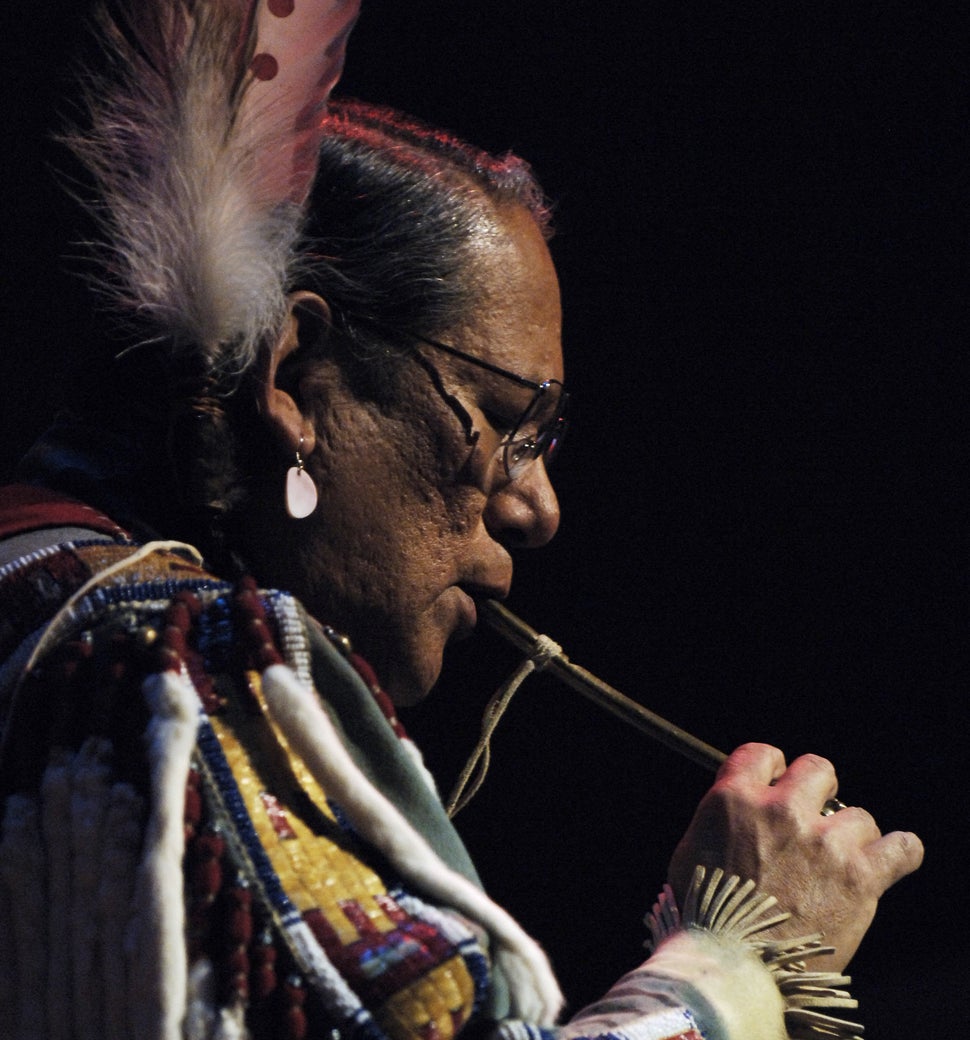 Chimes like raindrops ripple across a soundscape of vaguely spiritual chanting, made ethereal by digital remastering. The sound is inoffensive ― calming, even. A cedar flute, a traditionally Native American instrument, introduces itself and flits off.
Recorded in 2000, "If I Could Tell You" is one of Yanni's many contributions to New Age, a musical genre that was given an official Grammy category in 1987 and is still around today.
The label ― like so many others in the ever-evolving world of music ― is hard to define. Since its inception it's been wedded to the New Age spiritual movement, a Western mashup of non-Western cultural practices. And while there are exceptions ― Native American musicians who work within the genre, and others who do their best not to override the cultures their work draws from ― artists like Yanni, who lightly brush over a wide swath of indigenous musical traditions, are regularly rewarded for their efforts.
On the cover of his live album "The Dream Concert," an image of Yanni holding up an index finger in a "number one" sign is transposed over Egypt's ancient pyramids, where the project was recorded. Blue and red fireworks burst in the background, in an all-too-literal image of colonization and Western triumph. 
Yanni ― a Greek musician who's been combining keys and synth with older instruments like the bouzouki since his 1984 album "Optimystique" ― doesn't set out to appropriate, but to blend different traditions under an overarching philosophy of "one world, one people." His efforts have raised funds for NASA and PBS. 
It's an artistic approach that subjects itself to parody. The bad exes in rom-coms such as "Forgetting Sarah Marshall" and "Serendipity" rock long locks and well-meaning, earth-loving ethos. But it's also an extant reality in the music industry. In 2012, when a number of Grammy categories including Native American, Tejano and Regional Mexican were axed, New Age remained.
This year's New Age nominees include White Sun, a group that performs yogic mantras, lead by Santa Monica-based vocalist Gurujas; Vangelis, the composer whose work falls under the more orchestral side of New Age, and who's scored films including "Blade Runner" and "Chariots of Fire"; John Burke, a pianist whose latest album emulates the formation of mountains by tectonic shifts; Enya, who draws on Celtic traditions; and Peter Kater and Tina Guo, who recorded an improvised album, harmonizing piano and cello.
In previous years, the New Age umbrella also often covered artists using traditionally Native American instruments in inventive ways. Since then, those musicians have been siloed into a separate category called Regional Roots, one that is meant to honor North American indigenous music, including Polka, Hawaiian, Mexican and Cajun. The culturally crowded category is one of the few avenues for these artists to get recognition; although other genres like pop and rock may draw from their influences much in the way New Age does, nominations in those categories are typically awarded to more mainstream artists. 
So, how can we make sense of New Age — its beginnings and what the genre has become?
In a 1988 article about the genre, the Los Angeles Times wrote, "rock and avant-garde enthusiasts who are generally learning that whatever their musical interests may be ― from Third World music to John Cage ― there is something about the adaptability of new-age music to different sensibilities that makes it a force to be reckoned with."
It's a potent description, one that recognizes that genres serve a marketing purpose but don't always align with artists' intentions. New Age appealed to listeners who wanted to relax and to immerse themselves in cultures different from their own. As New York Times music critic Jon Pareles wrote in 1985, as the genre was emerging, "New Age music shows up at restaurants because it doesn't distract anyone from the food; it's just there, oozing along."
The production of such music often comes at a cost, though: by blending and softening sounds like the Tibetan drum or the cedar flute, band leaders, often white men, can distort the original meaning or intention rather than honoring it.
Although his records are sold in its bins, Yanni has spoken out against the New Age label, which he says implies placidness, whereas he hopes his music encourages more active engagement. He's not alone in shunning the classification. Several artists who've won or been nominated for New Age Grammys describe their work in different terms. Paul Winter, a saxophonist and band leader who's won Grammys in Traditional Folk, World Music and New Age, categorizes his work as "Earth Music." His discography includes such album titles as "Wolf Eyes" and "Spanish Angel."
Other artists reject the New Age label because their work rigorously builds on their own cultural traditions, rather than merely slipping another culture's influence in, regardless of its history or relevancy to the project. R. Carlos Nakai, a musician of Navajo-Ute heritage whose accomplishments with the Native American flute earned him an honorary doctorate from the University of Arizona, prefers the label of Contemporary Indigenous to New Age.
That didn't keep him from earning 11 Grammy nominations across four genres, including eight in New Age. Of his placement in the genre, Nakai told The Huffington Post, "I was more technically involved than just making melodies and putting them out there. There was a whole teaching philosophy that came with it. Of course the Grammy situation's not involved very much in that."
A producer at Nakai's long-time record label Canyon Records, Stephen Butler, elaborated. "It was when the Native American flute came along, and it was perceived to be a very relaxing sound, something that was conducive to meditation, yoga, massage. These were things that were embraced by the New Age community, and that's how Native American flute music then became embraced," he told HuffPost. "There's this fascination with Native Americans as being an ancient tribal people. So from the side of some of our Native American musicians, who of course don't create music with that motivation ― they're creating it as an expression of their culture ― it's painful."
Another musician who's worked with Canyon Records, John-Carlos Perea, who self-identifies as Mescalero Apache, German, Irish and Chicano, voiced his criticisms of the New Age genre as employed by the Grammys. Although Perea's won a New Age Grammy for the work he did as part of Paul Winter's consort, he regarded the project not as a New Age album, but as a tribute to Native American saxophonist Jim Pepper, whom he was writing his dissertation on at the time.
About his fellow bandmates, Perea told HuffPost, "they were all jazz musicians, they were all working musicians, they were trying to play. The genre label didn't come into it until after, so I guess that's why I say I wouldn't necessarily support [the genre]. From my experience, it's at that level of commodification that the appropriation does become problematic."
"New Age doesn't cut it," he continued. "The associations people have with that are justifiably problematic, and we should be critical of them [...] If you're not seeing diversity in terms of the band leaders, then there's a problem."
And indeed, most of the New Age Grammy winners who draw upon Native American, South American, African and Eastern influences are not members of these communities. But, Butler, Nakai and Perea agree that cross-cultural collaborations needn't always take the form of appropriation.
"I know of some New Age musicians who've made at minimum a reasonable effort to connect with the communities of the music that they're drawing upon," Butler said. "But those people are in a minority. And I think it's because it's so easy to [appropriate]. There's a precedent for musicians to do that."
The precedent is already showing signs of impacting the future of the genre, which has seen a recent resurgence. Artists such as Matthewdavid ― a musician from Atlanta, Georgia, whose work blends hip-hop with ambient and even spiritual electronic sounds ― regard "the new new-age community as a refuge for people who once might've identified as punk."
Nakai, who considers himself an outlier in terms of his opinions on the matter, doesn't take issue with cultural mashups. In fact, he's headed a few up himself, leading bands that incorporate Tibetan and Hawaiian instruments. But, he emphasizes that his projects are about harmonizing, rather than diluting disparate sounds.
"Much of why I do that is to engage the people that I meet in a kind of dialogue vocally about how connected they are to their own cultural community. And then try to gain an understanding of how they do what they do in this moment of time in music," Nakai said. "Rather than looking back, I'm more interested in looking forward into the future and seeing what the possibilities are, especially with instrumentation and electronics."
Perea agrees that collaboration has the potential to be constructive. In addition to making music, he's an educator ― an associate professor at the College of Ethnic Studies at San Francisco State University. At the beginning of each semester, he encourages his students to consider stereotyping and appropriation afresh. They discuss the Washington Redskins; they consider cowboy-and-indian movies.
"I think a lot more students are interested in American Indian music right now because they've seen the Standing Rock protests in the news, and so they're trying to increase their soundscape. I think as tragic as it is that that protest is still ongoing ― if left unaddressed ― as bad as it is that people are still having to fight that fight, it's bringing people to ask questions," Perea said.
And this, he says, is a positive development.
"When it's objectified, when it's cold and separate, then you can do whatever you want with it," Perea said. "But when you try to get people to understand how these symbols circulate in their world, all of a sudden there's that closeness that gets people to be a little more willing to have a conversation and to think about changing."
Calling all HuffPost superfans!
Sign up for membership to become a founding member and help shape HuffPost's next chapter
BEFORE YOU GO