On this weekend's episode of "Saturday Night Live," Cecily Strong, while playing a visibly annoyed judge overseeing a court case involving Donald Trump, joked, "I want one day without a CNN alert that scares the hell out of me, all right? I just want to relax and watch the Grammys."
But these days, nothing, not even the Grammys, can be completely free of politics. As such, the 59th annual Grammy Awards on Sunday were chock-full of subtle messages of resistance against the Trump administration.
But the political messages actually started rolling in before the show started. Schoolboy Q arrived on the red carpet wearing a pink hoodie that read "GIRL POWER." His daughter, Joy Hanley, was wearing a matching suit.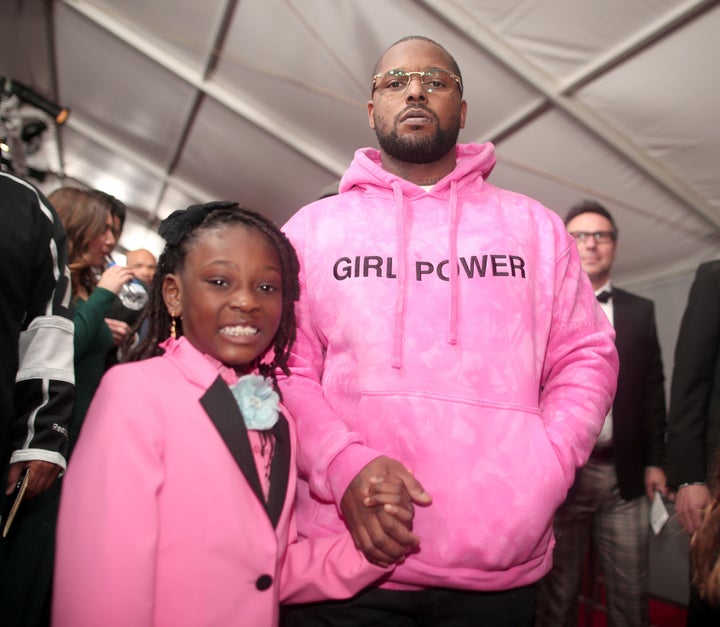 This is precisely the time when artists go to work. There is no time for despair, no place for self-pity, no need for silence, no room for fear. We speak, we write, we do language. That is how civilizations heal.
Katy Perry wore an armband that read "PERSIST" during her performance and stood in front of a backdrop of the Constitution, yelling "No hate!"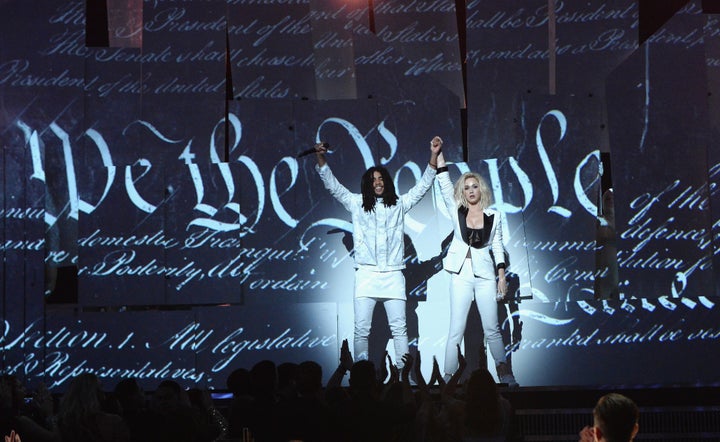 While accepting the award for Best Urban Contemporary Album, Beyoncé explained why she believed representation in the arts was so important to young boys and girls, saying, "It's important for me to show images to my children that reflect their beauty so they can grow up in a world where they look in the mirror ― first through their own families, as well as the news, the Super Bowl, the Olympics, the White House and the Grammys ― and see themselves."
She then added, "I want that for every child of every race, and I feel it's vital that we learn from the past and recognize our tendencies to repeat our mistakes."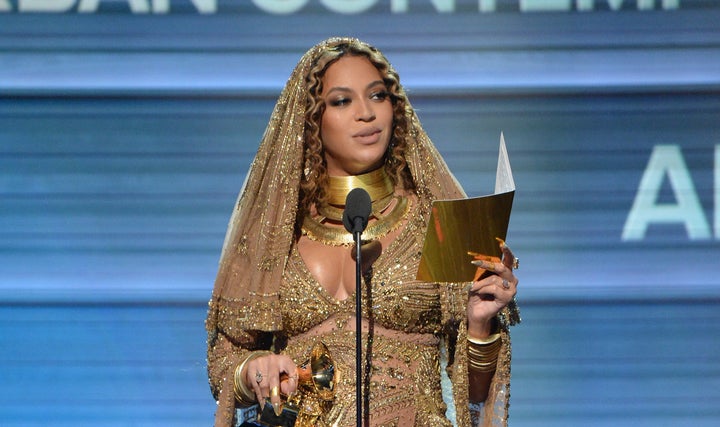 "I wanna thank President Agent Orange for perpetuating all the evil that you've been perpetuating throughout the United States. I wanna thank President Agent Orange for your unsuccessful attempt at the Muslim ban. Now we come together!" he said. "We the people! We the people! We the people!"
Soon thereafter, Anderson .Paak joined the stage along with multiple women dressed in hijab. The performance then ended with A Tribe Called Quest's Q-Tip shouting one word repeatedly to the crowd: "Resist, resist, resist."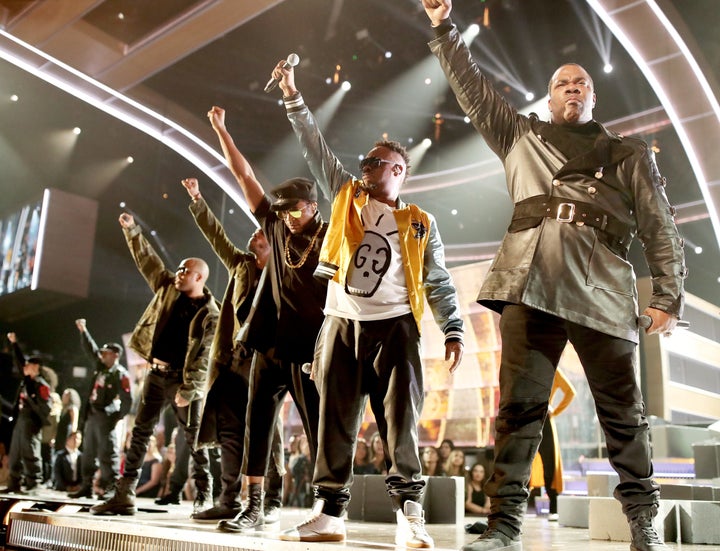 Before You Go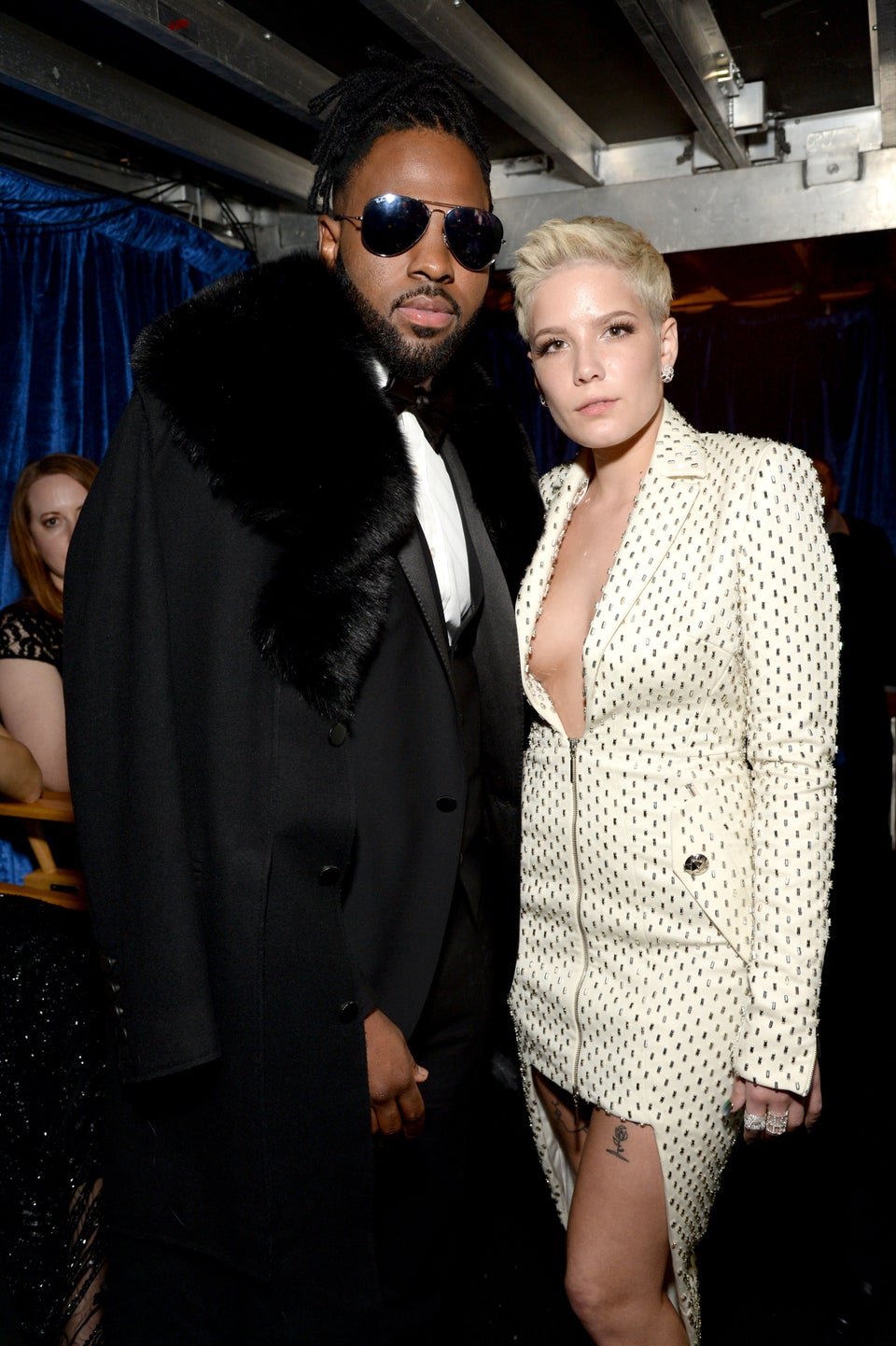 The 2017 Grammy Awards Ceremony