Warning to small-minded people: Don't mess with Estelle's gay fans! With choice words for the narrow points-of-view which "seem to run the world," the Grammy-winning singer admitted negative attitudes toward the LGBT community "really bug" her.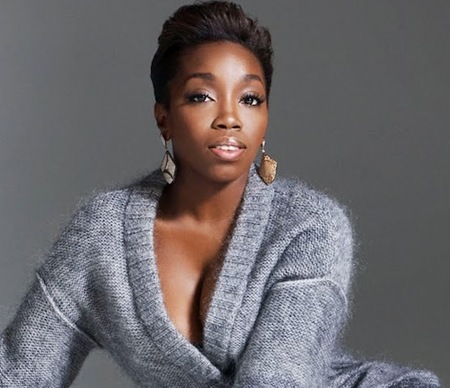 "The people who have the strongest opinion about everything have never left their city, their town, haven't left their 'hood, haven't left their area, their corner of the world," Estelle stated during a recent telephone interview. "They don't read. They've never left their house."
According to the Brit, sadly, these are also the individuals most vocal in their opinions. While discussing new single "Conqueror," from her forthcoming True Love album, she expressed disbelief at some of the "dumbest comments" directed at the LGBT community
"To me, it's who you are," said Estelle of being gay, "It messes with me that people will be judged or will be told they're certain things based on who they want to have sex with or who they're in love with."
Since global smash "American Boy" earned her and featured rapper Kanye West a 2008 Grammy for Best Rap/Sung Collaboration, Estelle has acknowledged -- even reveled in -- a solid gay following. She feels her own encounters with harsh judgment have provided a special understanding of similar experiences faced by the LGBT community...and anyone who has "been told they 'can't."
"I get it," she says, "I understand."
"This goes from gay and lesbian [people] to me, a black girl from the 'hood," Estelle shared, "I was told, 'Really? You're too dark, you're too short, your hair doesn't look like this, and you're not going to make it. You're a great gimmick for one record, now sit down' more than once in my career -- even at the height of my career -- by people I considered my friends."
Of course, naysayers be damned, Estelle did make it -- and is still going strong. After beginning her career with the chart-topping success of "American Boy," collaborations with everyone from house music staple David Guetta to rappers Sean Paul and Rick Ross have dotted charts around the world. "And I do it on my terms," the singer enthused.
Now with latest track "Conqueror," a genuine departure from smoldering, sex-laced predecessor "Make Her Say (Beat It Up)," Estelle moves into new territory both vocally and lyrically. She admitted the song is unlike any she has ever released.
"I've never really sung like this before. I've never done a record that was so high vocally," she pointed out, "It's about two or three notes higher, period. You go from a very deep note to a very high -- very powerful, driven, loud note."
Stretching her vocal capabilities beyond any release fans have heard before, Estelle delivers a performance akin to fellow British soul powerhouse Leona Lewis. The result is an empowerment anthem for the ages, sure to connect with LGBT fans.
"I wanted to give people the strength, the energy, to feel like 'Whatever the hell the world throws at me, I can get back up. I can do this!'" she said of "Conqueror." "This is the kind of song you have in that moment when you need that extra boost."
Popular in the Community