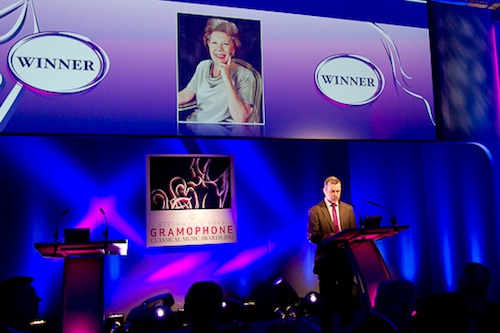 James Jolly, Gramophone's editor in chief, announces Lifetime Achievement Award Winner, Dame Janet Baker, at last season's Gramophone Awards ceremony
On September 27, Gramophone magazine -- often called the bible of the classical music recording industry -- will host its annual awards ceremony in London. I've attended the Gramophone Awards, which debuted in 1977, several times in the past, but this year a busy schedule will keep me in New York City. I'm very sad to miss it because it's not only a great place to see many industry friends, but it's genuinely inspiring to sit in a crowded room where everyone is celebrating the achievements of the artists and record companies who are defining the art form in our time.
Since I won't be in London for the festivities, I contacted James Jolly, the Gramophone editor responsible for scripting and hosting the Awards event. I have known James for twenty years now. He has been with the magazine since 1985, and was its top editor for a number of years. I don't think there's a person in the music business who I enjoy discussing recordings with more than James. Not only does he have incredibly deep knowledge of recordings, but he also has a rare eloquence in discussing what makes the best of them so special.
In the Q & A that follows, we discuss the Gramophone Awards past and present, and some of the non-musical pleasures he has been enjoying recently.
Q: There was a time when the CD boom began to wane in the late 1990s when people predicted that new recordings of Beethoven's Symphonies would cease to be made. But that hasn't happened. In 2011 we had Riccardo Chailly leading the Leipzig Gewandhaus in a new Beethoven cycle on Decca that is currently one of the three short-listed discs in the 2012 Orchestral Award category. Even more recently, Decca released a Beethoven cycle with Daniel Barenboim leading the West-Eastern Divan [NB, Daniel Barenboim is a client of 21C Media Group]. Does this surprise you?
James Jolly: It's funny that we should be talking about Beethoven symphonies because this evening the City of Birmingham Symphony Orchestra are starting a cycle under Andriss Nelsons. It's music that never stales nor loses its power. The symphonies still pack concert halls wherever you are. Clearly Beethoven's message is as relevant as ever. The problem with Beethoven on record, though, is that there are so many to choose from. That said, the sales figures for this new Chailly set are really respectable, more evidence that Beethoven's music will never cease to be relevant.
Q: First there's worldwide adulation for London's Olympics, then Andy Murray wins his first ever Grand Slam tournament at this summer's U.S. open, and now three British pianists make up the short list in the Instrumental category. Britain seems to be on quite a roll right now!
JJ: Amazingly, Benjamin Grosvenor is the first UK-born pianist to be signed to the London-based Decca label in 60 years! The last was Clifford Curzon, who died in 1982. So I guess you can say that Grosvenor is a sort of Andy Murray of the keyboard (though unlike the tennis star he'd not been circling the Big Prize for years -- he made it in one!). He's a really fabulous pianist -- destined for greatness. The other two on the short list, Stephen Hough and Paul Lewis, have won Gramophone Awards in the past and are both supremely talented. And of course, the principal conductor of one of the world's greatest orchestras, the Berlin Philharmonic, is Simon Rattle, another Brit and so is the new Music Director of the Staatsoper, also in Berlin, the wonderful Donald Runnicles, formerly at the San Francisco Opera. Yes, it appears to be a great time for British musicians! So much for the old chestnut: Das Land ohne Musik.
Q: I know you won't tip your hand to us about who the winners might be on September 27, so let's look back for a moment instead. Are there some past Gramophone Award albums that you can never get enough of hearing?

JJ: Well, the Claudio Abbado's set of the Schubert Symphonies with the Chamber Orchestra of Europe is one of the recordings that I play a lot. People only really know Schubert's Third, Fifth, the "Unfinished," and the Ninth, but the other symphonies are wonderful, especially in these captivating performances. I really do love Leif Ove Andsnes's disc of Haydn Keyboard Concertos: this is rarely heard music that is as enchanting as the Mozart concertos -- it really needs to be heard. And I've always loved Anne Sofie von Otter's Grieg Songs, which is absolute perfection.
Q: Do you have any special guests co-hosting the Awards this year?

JJ: I'm very excited that we have composer Eric Whitacre and soprano Danielle De Niese this year. They connect with lots of different music lovers. Eric Whitacre's music is crossing over to many new listeners, helping to fuel the current interest in choral music. His musical language really speaks to people today. And Danielle de Niese -- well, you just melt when you see her. She's a fabulous stage animal. She exudes such enthusiasm and charm. And it's nice to have a bit of glamour in the world of classical music!
Q: Seems like the Scandinavians have made a strong showing this year in the contemporary music category.

Yes, that's true, and it says a great deal about how seriously the Scandinavian nations take their music making. There's a passionate audience for contemporary music there. For the Awards, there are nominations for Denmark's Per Nørgård, Finland's Einojuhani Rautavaara, and another Finnish composer, though she is now based in Paris, Kaja Saariaho.
Q: When I worked for a record company - I can't believe that it has already been nearly 13 years ago since I left my position at Universal Classics - I remember what an enormous impact winning a Gramophone Award could have for an artist. Do you feel this is still the case?
JJ: It took a little dip a few years ago, but I think it's very much having a big impact again. One recent example is the Pavel Haas Quartet. Though founded only in 2002, they have already won two Awards, including "Record of the Year" in 2011. Their star has risen very quickly in the chamber music world. I think many past artists have benefited greatly from the Awards.
Q: How do you get most of your music these days: CD or downloading?

JJ: I'm probably doing both equally. Because of the job I have I get SENT many CDs, but when I buy music I buy more downloads these days. It's a space issue, but also a convenience issue. With all my computers synched, I can have what I want, when I want it, and where I want it (that does rather sound like a marketing slogan, doesn't it?)!
Q: Are you happy with the sound quality of most downloads?
There are studio downloads for those who are interested, but I'm pretty happy with what I hear. I'm not listening in optimum conditions all the time. I listen in the car, on my phone - the sound quality is more than enough for my purposes. I'm not one of the Golden Ear crowd -- I like the music too much!!!
Q: I've been getting more and more and more magazine subscriptions through my iPad. How is Gramophone doing in that area?

JJ: We've got over 1,000 iPad subscriptions and it's growing all the time. We're taking steps with every issue to make sure that it works in an interactive way. If you read a review you can then click through, listen to sound samples and then buy the music with just a click. It's sort of how the whole process should work -- it's all happening seamlessly.
Q: Spotify has been a wonderful way for me to discover music that I don't normally listen to. I can't remember the last time I've heard and enjoyed so much dance music! Do you use Spotify?
JJ: I think it's an amazing thing. I have to build radio programs and it just makes life so much easier with a resource like Spotify. The music I've stumbled across there is incredible, and Spotfiy has become something that a music lover really can't ignore. Their approach is clearly the way a growing number of people are going to consume music in the future.
Q: I know that you are also a movie and TV enthusiast. Have you been watching anything lately that's really grabbed your interest?

JJ: Along with a lot of people in the UK, we're obsessed with Scandinavian cop shows, like The Killing and The Bridge. These shows are an antidote to the sort of fast lifestyle we're used to, especially with all the rapid-cut camera work that many American filmmakers favor. Comparing these shows to their American counterparts is like comparing a Bruckner Symphony to a pop song. The pacing is broad, but you know they are going to get there. The slowness of the storytelling makes it all the more fascinating. The American remake of The Killing was impressive, too -- it caught its essence and presented it in a very American way.
Q: And what have you been reading these days?
JJ: I really enjoyed the new John Irving novel, In One Person. It just shows what an enlightened and liberal creature the author is. He has such an affectionate love for his fellow human beings, with all their differences, foibles and idiosyncrasies. I found it intensely moving but wonderfully quirky in the way that all of Irving's novels are -- and of course it's bursting with all the usual Irving Leitmotifs: New England, Vienna, wrestling and so on. And now that I read books on my Kindle I don't have the problem of having physically to man-handle Irving's vast tomes!
Q: One last music question to finish off our little chat: what's the last recording you heard that really shook you up?

JJ: The ECM recording featuring Arianna Savall, the daughter of composer and viol player Jordi Savall, doing Catalan and Norwegian folksongs. The album is called called Hirundo Maris. She dedicated it to her late mother, soprano Montserrat Figueras. It's an absolutely gorgeous recording.
For a complete list of this year's Gramophone Award categories, and all short-listed recordings, visit http://www.gramophone.co.uk/awards/2012

NB: Gramophone magazine was previously a client of 21C Media Group.
Popular in the Community