When we lived in Nicaragua in 2007, we spent a lot of time in Granada. We found it attractive for the same reasons as other expats who have settled there... if it's Spanish Colonial charm you're after, you can't do much better than Granada.
So we jumped at the chance to revisit Granada just a couple of weeks ago. And we found many changes that have made Granada even more compelling as a retirement destination.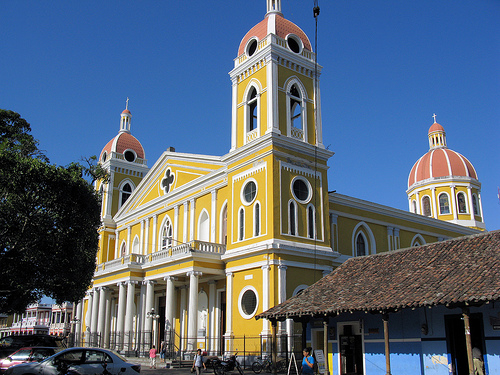 First, a little background. Granada was the first European city on mainland America, and historians have the official records of the Crown of Aragon and the Kingdom of Castile to prove it. Thanks to its location on Lake Nicaragua and its access to the Atlantic via the San Juan River, it was essentially a Caribbean port for the Spanish, and much of the gold, silver and other wealth the Spanish sent back to Spain during the conquest was sent from Granada. This may have originally made the people who lived there feel fairly secure... but it didn't take long for English, French, and Dutch pirates to find their own way up the San Juan to Granada's docks, and the city was raided, razed, and rebuilt for hundreds of years.
Oh, and there was that year-long period between 1856 and 1857 when U.S. filibusterer William Walker crowned himself King of Nicaragua in Granada... although he did add some history, he didn't add much to the colonial charm of the place during his reign.
Today, Granada is one of Nicaragua's most popular tourist destinations, even for Nicaraguans. People from Managua can drive 45 minutes via a large and well-maintained four-lane highway to get away from the capital for the weekend and do some eating and drinking along Calle la Calzada, the pedestrian street lined with bars, cafes and restaurants just off the city's main plaza. Many of the old homes within a few blocks of the plaza have been bought up and rehabbed by Nicaraguans and by expats from all over the world, some of whom have started businesses here, including natural food stores, gyms, yoga studios, restaurants, real estate agencies and art studios.
In fact, ask some of the long-time expats living in Granada and they'll tell you that they actually miss the old days when the café tables didn't spill out into la Calzada and you had to go to Managua for any real shopping or nightlife.
Of course, Granada's local open-air market offers just as much fresh fruit, vegetables, chicken, beef and pork as it ever has, and the little local restaurants and shops still feature the same local food and handicrafts they always have, so it's not hard to get the small-town feel of Granada when you want it.
But for those who miss the "old days," there are just as many who are happy to have the new La Union and La Colonia grocery stores and a couple of Irish pubs and sports bars in town, making the drive to Managua pretty much optional for most of the real necessities of life.
All things considered, there isn't much than can mask Granada's colonial charm and ambiance. The central plaza is as old-world as Spanish Colonial plazas come, with gazebos and fountains and kids and vendors and horse-drawn carriages. The cathedral looming over the plaza is every bit as old and authentic as it looks, and the same with the nearby La Plazuela de los Leones, where Captain Morgan actually mounted 18 cannons just to show how serious he was about plundering the city's silver cache in the 1600s.
And from a third or fourth-floor balcony or terrace almost anywhere near the city center, you can see the distinctive red tile roofs of Granada stretching into the distance. More than a few photographers have made beautiful compositions out of those roofs and the grand old palm trees poking up between them, waving in the breeze from nearby Lake Nicaragua.
Granada may no longer be the sleepy little town that some expats are nostalgic for, but in fact it never really was. Granada started out as one of Central America's most important administrative and economic centers, and it remains one of Nicaragua's most important cities to this day. Its current popularity as a tourism and entertainment destination certainly brings more people and services to the city, and for many of the people who live here -- including many of the expats that call Granada home -- that's a good thing.
Would it be the right place for you? Learn more here.
PHOTO GALLERY
Granada, Nicaragua: A Top Retirement Destination
Calling all HuffPost superfans!
Sign up for membership to become a founding member and help shape HuffPost's next chapter