* Authorities warn death toll could rise as rubble searched
* About 100 people injured as homes destroyed, trees uprooted
* Three separate tornadoes strike near Dallas-Fort Worth
DALLAS, May 16 (Reuters) - At least six people were killed and 100 injured when tornadoes ripped through north-central Texas after dark and authorities said the death toll could rise as rescuers search through the rubble of destroyed homes.
At least three twisters were confirmed to have struck on Wednesday night, the deadliest tornadoes to hit the United States so far this year, destroying homes and uprooting trees.
The worst damage was reported in Granbury, a town of 8,000 people about 35 miles (56 km) southwest of Dallas-Fort Worth.
Granbury Mayor Pro Tem Nin Hulett told ABC News on Thursday that the top priority "is to try to get the people that are out there in the community under a shelter somewhere" and to account for the missing.
Hood County Sheriff Roger Deeds said 14 people remained unaccounted for, as rescue workers searched houses.
"I've had information that people were found in homes, they were hard hit, those homes. I've been told (they) were collapsed, destroyed as they were probably hit by flying debris," Deeds told CNN.
Hulett said authorities did expect to find people trapped in their homes.
All six of the people confirmed killed were found in Rancho Brazos, a neighborhood of around 110 mostly single family homes on the fringe of Granbury that bore the brunt of the winds, Deeds said.
"Power lines were down, homes were heavily damaged to destroyed and the roads were blocked with debris," Deeds said.
Bulldozers were clearing roads so people could be moved out of their houses.
Matt Zavadsky, a spokesman for MedStar Mobile Healthcare, an agency that provides ambulance service to the region, said about 100 people were injured in the Granbury twister.
There was no immediate estimate for the extent of property damage, but Sheriff's Lieutenant Kathy Jividen said a number of homes were destroyed and trees downed.

The tornado season in the United States typically starts in the Gulf Coast states in the late winter, and then moves north with the warming weather, peaking around May and trailing off by July.
Several deadly tornadoes have struck in recent years.
In March 2012, at least 39 people were killed in a chain of tornadoes from the Midwest to the Gulf of Mexico. The following month, at least six people were killed by a twister in an Oklahoma town during a weekend outbreak of dozens of twisters across the Great Plains.
In May 2011, a massive tornado struck Joplin, Missouri, killing 161 people and damaging or destroying 7,500 homes.
On Thursday, the Hood County Sheriff Deeds said a "very big percentage" of the homes in Rancho Brazos were devastated. About 90 people were cleared from the area on buses to a school and then to relocation centers.
In Granbury, Pastor Dean Porter of Lake Granbury Christian Temple told Dallas/Fort Worth ABC affiliate WFAA that looking out the front porch of his church at the parking lot he began to see "what looked to be a circular formation" and he ran back inside.
"This particular night is not like anything that I've ever seen," Porter told the station.
Properties were damaged but no one was injured in nearby Parker County, bordering Hood County, Parker County Judge Mark Riley said. (Additional reporting by Ian Simpson in Washington and Paul Thomasch in New York; Writing by Scott Malone)

Before You Go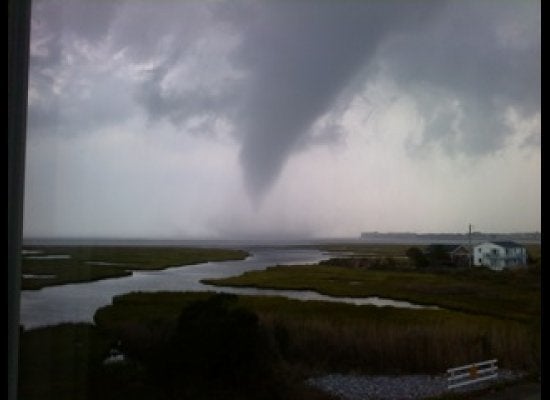 Tornadoes & Clouds
Popular in the Community