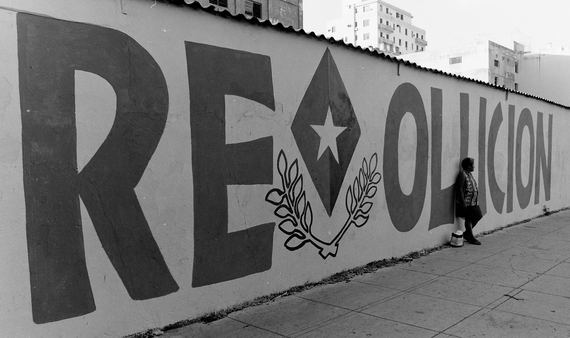 The dilapidated byways of Havana, with its crumbling facades and weather-worn doorways, would seem among the world's most unlikely places for a technology startup. Internet access is abysmal when it even exists, many of the computers in use are almost as old as their users, and bootstrapping is not just a turn of phrase -- it's a way of life.
But an ambitious group of young Cuban programmers wants to change that and is trying to energize the island's technology entrepreneurs by organizing its first tech meetup. Alex Medina, a 35-year-old coder from Camaguey, and a group of friends have started the Merchise Startup Circle and hope to hold the first meeting later this month in Havana. The ultimate goal, according to Medina, is to garner enough interest for regular, monthly meetings on the island.
"We can learn from each other, do some interesting projects, recruit, get recruited or at the very least have a seriously geeky conversation with others who actually understand what we're saying," reads the shout-out on meetup.com.
Tech and entrepreneur meetups have been a staple of the U.S. and European technology sector for decades. Many are informal and involve groups of like-minded folks gathering in bars or coffee shops for chit-chat and networking. They usually connect via a myriad of websites set up to facilitate such camaraderie. Other are more formal, with agendas and speakers and a specific task or hack project. The White House hosted it's first tech meetup last month.
Cuba has never had anything of the sort. There are regular, government-sponsored symposia on all manner of topics, including technology, but they tend to be one-sided affairs and offer little of the give and take and shared knowledge that make more informal meetups valuable elsewhere in the world.
In an email from Havana, Medina admits that the group's challenges are significant. "Struggling with getting sponsors, securing the venue and dealing with all the logistics has been a nightmare for us," he says. "We are all tech guys and are not used to doing this kind of stuff."
Medina got the idea after spending some time in London watching a British friend get a startup there off the ground. He learned first-hand how stressful the task can be -- fundraising, endless meetings and no small amount of actual work -- and thought anyone back home contemplating such an adventure could benefit from hearing about life in the trenches. Five decades without a private sector to speak of can put even the most determined entrepreneur at a disadvantage.
At the moment, Medina describes the startup scene on the island as small, sparse and disorganized. Most people who do manage to get a project off the ground tend to hop a plane to locales more welcoming of their ambition -- Canada, Chile, the United States and Europe -- as soon as they can. There is little work for IT professionals in Cuba outside the state sector, and government jobs that pay on the order of $50 a month are hardly worth the effort.
After a series of fits and starts dating back to the early 1990s, the Cuban government began allowing people to legally work for themselves in earnest in 2011 and the sector has taken off. There are now some half a million so-called "cuentapropistas" in Cuba, and computer programming is among the categories of approved occupations. Most self-employed programmers work on a contract basis for foreign companies, however, so little of the intellectual property generated stays on the island.
Most expert observers of the island say it has tremendous potential in the tech arena. "You have a highly educated workforce, excellent programming talent and a huge amount of opportunity for companies that want to invest in the knowledge economy," Faquiry Diaz Cala, CEO of Tres Mares Group, a private equity investment firm in Miami, said at a recent Wharton School confab about Cuba. "There's already demand for these programmers. There are full-blown projects that are being done in Cuba by guys who are working underground because they haven't really opened up the sector yet."
Encouraging that potential is one of the main goals of the meetups, says Medina. "What we hope to do is inject a bit of entrepreneurship into a tech community that basically has never seen startups as a viable option before."
Scott Norvell is founder and curator-in-chief of CubaNotes.com, an independent and non-partisan source of news from and about Cuba. He has been visiting Cuba since 1991.
Related
Popular in the Community