Asian American and Pacific Islander month is held annually every May. According to a press release from the White House, during this month, "we honor the perseverance of those who courageously reached for their hopes and dreams in a new land, and we celebrate the important impact the AAPI community has made on our Nation's progress."
To celebrate at Grand Canyon National Park, a special Ranger rendezvous program was held on Thursday, May 28th with special guests Program Director and DJ for Phoenix based Sierra H Broadcasting, Todd Himaka and his father, Gary, a decorated Vietnam War Veteran, Retired City Civil Engineer and musician.
"It was our first trip to the Grand Canyon for my father and I. I grew up in San Diego and we never did a lot of camping or outdoors stuff. I think my father had more than plenty of that during the Vietnam War," says the "Asian Soul Brother" Todd Himaka. "The event was a humbling experience. Calling the Grand Canyon beautiful doesn't do it justice. Experiencing the vastness of it and being exposed to something that has been there for so long and will be there long after we are all gone was breathtaking. I think we Americans take it for granted because it is right in our own backyard, but we all need to learn to take advantage of that more."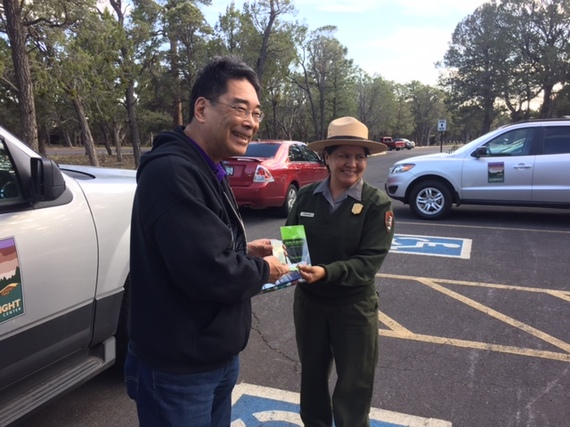 Gary Himaka receiving his lifetime pass to the National Parks. The National Parks is giving lifetime passes to all wounded veterans. Gary received a Purple Heart in the Vietnam War.
The National Park Service manages several National Parks that embody the culture and heritage of Asian Americans and Pacific Islanders. These sites tell some of the stories, struggles and accomplishments of these groups that have enriched the history of the United States and endeavored a brighter future for the next generations. One of the most notable of these sites is the Manzanar National Historic Site in Manzanar, California.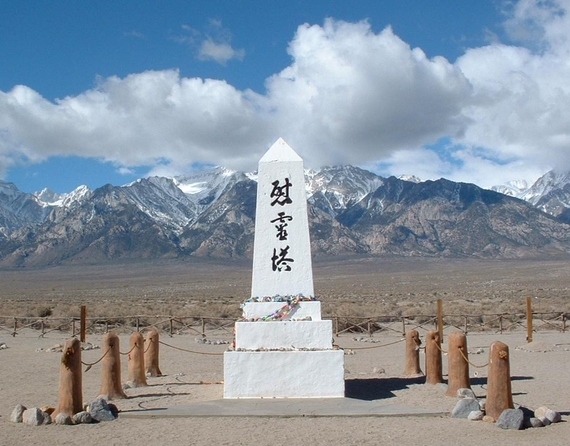 Shortly after the Japanese attack on Pearl Harbor on December 7, 1941, President Franklin D. Roosevelt signed an order authorizing the relocation of nearly 120,000 people of Japanese ancestry, most of who were U.S. born citizens, to ten different Internment camps for the duration of World War II. After the camps were closed in November 1945, months after Japan surrendered, the stories of what went on at these camps was largely forgotten and dismissed by historical accounts of the era. It wouldn't be until 1992, nearly 50 years later, when the first Japanese Internment Camp, Manzanar, was designated a National Historic Site. The camp incarcerated 10,000 Japanese-Americans and Japanese Resident Aliens during the war. "It was a desolate place. You had to know what you were looking for to find anything," says National Park Service Associate Director of Cultural Resources Stephanie Toothman. "The stories of the Japanese Internment Camps still weren't being told even after reparations and apologies were given to the families of those affected by the Reagan Administration in the 80s. What happened still wasn't even being taught in most schools by the time the first camp was designated a National Historic Site."
The designation of the site was due, in large part, to the efforts of the Manzanar Committee. "My mother, Sue Kunitomi Embrey, was editor of the Manzanar Free Press, the camp's newspaper, while incarcerated at the camp. After her release she became a devoted activist; she protested the Vietnam War, strongly supported the labor movement, worked on the campaign for the first elected Hispanic Congressman Edward Roybal, worked on campaigns of the first black mayor of Los Angeles, Tom Bradley, and served on the Los Angeles City Status of Women Commission. She started the committee in 1969 to organize a pilgrimage for surviving victims to the site and have Manzanar designated as a state landmark, which occurred in 1973. The committee continued the efforts until it became a National Historic Site in 1992," says Co-Chair of the Manzanar Committee Bruce Embrey. "At the most recent pilgrimage at Manzanar, a woman spoke on how the camp affected her life. Her father was from Japan and her mother was from Montana. They were both brought to Manzanar in 1942 while her mother was pregnant with her. On arrival they were forced to take a loyalty oath to the United States and denounce Japan. The father refused and was deported. She never met her father because he was sent back to Japan, despite never committing a crime or ever being indicted."
Manzanar and other World War II Japanese Internment camps help create a greater dialogue about contemporary civil rights, presenting the good and bad in telling a difficult story of great shame and discrimination, connecting them with those same emotions felt today. "Manzanar is a place where stories of our history are told; we remember so America never forgets," says Embrey. "These stories are stark reminders of how fragile our democracy is and how the promises of our country fell short to prejudice policies all too often adopted in contradiction to the constitution."
Calling all HuffPost superfans!
Sign up for membership to become a founding member and help shape HuffPost's next chapter