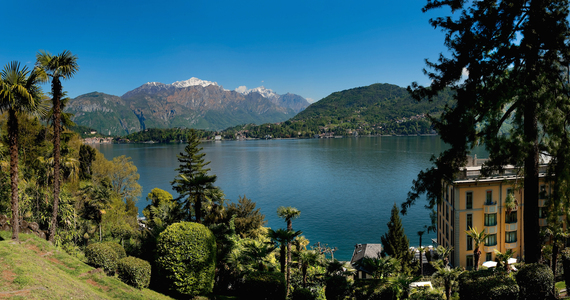 A great resort is an amalgam of ten thousand details, most of them never even noticed by a visitor too busy taking in the most obvious of them. For beyond the architecture of a grand hallway, the panorama from one's terrace, the rich fabrics of the draperies, and the superb food and wine, there are so many unnoticed details that en masse enhance all the rest, from the replacement of flowers in every vase to the condition of every carpet, from the way tables are set and the services performed as if by silent magic.
To take in every one of the details at Grand Hotel Tremezzo on the western shore of Italy's glorious Lake Como would take weeks and weeks at your leisure, so let me tell you of some of the unique wonders of this exquisite place, which Greta Garbo's character in the 1932 film Grand Hotel referred to as "that happy, sunny place." (Her preferred room, now Number 113, is named in her honor.)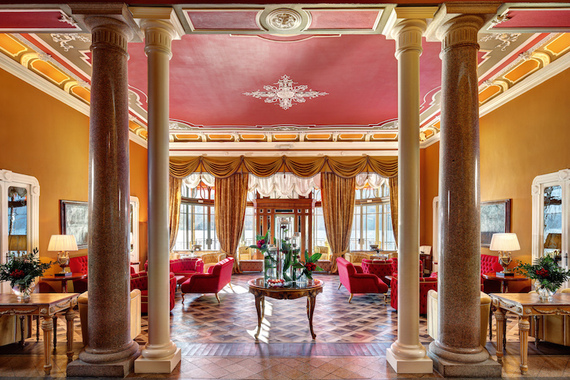 The hotel dates to 1910 at a time when Europe's leisure class went on their grand tours for months at places like the Villa D'Este and Serbelloni, but Enea and Maris Gandola wanted something smaller, more secluded and more intimate for guests, who, after World War I, increasingly came to the area for health and sport. In the 1930s ownership passed to the Sampietro family, who managed to keep it open during World War II, and the post-war growth of international tourism, not least American, made Tremezzo famous as a place of unpretentious luxury and Italian savoir-faire.
The local De Santis family then bought the hotel, and last year a granddaughter, the ebullient and very sophisticated Valentina De Santis, was appointed CEO to work on those ten thousand details and bring a more youthful cachet to the property. There is now a state-of-the-art spa and three swimming pools. The rooms, each different, all with a view of the lake, have LCD flat screen satellite TV, free Wi-Fi, Aquae di Como toiletries, and very large bathrooms; mine had a marble, six-foot wide double sink in the center of the room, whose wide window looked out over the water. She is even experimenting with bed sheets created from processed wood that have the softness and luxurious feel of linens with the highest of thread counts. One hundred service professionals keep all such details impeccable.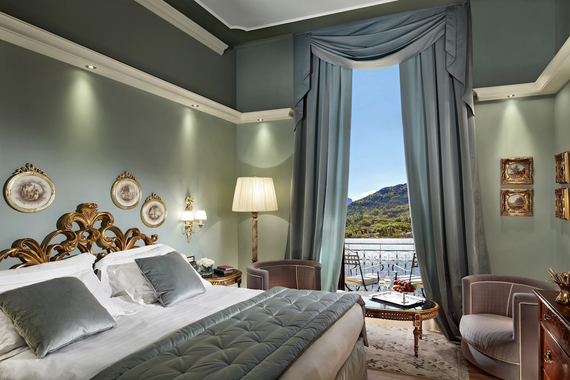 One can drive from Milan to Grand Tremezzo in an hour, but I prefer to arrive by water. A fast train to Como then a smooth boat ride reveals all the majesty of Italy's lake region, past little towns and old villas (including the rather modest one George Clooney and his new bride, Amal, own). Arriving at Grand Tremezzo, my bags were taken as I ascended an elevator that opens onto the gorgeous art nouveau-style lobby done (above) in vibrant colors of fuchsia and ocher, with walls covered in silk. This is not an atrium to dazzle you but to make you feel warmly welcome. A butler/concierge is located on every floor.
My room (above) was done in velvety, dovelike shades of gray and gray-green, accented in gold, with a terrace where it is possible to block out the whole world except the mountains and flow of Lake Como lighted by the soft Lombardian sun.
The extravagant breakfast buffet in the Regina Room, with its own broad terrace, is rich in everything from Italian cheeses and charcuterie to a variety of breads, croissants and jams, with eggs cooked to order and coffee brewed as only Italians know how. By the time you come down for breakfast, an array of international daily newspapers will have been displayed in a library with a remarkable collection of books on gardening. In fact, the hotel itself is set adjacent to the Villa Carlotta, now an art museum with a four-acre park.
I shall leave for another article the attractions of the Lake Como area, crisscrossed by ferries, and stay focused on reasons for staying put at Tremezzo, which includes a splendid 19th century, scarlet-colored billiards table. A floodlighted clay tennis court overlooks the lake, Seven golf courses are nearby, and bicycling along the flat shoreline is a capital way to see the area. Just strolling or sitting among the azaleas and bougainvillea should bring down one's blood pressure by ten percent.
There are three restaurants at Tremezzo, all of which serve the hotel's signature cocoa-and-almond cake named Torta Valentina. All the food service is overseen by Chef Osvaldo Presazzi, here since 1992, after stints at illustrious restaurants like Les Ambassadeurs at the Hotel Crillon in Paris, Il Teatro in Milan, and the restaurants of master chef Gualtiero Marchesi in Erbusco and Milan. Indeed, for 2015, Signore Marchesi will be involved in the development of menus for Tremezzo's restaurants, which will include his famous dish of risotto with edible gold foil (below).
The fine dining room is called La Terrazza (below), with an extensive menu of local and regional dishes drawing as much as possible on the provender and larder of the lake country and Lombardy. Thus, I feasted on dishes like scallops with a sauce of lettuce (€32); foie gras terrine graced with true balsamico tradizionale (€32); ring-shaped pasta called anelli made into savory pancakes filled with ricotta and spinach (€22); a luscious lobster and macaroni (€48); roasted young local rooster with potatoes and spring onions (€26); most of the fish come right from the lakes. Desserts far exceed what is usual in Italian restaurants, and the menu is accompanied by an array of fine regional wines. Sit there at twilight as the staff lights the table candles, sip a negroni or glass of Lombardian sparkling wine from Franciacorta, and you may not get up from the table till the moon finishes its rise in the night sky.
L'Escale (below) is a casual, subterranean fondue and wine bar that also offers a wide array of charcuterie and cheeses, as well as meats and shellfish that you cook at your own table. The raclette (€22), made with Swiss cheese from the Valais, is melted on a hot stone and eaten with gherkins, while the fondue (€32-36) involves dipping skewers of bread, fruit and meats into either melted cheese or boiling oil. With red wine from the Valtellina, this is a delightful evening.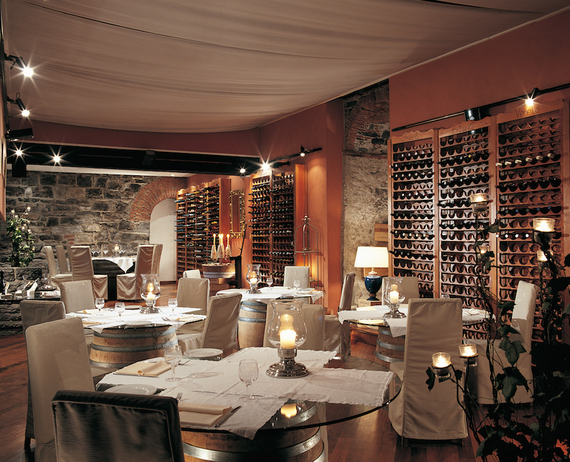 For snacks and pizzas there is the TBar, and every Monday night they hold a candlelit poolside pizza party that is extremely popular.
Staying put in Grand Tremezzo, with walks along the lake, a visit to Palazzo Carlotta, and a sojourn down to the town of Como can easily take up one's weekend. But the ferries that crisscross the lake make exploring the area easy and the sights are eye-opening--these I shall be writing about in a future article.
You could, however, hardly be blamed for not ever leaving the property of Grand Tremezzo for days, for it is tempting to practice what Italians call "dolce far niente"--the sweetness of doing nothing. It's an art well worth learning in a place so sincerely dedicated to that proposition.
Grand Hotel Tremezzo is located at Via Provinciale Regina, 8, Tremezzina.
Phone:+39 0344 42491
Related