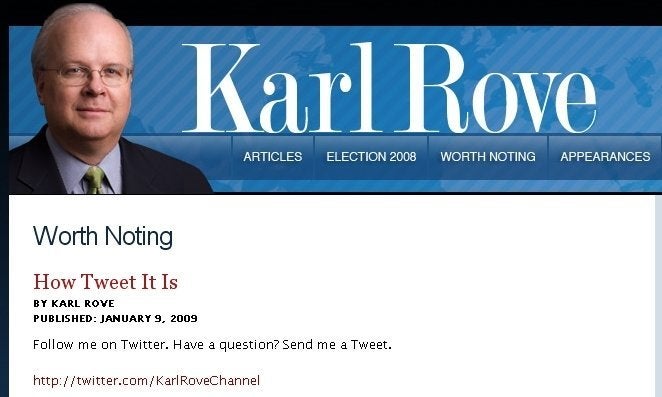 This month, Karl Rove began using Twitter. In a recent Wall Street Journal op-ed, he sounded like a born-again social networker. If the Republican party has a future, he said, it is going to be online. "The political Web 2.0 is about networking and Democrats grabbed the lead," he conceded. "The party that figures out where Web 3.0 goes will grab the decisive high ground in high-tech warfare."
He is not alone. A quick perusal of GOP party and activist websites suggests Republicans are hard at work building an online organizing machine. On websites like RebuildtheParty.com, more than 1,300 people have submitted ideas for using online social networks to modernize how the party raises money and mobilizes supporters. Five of six candidates in the Jan. 30 election for RNC chairman have endorsed the coalition's plan to make "winning the technology war with the Democrats ... the RNC's number one priority in the next four years."
Conservative watchdogs at Townhall.com have backed these demands. The popular conservative radio host Hugh Hewitt even dedicated close to a dozen episodes of his show to explain how Republicans can use social networking tools. He has also called on the new RNC chairman commit to 'over-communication' with the public, and via every technology and platform available."
But is the GOP ready for a Web revolution? The Republican Party has always had a top-down approach to the Internet, using it primarily to deliver campaign messages rather than mobilize supporters.
At a conference last month at Harvard's Berkman Center for Internet and Society, Mike Connell, a longtime GOP Web consultant and leading member of Sen. John McCain's Web team, listened to Obama's Internet gurus tout their use of online organizing. He was skeptical. "Conservatives are more likely to look for information online than look for a group they can join," he said. (Connell, an experienced pilot, died on Dec. 19 when the plane he was flying went down outside of Akron, Ohio.)
The other half of McCain's Web team, Rebecca Donatelli, agreed. "Our users are not using the Internet in the same way," she said. "You're reaching different audiences." She admitted, "there are a lot of opportunities for us to grow," but defended the campaign's approach, insisting that it was simply "out-resourced." Connell argued that McCain's Web team "had pages of our playbook where we never even scratched the surface."
Donatelli and Connell's consulting firms received most of the limited funds McCain's campaign allocated for Web services. Hewitt wants to redirect the funds away from consultants to grassroots Web outreach. On his radio show he has called for the Republican National Committee to "establish an approved vendor list, that is people who actually know what they're doing in the world of online political campaigning."
But it may not just be a question of the right vendors but of a more basic understanding of the interactive and somewhat anarchic nature of the Web. A joint examination by the Toni Stabile Center for Investigative Reporting and the Berkman Center during the 2008 presidential campaign revealed a fundamental difference in the candidates' approach to blogging. The study found that while the Obama campaign reached out to activist bloggers in order to communicate with campaign volunteers and feed them into its online social networking site, My.BarackObama.com, the McCain campaign took a top-down approach to the horizontal network of blogs and used it as an echo chamber for its ideas.
This approach is partly explained by the fact that McCain's blogger outreach coordinator, Patrick Hynes, heads a firm that advises corporations on how to use the blogosphere as part of their public-relations strategies. In 2006, he was accused of masquerading as a 20-year old blogger to promote Verizon's position on cable regulation. That same year, he blogged in support of McCain without disclosing that he was on the payroll as a political consultant for McCain's political action committee, Straight Talk America. Not long afterward, Hyynes was outed by the National Review's Jim Geraghty.
As president of New Media Strategics, Hynes touts his understanding of "how bloggers receive and process information... what energizes them and, just as important, what turns them off." One of the company's services is "alliance building," which makes use of its existing relationship with bloggers to "create powerful alliances to deliver your brand message and reputation through the New Media."
When McCain became the GOP's lead candidate, Hynes reached out to "top-tier, right-of-center bloggers" such as Red State's Erick Erickson, Hot Air's Ed Morrissey, Jim Geraghty at National Review Online and Glenn Reynolds -- aka InstaPundit -- at Pajamas Media. "We pitch stories to folks online in much the same way a campaign pitches to talk radio journalists," said Hynes. "We give them our information, and try to give them our angle. Usually when I'm talking to them its not a big stretch to write something that would agree with our world view." He touts this service on the New Media Strategics website as a "blog release" -- conceptualizing, drafting and delivering "blog-friendly content (including podcasts and vodcasts) for placement on friendly or relevant blog venues."
Hynes' techniques frustrated longtime Republican Brad Marston. "It was all about getting information down from the top of the campaign to individuals. That's why we started the McCainNow.com and LetsGetThisRight.com and... social networking sites so that supporters could build a network." Marston said his groups received no financial support or direction from the McCain campaign, but were so involved among online activists that Meghan McCain misidentified Marston as the "McCain e-campaign coordinator" on her blog. Now he is working to register Let'sGetThisRight.com as an educational foundation and political action committee. "Adversity is a terrible thing to waste," said Marston.
Many conservative activists have looked to groups such as MoveOn.org for inspiration. "I believe we should be looking at the left as the model," said David All, founder of TechRepublican.com and Slatecard -- a website modeled on ActBlue.com, which provided important fundraising infrastructure for Democrats. All acknowledges that MoveOn.org was organic in its growth, but says the left structure is actually "very top down, even Barack Obama. They just do a good job at making an illusion that people are connected through others. You get an email from someone who lives in your zip code and you think that's bottom up, and its really just a very smart directive from within the top campaign structure."
This means direction from above. With help from Obama's win, conservative activists have had some success in updating the Republican party's approach to these tools. Even Mike Connell had begun to realize this in December. "The blogosphere is not just another communications channel. It is an activism channel, a fundraising channel. We're getting caught up on that point of view." House Republican Whip, Eric Cantor's website may not be getting much traffic these days, but he has a blog, a Twitter stream and encourages visitors to upload a video comment on the stimulus debate in Congress.
But all the new technology won't help Republicans unless they have a message that appeals to the grassroots. "I get frustrated with all this talk of what technology we need to build," said Jon Henke, formerly New Media Director for the Republican Communications Office, and co-founder of TheNextRight.com. "Unless you have an idea of what you want to do with it, it doesn't matter." Ultimately, Henke argues the grassroots "needs to develop its gravitational pull with a compelling story."
All agrees. "Republicans have to find a message, then we need a messenger, or vice versa. And from there we'll start building the tools. Amazing tools will never build a house. You have to have a carpenter who can use the tools to build a house."
Popular in the Community