Night One: Dreamcrusher, Jackie Lynn, Wolf Eyes 7/7/15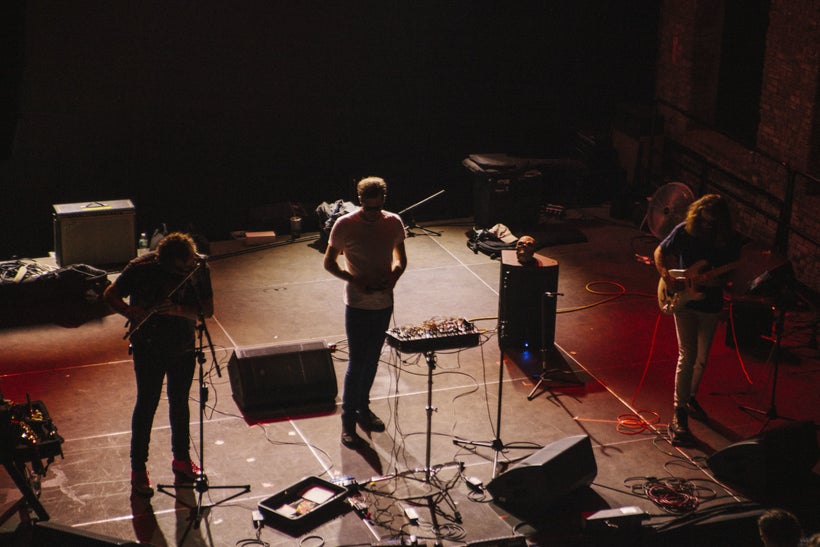 Pioneer Works is an impressive venue for performances, and an ambitious arts complex in Red Hook, Brooklyn. Founded by the contemporary artist Dustin Yellin, Pioneer Works boasts boldfaced names on its board of directors. The building itself is an old ironworks factory and has the feel of the Dia:Beacon, which is to say it has that all-over-polyurethaned look that you get when money preserves the rustic scarcity of the old world. Pioneer Works is an institution that encompasses an ambitious cross disciplinary arts program featuring exhibitions, residencies, performances and, according to their website, is "home to a full recording studio, a radio station, lecture programs featuring Nobel Prize-winning physicists, a film editing room, and facilities for scientific research." If there are other holistic arts complexes like this I imagine they come with the baggage of being an accredited university. Pioneer Works is more for working artists.
The group of shows I was invited to are part of an art exhibit by two biologically unrelated bro-dudes: Willie Stewart and Brant Stewart. The show is titled "Grand Ole Opera" which fetishisizes and softly parodies southern trailer culture for the hipsters in the art world. Imagine a Harmony Korine installation 20 years too late and not nearly as clever. There are elements of Dan Flavin style light installations illuminating symbols of southern trailer park culture like a taxidermy deer, a pickup truck, as well as references to Mike Kelley, heavy metal and wrestling. These dudes are ironic. The part of this exhibit that was the draw for me is the series of rock related shows under...guess?...the "revival tent".
The series of concerts included performances from innovators like Lightning Bolt, Wolf Eyes, Sleep and a number of other notable artists who founded their own version of extreme music, which in this context means many things. Being an aging hipster myself, I could only make it out to two of the shows.
Like most nights, it started off perfectly fine. I arrived with my date and allotted ample time to get high down the block. The opening act Dreamcrusher is described by Pitchfork as a "queer, black vegan, straight-edge noise artist", which is an exhausting amount of cultural baggage to pin on an artist, but whatever. Having just finished Neal Stephenson's landmark 1992 cyberpunk novel Snow Crash that day, Dreamcrusher reminded me of the character Vitaly Chernobyl who plays these concerts for hackers and cyberpunks in the metaverse (a fictitious sci-fi VR future version of the Internet that is only now starting to catch on with VC firms). The band in the book played a form of industrial-post-noise music. In 1992 you could have imagined extreme music would be something like Dreamcrusher in 2017. I had this in my head during the performance and also was just avoiding him. Dreamcrusher likes to get in the crowd and sing in people's faces in a confrontational GG Allin style, trying to be scary. I cleared away, no thanks.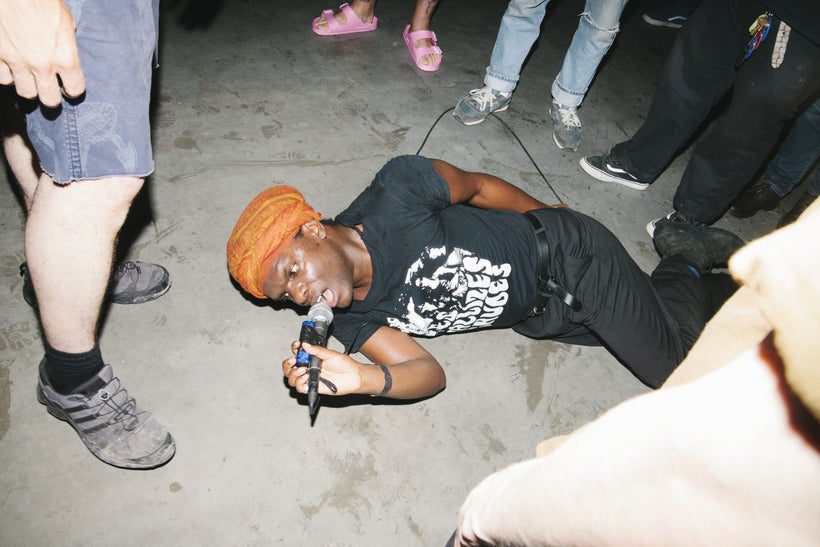 Circuit Des Yeux performing under the name Jackie Lynn; the second act- is a little harder to remember. Right before they went on I ran into an ex-girlfriend that I had recently broken up with. I was at this show with another girl, so this was incredibly awkward. We made eye contact and didn't talk to each other until later in the show in the outdoor garden. A few weeks prior I told her I needed a break and left it in a weird place. Fortunately we are all adults and there was no confrontation. There was a tense moment of awkward conversation. After that, the awkwardness lingered on, for me at least. I was a bit preoccupied and frankly a bit irritated during Jackie Lynn's set.
I can remember that Jackie Lynn had the most visual stage set up out of the three acts. It appeared to be a translucent scrim in front of the band with projections on it from the front. The band was silhouetted, yet the singer was clearly visible through the projection. I don't really get how it was done, but it looked sharp. There were points that felt elevated but I was too preoccupied to feel transcendent. In retrospect they were the best of the three acts that night. I'm sorry Jackie Lynn.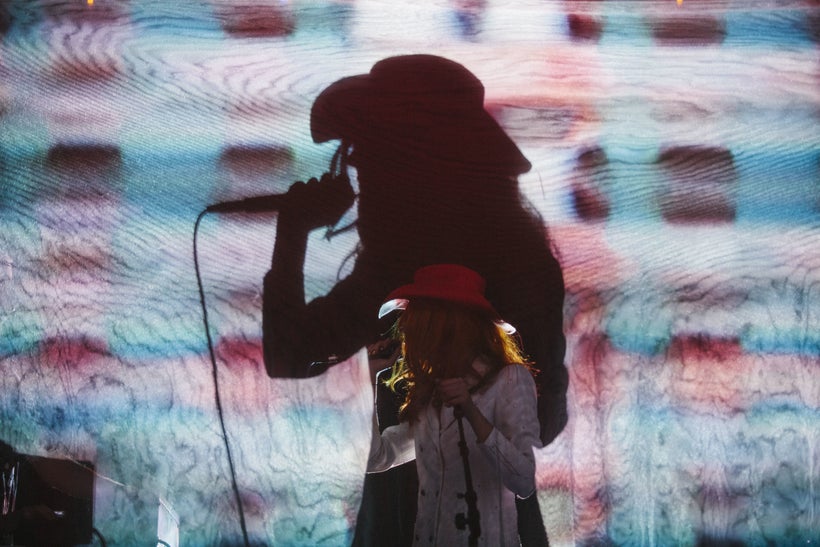 That leaves me with the final act, Wolf Eyes. Despite having been around for about 20 years and something like 100 records, Wolf Eyes are a 21st century music act in their use of funny Instagram memes which are spot on accurate satires of subculture. They make the most purposefully noncommercial music you can make, which they describe as "psychojazz" or "trip metal". They are a trio who switch out a saxophone, a sound mixer, a distorted guitar and some other shit I can't remember. I think they are one of these "cool" bands that people mostly pretend to like, but don't really listen to. I wanted to see them because I was curious as to how they amassed such a committed following and remained difficult to listen to. Hilarious on the web, dreadfully dull in concert, yet they are still inexplicably interesting to me in a wider cultural sense.
I'm old enough to have caught the Grateful Dead near their end in the mid 90s. The thing the older Deadheads would always say is that you had to 'catch them on a good night'. Even the best jazz musicians can be inconsistent so I'm giving them benefit of the doubt. I don't think I caught Wolf Eyes on a good night, but maybe it was me just being in a bitchy mood given my run in earlier in the evening. In contrast the new Jay-Z sounded brilliant during the car ride home.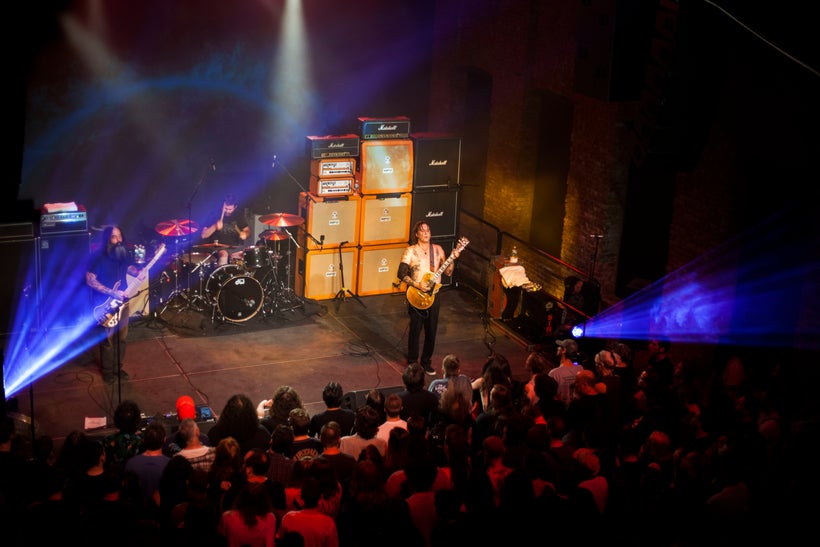 One week later I was back at Pioneer Works. This was the second night of performances by doom metal legends Sleep. The place was very crowded, so much so that a line was coiled around the block to get in. While vigilantly holding my place on line, my date and I had plenty of time to play a round of "overrated/underrated". There was a lot of police activity on the streets, but seemed to have nothing to do with all the open air pot smoking. Sleep's record Dopesmoker from 1997 defined the genre of the stoner metal. It's an important part of the experience.
Pioneer Works felt familiar this time around. It was my second viewing of the "Grand Ole Opera' art exhibition by Willie Stewart and Brant Stewart, and I still found their hipster-bros-from-down-south schtick shallow. I realized they are trying to play both sides of the street by pretending to elevate the symbols of trailer park culture towards art market aesthetics, yet ironically poking fun at it. It shows us nothing new, and you could argue that this is the kind of bullshit that motivates Trump voters to lash out at us coastal elites. I digress.
In total contrast to the performances from the previous week, Sleep was one of the best shows I've seen in some time. There was a totally groovy scene in the Pioneer Works garden where hippie-ish metal heads were out getting high. I wonder if the sheer amount of pot smoking forced security to look the other way. There was no opening band, so when Sleep struck out some opening chords everyone just sorta rolled inside. What is so incredible about them is that of all the bands who have ripped off Black Sabbath, they are the only ones who really wrote great songs with that approach. Arguably Sleep's Holy Mountain is better than late period Dio-era/contemporary Ozzy Osbourne 's Black Sabbath records themselves if one felt compelled to have it out. Sleep extracted the heavy groove riffs of Tony Iommi and stretch them out towards transcendence. Most people in the crowd, myself included, closed our eyes and floated away into space.
Sleep at times stood very still, and let the chords ring out and wash over you. That stillness would always build up towards a chugging, lumbering freight train of a rock song. There's a wider spirituality in that sound.
I'm guessing the three members of Sleep (and Wolf Eyes for that matter) are in their early to mid-forties. There's a template of the heavy metal stars from the 1980s who sailed into middle age with style, as permanently semi-retired rock royalty. I am thinking of Lemmy or Ozzy. Sleep are incredibly successful, but not in the conspicuous way that the aforementioned rockers are. They remind me of the great bands who split up and grew tremendously during the interim, like Mission of Burma or Tribe Called Quest. These are the sort of artists who have accepted change and somehow come back to their original bands reinvigorated with new ideas and adult perspectives.
I'm looking forward to seeing what Pioneer Works shows/does in the future. Through the sheer force of ambition, money and boardroom cultural capital they forged a spot in New York City's arts landscape merging the rock venue, gallery, and institution in a way that we haven't seen before.
REAL LIFE. REAL NEWS. REAL VOICES.
Help us tell more of the stories that matter from voices that too often remain unheard.
This post was published on the now-closed HuffPost Contributor platform. Contributors control their own work and posted freely to our site. If you need to flag this entry as abusive,
send us an email
.