It's been a rough week for Grand Rapids. Massive flooding has continued for several days in Michigan's second-largest city, as well as other parts of the West Michigan region. And these water levels aren't expected to recede for at least a week.
On Sunday evening, the Grand River, which runs through downtown Grand Rapids, crested at 21.85 ft. downtown, according to the National Weather Service. The flood stage for the river is 18 feet. Sunday's measurements revealed the highest water levels charted in Grand Rapids' history. In 1985, the river crested at 19.64 feet.
(Scroll down for photos of flooding in Grand Rapids and West Michigan last weekend)
Also on Sunday, Grand Rapids Mayor George Heartwell declared a state of emergency, the city's first since 1998. The declaration is more of a precautionary measure, putting the mechanism in place in case the city requires help from the state or could possibly be eligible for repair funding down the line.
"Simply be careful, be thoughtful of your neighbors, be conservative in your use of water and we will all get through this together," Heartwell said in a video on the city's website. He also asked residents to volunteer filling sandbags.
The flooding began late last week, with overflowing water filling roadways, causing cars to get stuck, and damaging homes. Some downtown buildings were evacuated as volunteers filled sand bags to prevent further flooding.
Looking from the inside of the Old Town Riverfront Building, wrote MLive, was like being inside an aquarium. Water levels were six inches above the first-floor windows on Sunday, and employees reported that some standing water had entered the historic building.
Health and safety risks --like the possibility of contracting diseases like salmonella from the water and power lines under a bridge a mere foot from the surface -- have caused authorities to advise that no one enter Grand River. But that hasn't stopped several daredevils from attempting to surf or kayak. According to MLive, police aren't losing sleep over it:
"We're referring to that as natural selection," Grand Rapids Lt. David Schnurstein told the news site. "If we could arrest people for being stupid, we'd need a jail ten times as big as we have."
So far, two kayakers have needed rescuing.
"We were certainly glad we made it this week," Heartwell told the local news station. "As a matter of fact, the river never got to that point." Sunday's record levels of cresting for the Grand River were still about three feet below the maximum height for the city's flood walls. "That's a nice margin of error to have."
The river is forecast to slowly lower below the flood stage this week. But as of Monday morning, the river was still charted at 21.64 feet. Up to an inch of rain is forecast for Tuesday, which could slow the river's recession.
See photos of flooding in Grand Rapids and West Michigan below.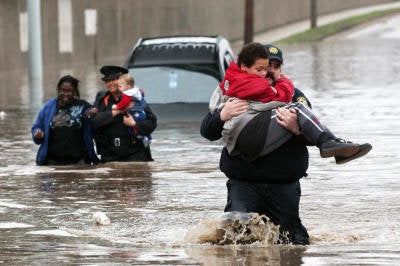 Rising Rivers Flood Grand Rapids, West Michigan Floods