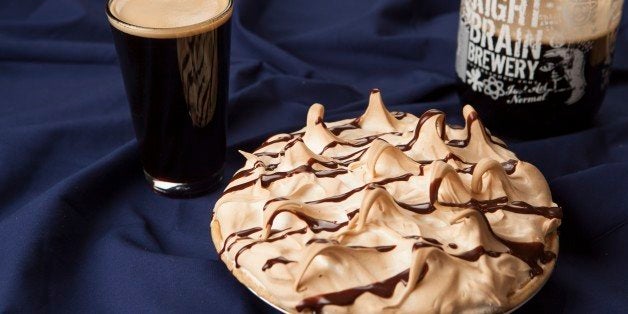 The Grand Traverse Pie Company introduced a new pie to us that's to die for -- or at least move across the country for: Chocolate Stout Pie.
The pie contains four layers: a remarkably light and flaky crust, a layer of chocolate ganache and a layer of chocolate mousse, all topped with meringue drizzled with chocolate stout ganache. Both the mousse and the ganache are infused with CEO Stout beer, from Right Brain Brewery in Traverse City. The beer flavor is subtle but definitely apparent -- it brings depth to the already layered chocolate flavors, and a faint bitterness that is welcome with all the sweetness. The pie is not overwhelmingly sweet, however, which enables the distinct flavors to stand out. Somehow it doesn't feel heavy either. It's a pretty perfect pie, in our opinion.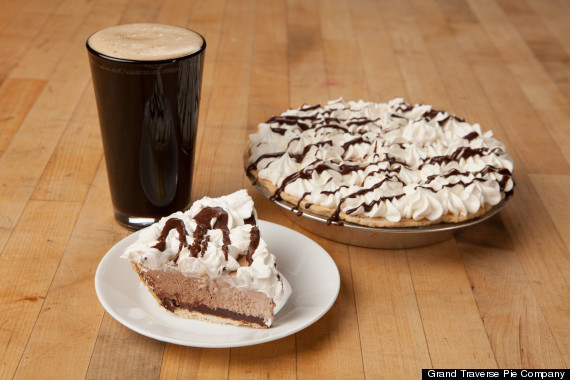 Open since 1996 and currently with 15 locations, the Grand Traverse Pie Company has some very famous fans, including Oprah and Mario Batali. Of the pie company's Cherry Crumb Pie, Batali has said, "I don't think I've ever had as good a pie as Grand Traverse Pie Company's Cherry Crumb Pie... It's a religious experience." Margaret Alexander, Director of Marketing for the pie company, says that the Old Mission Cherry pie is Oprah's favorite.
Other favorite pies among customers include the Apple Crumb, the ABC (Apple, Blueberry, Cherry) Crumb, and the Lakeshore Berry pie. From where we're sitting, the Chocolate Stout pie looks like it might become a new favorite too.