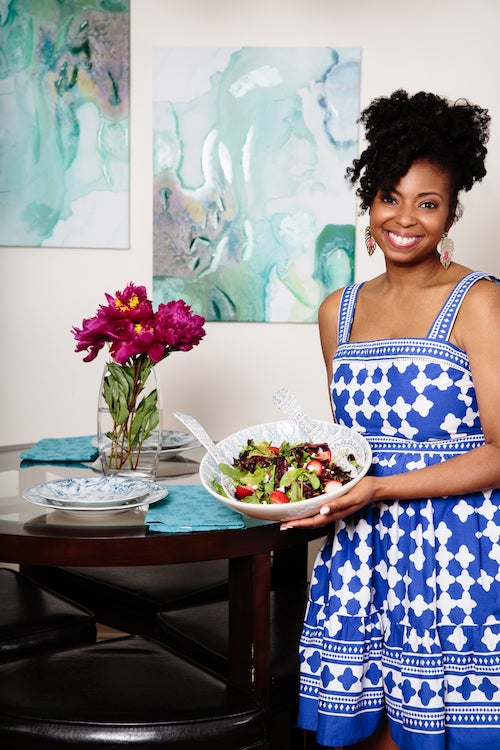 Author and lifestyle expert Jocelyn Delk Adams is the founder of Grand Babycakes, a lifestyle blog inspired by her grandmother's classic home recipes and decorating tips, is all about a good vibe and she's on a mission to spice up your mundane brunch plans. Adam's and I first met at a HomeGoods event and instantly connected because of our love of grandmothers, their mouthwatering cooking skills, and our careers in publishing. According to recent stats, 72% of women said if they had the time at home, they would prioritize sharing a meal with family and friends and 77% like to use different items for each of their moments. Of course, nowadays everyone wants to be that cool dinner party on Instagram; yet, Adams is ahead of the trend. Thanks to Pinterest for endless ideas and cooking subscriptions like Blue Apron, millennials not only want a place to call home, they also want it to be Pinterest-worthy for their friends and family to enjoy. Grand Babycakes is the destination to navigate to for authentic southern dessert recipes and easy decorating tips. During our chat, Adams' spilled some of her family secrets, including sharing her Sunday brunch ritual. Seriously!? Her table couldn't be more fab! Here are five tips on how Adam's uses Homegoods ( and other affordable outlets) to create the perfect dinner table vibes for her loved ones.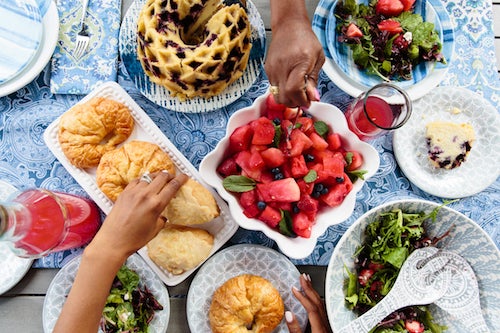 Something Extra Special: When you have weekly brunches, things could get a little stale. That's why I love to punch it up by serving everything on gorgeous platters. It may seem formal but it will elevate your weekly brunch to another level.
Keep the Menu Low Key: While I love the idea of making every single thing from scratch, my schedule just doesn't allow that. Instead, I head to my local bakery and pick up croissants, scones and muffins. I like to devote my time to making just one signature item like my Blueberry Orange Pound Cake while letting everything else be un-fussy and simple to pull together.
Go Seasonal: Make sure your menu reflects the time of year. Because I love hitting the farmer's market on a regular basis, I consistently grab fresh and beautiful fruits and vegetables that make it into our weekly brunch.
Use White Platters for Bright Foods: With my simple watermelon salad and croissants, I love adding them to crisp white serving platters from HomeGoods. They really highlight the food.
Create a Generational Playlist: My mom is definitely old school and loves her classics from back in the day. I, however, love newer school music and some 90's hits. I love to create a fun mix of all of our music for our brunches so we both get a little of what we like.
Calling all HuffPost superfans!
Sign up for membership to become a founding member and help shape HuffPost's next chapter
This post was published on the now-closed HuffPost Contributor platform. Contributors control their own work and posted freely to our site. If you need to flag this entry as abusive,
send us an email
.