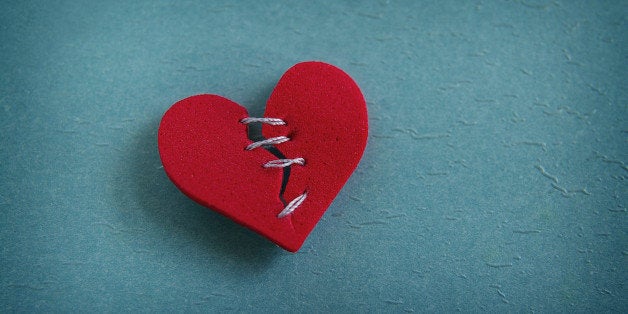 "Grandma and Grandpa are getting divorced" is a phrase I never thought I'd have to tell my children. I am from a divorced home, and both my parents remarried. My husband is from a divorced home, and both of his parents remarried. We went into our marriage after very strong discussions and commitments to each other and wanting to raise children in a two-parent, loving, affectionate home.
So never in my wildest dreams did I think I would need to break my children's hearts with a sit down discussion about their grandparents' divorce. My stepfather was not my favorite person for various reasons. Some of it was likely due to being 17 when he and my mother married. Teen angst is a powerful thing. After having my own children and seeing them interact with him, I put my differences aside and let him just be their grandpa. After 23 years of marriage to my mother, he decided he wanted out. Since the moment of his announcement to my mother we have had no contact with him, sadly, at his choice.
I am a grown-up. I have a thick skin, and I can get over this. For my kids, I am furious. I am furious that he can turn his back on my kids -- the children he took boating and fishing, the ones with whom he talked hunting and sports, the kids who call him "grandpa."
My husband and I talked a lot about how we would present the divorce to our boys (ages 7, 5 and 2). We knew that our youngest would just have "grandpa" fade from his memory... and that is fine. We will address his emotional loss as it presents. We decided to tell our older children separately.
We told our oldest first. He was sad and hurt but mostly had questions about what this means for him. He brought up questions about what happens if mom and dad decide to get divorced, because to him now, this is a possibility. Ultimately he has done really well and rallied around the person that needed it most, his Grandmother.
Our middle child, the most tender hearted of the bunch, surprised us all with his wisdom. He had questions about when he would see "grandpa" again. I tried to say all the right things about this not being our fault and although we can still have happy feelings about him he will not be in our lives any more. This, it turns out, is an impossible conversation for any age. I tried to keep it short and age-appropriate but in a weak moment my temper flared and I said, "he is a jerk and hurt our family and has decided not be a part of our family any more." My amazing son rose to the occasion and said, "that isn't how family works. Just because you are a jerk doesn't mean you aren't a part of our family."
This. Just this. This idea of unconditional love that my husband and I strive so hard to give to our children shows up here. Well played son, well played.
So, to my soon to be ex-step father, I say this:
Go. You will never know the amazing young men that you walked away from, but they will know you. You have become the example of the man they will never want to be. You will fade from their memory and eventually their hearts and that is the way it should be.
Related