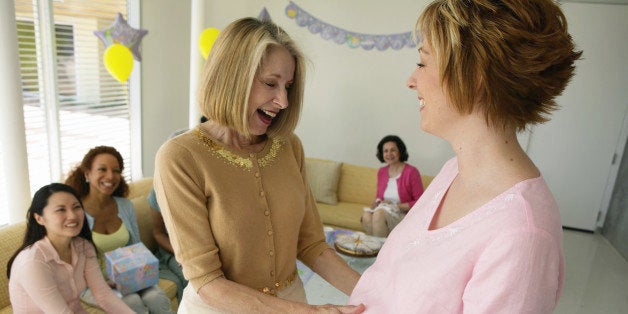 Just as women of a certain age dread being asked, "So, when are you going to have a baby?"-- older women dread being asked by their grandkid-consumed peers when their selfish children will finally grant them the gift that is grandparenthood.
So what do you do when the time finally comes and you're told by your son or daughter that you will be getting a grandchild? You throw yourself a party, of course. "Grandma showers" as they are being called, are one of the newest trends to hit the baby market, as The Huffington Post reported earlier this month.
Yes, now grandmothers-to-be are being feted as much as expectant mothers themselves, in elaborate showers complete with decorations, cakes, and even games.
And with a growing number of grandparents becoming caregivers to their young grandchildren and providing their babysitting services, grandma showers can be a time for parents to stock up on childcare necessities. "With more and more baby boomer parents taking on the role of nanny to their grandchildren, they too need a car seat, stroller, high chair and other gear that can cost hundreds, even thousands, of dollars," The Bump's Rebecca Dolgin told The Huffington Post.
But not everyone sees it as such a practical matter. Etiquette experts and expectant mothers alike aren't amused. "Call me a selfish pregnant lady, but me having a baby is about me and my baby, not about my mom," wrote BabyZone blogger Lyz Lenz. Quite right, Lyz.
After all, aren't baby showers supposed to be one last hurrah for pregnant women? It's one of the few celebrations other than your wedding where you get to be the center of attention. Besides, after hours of labor, when your bundle of joy arrives, you can look forward to sleep deprivation, diaper duty, and the pressure to lose the baby weight. So plenty of pampering, doting, and celebration seem well-deserved.
Other than stealing the mom-to-be's thunder, some say grandma showers are just an over-the-top extravagance designed to fetch gifts. "True socializing is being replaced by personal fundraising...baby showers are intended to be for friends who are actually having babies," according to Miss Manners.
We asked some of our Facebook fans if they feel grandma showers are a sweet ideas or just plain ridiculous.
You tell us. Are grandma showers sweet or selfish? Let us know your thoughts in the comments section below.
Calling all HuffPost superfans!
Sign up for membership to become a founding member and help shape HuffPost's next chapter
BEFORE YOU GO
PHOTO GALLERY
16 Celebrity Grandparents